As someone working in a 9-5 job, I found it really difficult to find places near Singapore to explore given the limited amount of leaves I can take. I am therefore starting this series of blog posts to help give some inspiration to people similar to myself, who have a serious problem of finding new places to travel to during their valuable weekends. For our first short getaway, M and I decided to head over to Anmon Resort Bintan!
When M first showed me pictures of this resort, I was first very intrigued by just how beautiful the whole place looks. I was however slightly sceptical about how comfortable it would be. After all, it's glamping so it definitely needs to have some elements of camping in it. I was convinced to give this place a try since 1, I really needed a break from work, and 2, I've never been to Bintan so I felt like I had to visit at least once in my life.
We booked the hotel through Agoda at about S$180 a night for 2 nights. It wasn't the cheapest accommodation around but for what we've got, we think it was pretty worth it.
How to get there?
To get to the resort, we had to take a ferry from Tanah Merah Ferry Terminal to the Bendar Bentan Telani Ferry Terminal. It's only a short 50 minutes boat ride away from Singapore. We'd highly recommend purchasing the boat tickets from Klook as its slightly cheaper than buying from the official website. Once you've arrived and cleared the immigration, there will be someone from the resort waiting for you to bring you to the resort.
Experience
The check-in process was very simple and fast. After check-in, we were ushered to our "tent" on a buggy.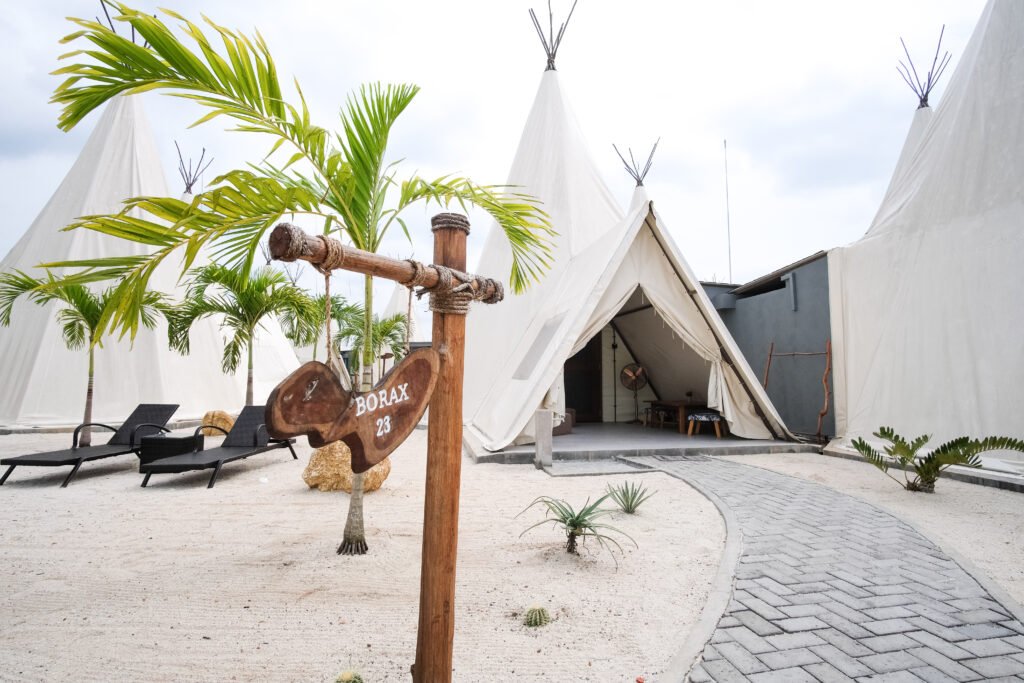 The room interior was a lot more spacious than we imagined. There were 2 small pull out beds in each room. This tells us that the main target audiences of the resort are families looking for a quick vacation.
What I thought was coolest about the whole resort is that it has a smart concierge in the form of a Facebook Messenger bot. You can make all your requests through the bot! I've got to say, the person who designed this has quite a good humour level.
Things to do
Lagoi Beach
This was the nearest public beach to the resort which was about a 10 minutes drive away. According to the beach's website, there were supposed to be a number of activities available there such as snorkelling and ATV. However, as we arrived late, only ATV was available. Snorkelling is highly dependent on the tide levels.
We tried out the ATV on the beach! It was IDR 50,000 for a 10 minutes ride. Although it sounds short, we felt that 10 minutes was just the right amount of time before it gets boring.
Address: Sebong Lagoi, Teluk Sebong, Sebong Lagoi, Tlk. Sebong, Kabupaten Bintan, Kepulauan Riau, Indonesia
Treasure Bay Water Park
One interesting thing about Anmon Resort is that it is a part of Treasure Bay, which is a collection of resorts together with a huge water park in the centre. We have bought the Chill Cove Combo package earlier on Klook which granted us access to multiple attractions. Although on paper it seems like it offers a lot for the price you're paying, many of those activities such as Robot and Classic Car Ride are not suitable for adults like us. However, just the electric scooter rental included already makes the whole package worth it already. If we're allowed to choose again, we might have gotten the wakeboarding package instead.
Address: Kawasan Pariwisata, Jl. Raja H. No.KM 01, Sebong Lagoi, Tlk. Sebong, Kabupaten Bintan, Kepulauan Riau 29155, Indonesia
Madu Tiga Beach
If you want to experience heading outside of the resort, you can hire a driver with a car for the entire day who will drive you to anywhere you want on the island. We will highly recommend going with Bintan Taxi. They have truly amazing service at one of the most affordable rates on the island. We'd suggest you call ahead to reserve a car for your travels.
Our driver recommended to us this local beach which was really interesting. Note that the driving distance is 1 hour away from the resort though.
Address: Pantai Trikora No.Desa, Malang Rapat, Gn. Kijang, Kabupaten Bintan, Kepulauan Riau, Indonesia
Pizza Casa Italia
This pizzeria is very near Madu Tiga and was highly recommended to us by a friend from Batam. The owner of the restaurant is an Italian who fell in love with the island when he first travelled here while backpacking. The pizza is very authentic and it's definitely an interesting experience!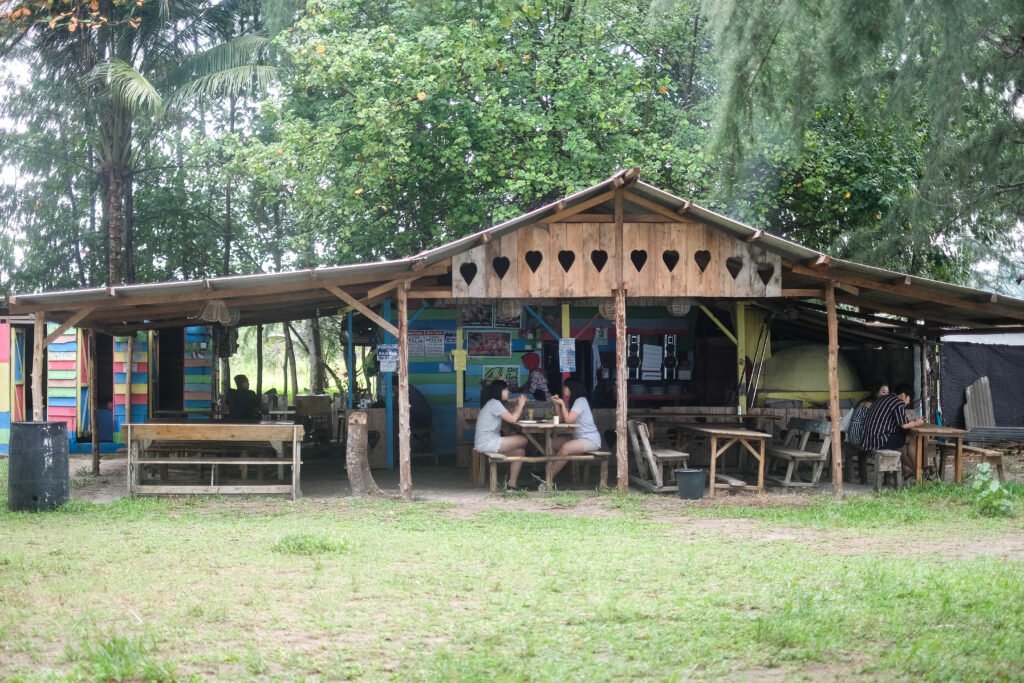 Address: Malang Rapat, Gunung Kijang, Bintan Regency, Riau Islands, Indonesia
Is Bintan worth going?
It depends! We'd highly recommend Anmon Resort Bintan if you're looking for somewhere to relax and escape from your hectic work life. Its service standard is definitely extraordinary and the uniqueness of the room itself is a big selling point. It's also an amazing place for families to visit as we feel that there are sufficient activities within Treasure Bay itself to cater to everyone of different ages. However if you're someone whos looking for an adventurous place to explore, we will not recommend this place to you as there are many better islands in Indonesia that are more suitable!
If you're looking for somewhere exciting to explore, check out our blog post on our experience visiting one of the most mysterious countries on earth here!
Disclaimer: We participate in the Klook affiliate program and Agoda affiliate program. We get a small commission for every purchase made through the links posted in this post.