When we stepped into Guilin, we knew that we have stepped into quintessential China. The China that we've seen from childhood Chinese dramas that played on national TV. The pace of the people here was definitely slower than the previous city we were in – Guang Zhou.
Day 1
Exploring Guilin City
We got to Guilin city after a 3-hour bullet train ride from Guang Zhou. Contrary to popular belief, the beautiful karsts that you see on the internet of Guilin are actually not in Guilin, but in a nearby city of Yang Shuo.
There's actually nothing much to do in Guilin itself. M and I, therefore, decided to stay just 1 night at a beautiful Airbnb in the centre of the city, to rest up before continuing to explore Yang Shuo.
While at Guilin, there was only one site that caught our attention and that was the Ri Yue Shuang Ta (Sun Moon Twin Pagodas).
To be perfectly honest, if given a choice, this attraction would have been a hard pass for both of us. However since we had a full day with nothing to do, we decided to visit it anyway.
Pro tip: If you intend to visit the pagodas, make sure to bring your insect repellants! The mosquitoes here are quite ruthless. According to the internet, the views here at night is quite beautiful (with the Pagodas lighting up in different colours).
While we were there, we heard that Guilin is very famous for their roasted geese meat and we knew that we could not give it a miss. We decided to visit a very famous and highly recommended restaurant called Chun Ji Roasted Geese for our dinner.
After dinner, we walked along a night street and decided to call it a day early as we would be taking an early bus to Yang Shuo.
Day 2
Getting to Yang Shuo from Guilin
There are multiple ways for one to get to Yang Shuo from Guilin. The first and easiest method will be to call for a Taxi or Private hire.
Those can range from $40 to $60 USD for one way. The second method will be to take a "cruise" down the Li River. That journey will take 3 hours on a junk boat and would simply take up too much time and money for us.
The method we decided to go with is to take public transportation. It is the cheapest method and is surprisingly easy to do.
First, you'll have to get to the coach terminal which is about a 30 minutes bus ride away from Guilin City. Once you're at the terminal, proceed to the counter to get a ticket to Yang Shuo (27 RMB) (which departs very frequently, every 20-30 minutes).
Do not buy from the touters who are trying to get you to take their private cars to Yang Shuo! Since you're already at the terminal, it's not going to be more convenient for you even if you take their private cars.
Once you get onto the bus, relax and enjoy the scenery for the next 1 hour as endless rows of karsts start coming into view.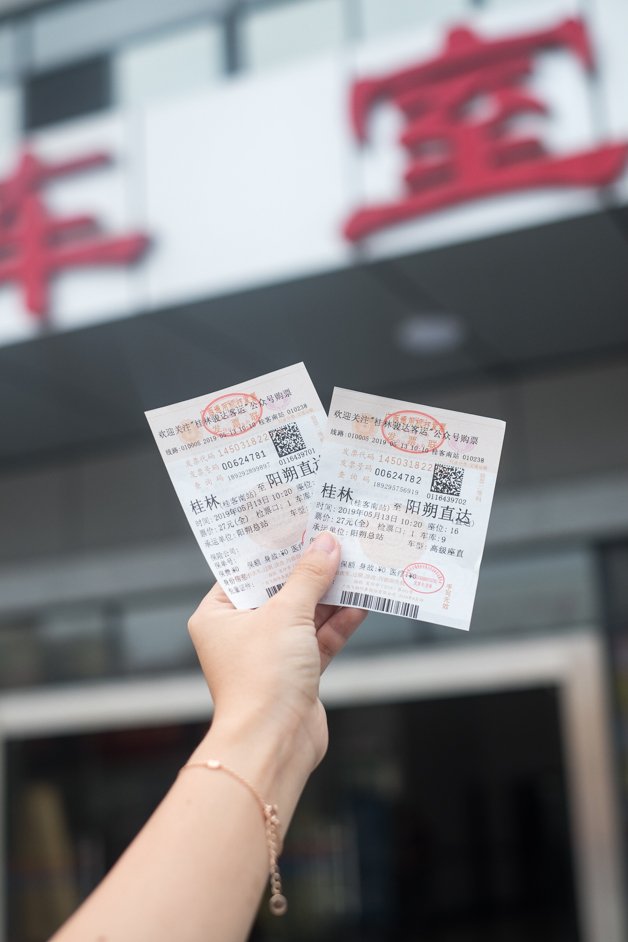 Yangshuo City
Once we've arrived in Yang Shuo, we called a Didi (China's uber) and got to our hotel to put down our bags. We also rented an electric moped from them at 50 CNY (~$7.20 USD) for the day. We were ready to explore Yang Shuo on our own!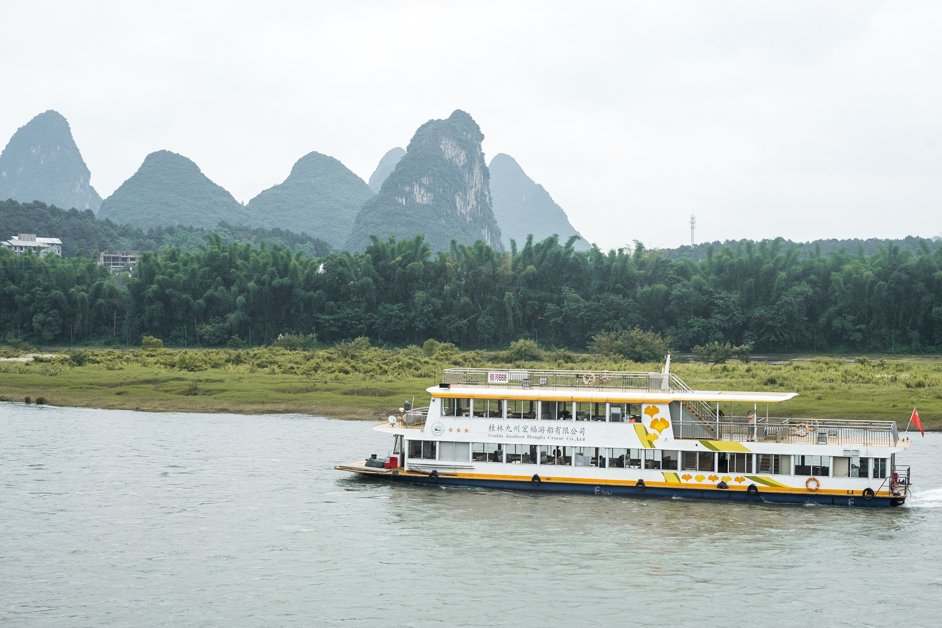 Xing Ping Town
Being the adventurous (naive) people that we were, we decided to ride our electric moped all the way from Yang Shuo to Xing Ping, a nearby town.
As it was electric powered, the moped's speed was severely limited and thus it took us 1.5 hours to get to Xing Ping even though the maps told us it would be 40 minutes.
Note: DO NOT use an electric moped to get to Xing Ping. It does not have sufficient battery to make the return trip.
Our first stop at Xing Ping was its ancient town. The ancient town was very touristy and the shops were clearly targetting tourists like us.
We decided to skip it shortly after reaching and headed to a famous view-point where the Chinese 20 Yuan Renminbi got its illustration from.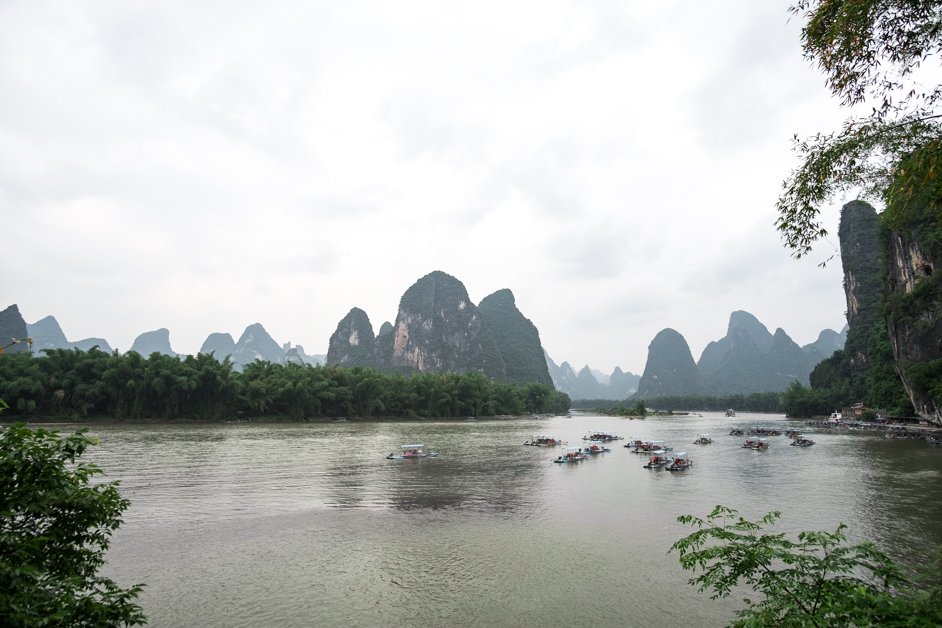 After snapping a picture of this multi-dollar view, we decided to head to the Xiang Gong Shan viewpoint (Husband mountain). This viewpoint was highly recommended to us by our Didi driver. However, the place was quite tricky to get to as it was across the river. We had to pay touters some money to ferry us across the river and drive us up to the mountain, before finishing off with a 15 minutes hike. For most people, the easiest way to get to Xiang Gong Shan would be to join a day tour from Yang Shuo city.
By the time we were done with Xiang Gong Shan, it was already getting dark and time for us to get back to Yang Shuo. Naive as we were, our moped started to get slower and slower, despite pushing the rev to its maximum position. It came to an abrupt stop when we reached Xing Ping town. We had to pay a shop to charge our moped with them. This also gave me a chance to finally fly my drone in the town!
The charge did not last long and we had to stop by a random house to ask them to let us charge our moped. The family was so kind to invite us into their house and even offered us tea and snacks while we waited 3 hours for our moped to charge to half capacity. We eventually bid farewell to them and slowly made our way back to Yang Shuo through the pitch dark countryside.
Day 3

Exploring Yang Shuo
The highlight for our third day would be the bamboo raft ride along Yulong River! After sleeping in due to the very adventurous night before, we headed to a recommendation by the kind hotel receptionists for our breakfast.
After breakfast, we rented the same electric moped from our hotel and headed to the Jinlongqiao Quay. There are multiple starting points along the river for the bamboo raft. According to our hotel's receptionist, the Jinlongqiao Quay segment is the longest and most beautiful stretch along the entire river.
Upon arrival at the quay, we got our tickets from the official ticketing booth for 127.50 CNY per person. We were shortly assigned a rafter and he ushered us onto his raft. The raft can only accommodate 2 passengers so it was perfect for the both of us.
To end our trip to Yang Shuo / Guilin, we decided to head to Shi Li Hua Lang 十里画廊 (literally ten miles of art gallery). It was said that the place got its name as people thought the view along the 10-mile road is so beautiful it was as if they were in an art gallery.
At Shi Li Hua Lang, you can either walk, rent a bicycle or ride a moped. We to explore it on our trusty moped as we were simply too lazy to walk so far! There were significantly more tourists in the area probably due to its proximity to the city centre.
As the day comes to a close, we headed to Yang Shuo's shopping district to soak in the atmosphere. There were plenty of dining options, souvenir shops and night clubs in the district for us to explore there.
We will highly recommend Guilin to anyone out there who appreciates nature and wants an escape from their busy and hectic city life. Its easy accessibility, coupled with affordable costs makes Guilin a perfect short holiday for both couples and families alike.
---
Did you know that China is actually home to several majestic mountains that you can hike at?
On our trip, we visited the Meili Snow Mountain and Yubeng Village right after Guilin!
Check out our blog post to find out more about the hike.