We are up for our 3rd staycation of the year! With travel restrictions still in place, staycations within Singapore have suddenly become one of the most popular activities.
Prior to the whole pandemic situation, we have never done a staycation before as we could simply fly to a nearby country for vacation. However, for now, we got to make do with what we have.
The government has given every citizen S$100 of "Rediscover vouchers" where we can redeem them for travel attractions within the country. When Traveloka recently came up with their Epic SRV promotions, we decided that spending it on a staycation would be a good use of our vouchers!
Booking
As mentioned earlier, this booking was made using our Singapore Rediscover Vouchers through Traveloka. They have been aggressively pushing out campaigns that allows you to stack vouchers after another.
The package that we booked came with a S$120 dining credit and included breakfast. From an initial price of S$357 (US$269), we managed to lower it to S$192 (US$145) after stacking all the available vouchers. If we take into account the S$120 (US$90), that's just S$72 (US$54) for the room. Score!
Keep a lookout for their next Rediscover promotion as it happens very regularly during weekends!
Note if booking with OTA!
Prior to check-in, we did our research and found out about Fullerton Hotel's heritage tour. We also understood that the hotel sends out an email a couple of days prior to check-in for guests to make their reservations for facilities.
However, we did not receive any emails up to 2 days before our scheduled check-in date. I decided to stop waiting and email them instead. To our surprise, the heritage tours were already fully booked.
Upon further query during check-in, we learnt that OTA bookings will not receive any pre-check-in emails due to system limitations. We were told that we should have emailed in to them earlier to state our preferences.
For anyone looking to book their stay at Fullerton Hotel through a third party OTA, be sure to email them 1 week in advance to make your reservations for any hotel facilities.
+65 65338388
[email protected]
Courtyard Room
We were checked into the Courtyard room as per our reservation.
The first thing that caught our eye when we first entered the room was its unconventional design. Its luxurious colonial vibes immediately stood out from the typical cookie-cutter hotel room.
The room itself is large, but slightly smaller than Conrad. Because of its large windows, there was plenty of sunlight and it felt very refreshing inside the room.
Every room in The Fullerton Hotel comes with a Samsung tablet that allows you to call for room service or access the hotel's information.
We find that its becoming a standard for hotel rooms to provide complimentary Nespresso and TWG beverages.
One major complaint that we had during our stay was that the complimentary water was already open and drank from. The house cleaning staff has forgotten to replace them.
We would not have spotted it if M had not picked up both of them and compared the amount of water in them. This was very disappointing especially at a time like this where we require higher hygiene standards. We have given our feedback to the staff and they have exchanged the cartons of water with us.
Bathroom
The bathroom for the room was huge. It was almost the same size as the room itself!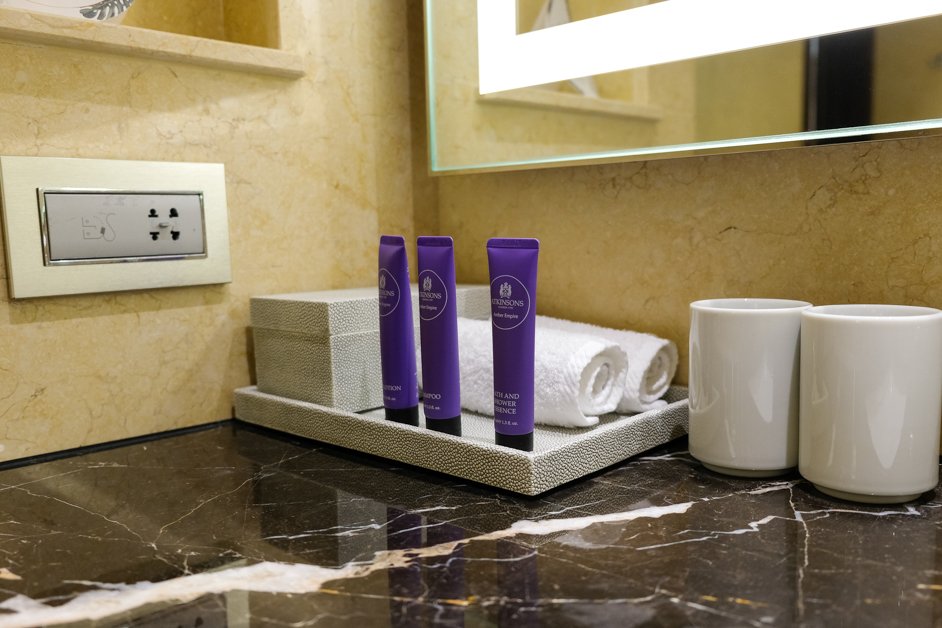 Lobby
We went to the "rooftop" at level 4 and it provides a very good view of all the courtyard facing rooms. This was where solemnisations typically take place.
Walking inside the hotel is like walking in a museum. There were many signs and photographs that described the hotel's history to its visitors. As a huge history nerd, I really enjoyed this aspect of the hotel.
Amenities – Swimming Pool
The Fullerton Hotel is famous for its infinity pool which overlooks the Singapore River. When we made our reservations for the hotel, M and I promised that we'd definitely swim at its pool (unlike our previous stays).
Due to safe distancing measures, usage of the hotel's facilities requires prior reservations. We only made our reservations at the time of check-in, so all morning slots were already taken up. We ended up going for the last slot which is from 8-9 pm.
There weren't many people in the pool area, which is ideal if you prefer a less crowded experience. The hotel gives off an entirely different feel at night as compared to the day.
Dinner at Jade Restaurant
As part of our stay package, we were given $120 worth of dining credits. These credits can be used either for room service or dine in any of Fullerton's restaurants.
We initially planned to go to La Brasserie at Fullerton Bay. However, I did not make any prior reservation for it and it was already fully booked on the day itself. The next on our list is Jade which serves Chinese cuisine.
The Jade Trio Platter is a must try! The skin of the pork belly was really crispy and the fats were full of flavour.
Despite not being a wasabi eater, the Deep-Fried Prawn with Wasabi Mayonnaise (pictured middle) was really appetising and delicious. I would say its my favourite dish out of the 3.
And the last is the Golden Crab Meat Cake topped with Salmon Roe. The meat cake was very crispy and the salmon roe complimented its taste exceptionally well.
We'll recommend anyone visiting the restaurant to particularly order this dish!
The restaurant offers Crispy Rice, aka "Pao Fan" which is experiencing a craze in Singapore now. Jade's version comes with premium ingredients such as an actual crab claw.
The meat is fresh and succulent, and the broth is rich with flavours. However, we find the entire combination when eaten together is a tad too salty.
We also ordered a plate of Braised Ee Fu Noodles, but unfortunately, I forgot to take pictures of it. As compared to the "Pao Fan", I enjoyed the noodles a lot more.
Breakfast
The Fullerton Hotel's breakfast is served at the Town Restaurant.
Similar to the pool situation, we had to make prior reservations for our breakfast slot to prevent overcrowding. As non-morning people, we chose the latest available timing which was 9:30 to 10:30.
We were offered either indoor seating or outdoor seating. We chose the outdoor seating as it provided a good view of the river.
However, this turned out to be a semi-bad decision as we realised that it exposed us to the natural environment (cue birds fighting for leftover food).
We could order anything on the menu and there were unlimited refills.
We have to give a shout out to the staff at the restaurant as they were really friendly and cheerful.
I ordered the Dim Sum delights set and M ordered the Laksa. Each individual set was pretty filling or maybe we are just small eaters.
There was also cereal and muesli as a healthier option.
Final Thoughts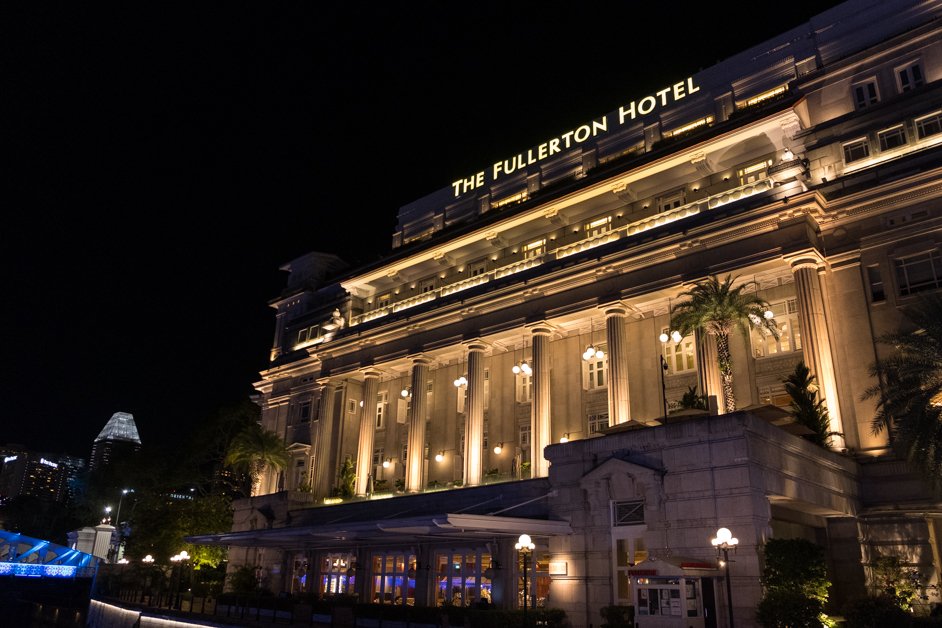 Out of all of our previous staycations, Fullerton Hotel has definitively become our favourite. Its colonial architecture stood out from the rest and the general service from its staff is exceptional.
Although the water incident might be an honest mistake, we felt that it should not have happened in the first place. We hope that future guests do not encounter this experience that we had.
However, it did not dampen our overall experience at the hotel. It's a hotel that we will want to revisit some time down the road to experience more of what it can offer.
---
Staycation Ideas?
Are you looking for other more staycation ideas? Check out our previous review of Conrad Centennial Singapore! It's a stay that rivals The Fullerton's and we could not recommend it enough to our friends.