Time needed: 7 hours
Our ratings: 3.5/5
Cost: ~200 RMB (29 USD)
---
The famous and best-preserved parts of the Great Wall are also the most easily accessible from Beijing. Therefore when M and I were planning for our month-long China trip, we knew the Great Wall had to be one of our must-go places.
We hope that this guide will help those of you who are thinking of creating your own day trip to the Great Wall of China!
The Great Wall is one of the most visited attractions in the world and it is undoubtedly so as it's one of the 7 wonders of the world.
It's a human engineering marvel, spanning thousands of kilometres long with multiple branches along the way. Initially built in the 7th century to fence off northern invasions, it's now a world-renowned travel destination!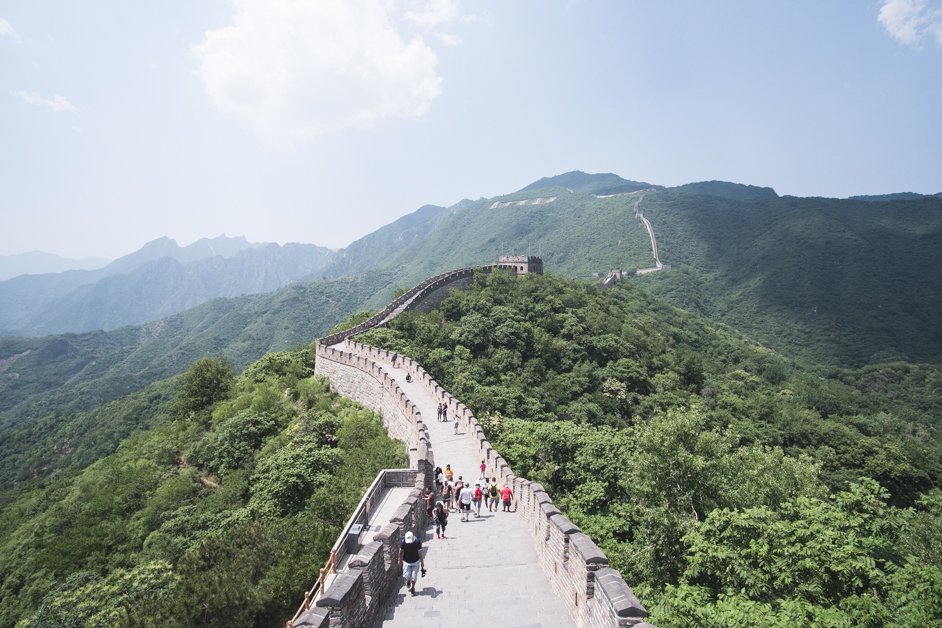 Which great wall?
The first question to ask yourself when planning a trip to the Great Wall is: Which section of the Great Wall to visit?
There are many sections to Great Wall that are easily accessible from Beijing. The 3 most popular ones are Mu Tian Yu, Ba Da Ling and Huang Hua Cheng.
We've decided to visit Mutianyu out of the 3 after some considerations. Badaling is the most crowded and popular one as it's the section of the Great Wall that most tour agencies bring their guests to. Its views are similar to Mutianyu's.
Although Huang Hua Cheng is very unique, given that it's nicknamed the water Great Wall as part of it is surrounded by a lake, it's also more tricky to get to and takes up considerably more time. Given all these factors, Mutianyu seemed to be a better choice for us.
This guide to the Great Wall will therefore only cover the Mutianyu section of the Great Wall. We would love to visit the other sections of the Great Wall in the future!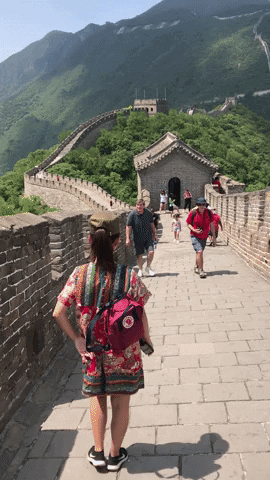 Getting there
Public Transportation
Although an hour away from downtown Beijing, Mutianyu is considered to be located within the Beijing city area and therefore is easily accessible using public transportation. This one-way journey will take approximately 2.5 hours and cost 16RMB in total.
Make your way to Dong Zhi Men (东直门) subway station.
From the bus interchange, look for bus service: Express 916
Take 13 stops to Huai Rou Bei Da Jie Zhan (怀柔北大街站)
From the bus stop, cross the street and take h23, h50, h24. At this bus stop, there will be plenty of hawkers trying to get you to take their cars to the attraction. They'll tell you that it's too late and by the time you reach it's probably closed. That's not true! You are already very near the attraction.
Take 17 stops and alight at Mu Tian Yu Huan Dao Zhan (慕田峪环岛站)
Baidu maps (recommended): https://tinyurl.com/qjwvvt6
Google maps do not offer transit options to this location.
Didi/Taxi hire
You can also call for a private car to get you to the Great Wall. For a one way journey, it will cost approximately 250-300RMB and takes about 1.5 hours depending on where you are in the city.
Tour Packages
If you're looking for the most hassle-free way to get to the Great Wall, there are plenty of online tour packages available online!
An example would be Klook which bundles a round trip bus journey together with the cost of the ticket. The one-way bus journey will take about 1hour 50minutes and it only costs 139 RMB for the most basic package.
Given the time saved over public transport, it might be worth considering this option.
General Information
Once you're at the entrance, there are 3 main ways to transit between attraction entrance to the actual wall.
1. Cable car up and toboggan down
2. Cable car up and cable car down
3. Hike up and hike down
We opted for the second option as we were too tired to do anything too physical after our recent hike at Meili Snow Mountain (you can read more about it here!). Also, if you decide to take the toboggan down, you have to walk quite a distance on the Great Wall as the entrance of the Cable Car and Toboggan is quite far.
Admission Fees
Adults: 40CNY
Seniors: 20CNY

Cable car (separate) / Toboggan
Adults: 100CNY (one way), 120CNY (round trip)
Children: 50CNY (one way), 60 (round trip)

Protip: If you're a student, be sure to bring your student card! There's usually a large discount on the fees even if you're an international visitor.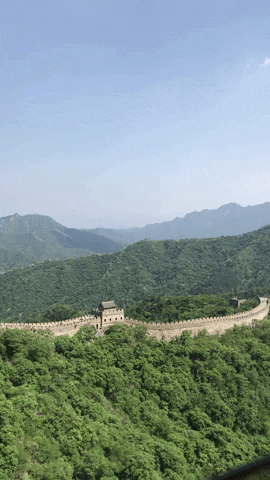 Our tips
Unless you intend to hike the entire stretch of the Great Wall, you do not actually need a lot of time to explore this attraction. When we visited, M and I spent approximately 1.5 hours on the Wall and we only walked about 3 stretches long.
There's definitely a wow factor when we first stepped onto the wall but that feeling quickly dissipated as the views were largely the same.
Try to visit early so that there'll be fewer people and you'll have more opportunities to not get photobombed!
Remember to bring enough water as there'll not be any water points once you're on the wall itself. You can pre-purchase water at the stores near the entrance but we do not recommend doing so as it is harmful to the environment. It's always better to bring your own.
Lastly, enjoy your trip to the Great Wall of China. It was definitely a check off the bucket list for the both of us as we've finally visited a wonder of the world!
If you're planning a trip to China, check out our other posts here! We hope that our experiences and tips can help you better enjoy and plan for your own.