Ski resort near Osaka/Kyoto?!
When people think of skiing or snowboarding in Japan, most people will think of Hokkaido or Tokyo. Did you know that there are ski resorts in areas as far south as Kyoto?
When M and I were planning for our Osaka trip in winter 2019, we were desperately looking for a ski resort in the area to fulfil our snowboarding kicks.
While doing our research, we stumbled upon this local ski resort, located just an hour away from Kyoto – The Hakodateyama Ski Resort!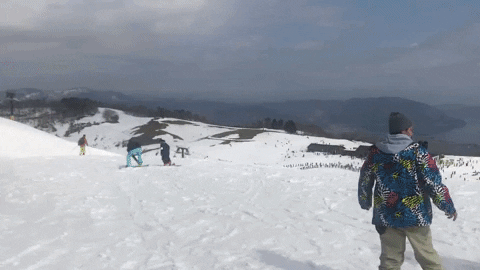 The resort has 4 main ski lifts, 3 on the lake-facing side and 1 on the back facing side. This is a very beginner-friendly ski resort so most of the trails are very gentle with little variations.
The trails are also relatively short, so you'll spend quite a bit of your time waiting for your turn on the ski lifts.
If you're a little experienced, route 4 will be perfect for you as it offers quite a good view and it's slightly longer than the rest of the trails.
We find that this resort is really good for beginners who want to pick up skiing/snowboarding as the trails available here are really suitable to learn!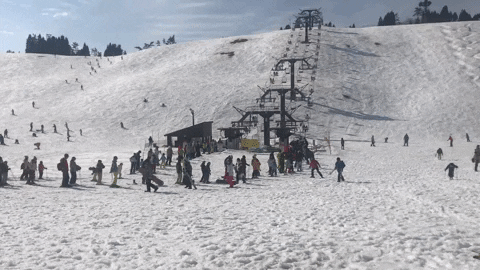 The ski resort is a very local ski resort, so we didn't encounter many foreigners. Most of the signs there were also in Japanese with no English translation.
We didn't encounter many issues despite that as there were staff everywhere with good command of English who could attend to us.
How to get to the Hakodateyama Ski Resort?
It's actually very convenient to get there by public transportation even if you know little to no Japanese.
From Kyoto
From Kyoto Station, look for the JR Tokaido-Sanyo Line. Take 16 stops and alight at Omi-Imazu station.
Exit from Omi-Imazu and you'll see a sign at the gantry for shuttle services to the ski resort. The bus station should be on the right of the station upon exiting the gantry.
Take the local bus #1. It will circle through the village before arriving at the ski resort. Please check the bus timings here as it only comes once every hour. Make sure you have the exact coins as they do not accept ICOCA cards here.
---
| | | | |
| --- | --- | --- | --- |
| Kyoto Station – Omi-Imazu Station | JR Tokaido-Sanyo Line | 990Y | 1 hour |
| Omi-Imazu Station – Hakodateyaa | Bus #1 | 220Y | 20 minutes |
Prices
We think that the prices are considered pretty affordable as compared to other ski resorts around the country. With rentals, most people will be looking at around 11,500Y for a day's worth of ski time.
Is it worth it?
We think this ski resort is definitely worth your time and money if you're in or near the Kansai area for holidays and are looking for a quick fix for your skiing needs. Sure it isn't as powdery as Hokkaido or as beautiful as Hakuba, but being so close to Kyoto, this ski resort is surely worth considering.
However, if you're a very experienced skier or boarder, we will not recommend this mountain to you as its trails are too short and will get boring very quickly. You will likely spend more time waiting in the lift lines than actually going down the slopes.
When you're planning your trip to Kyoto, check out our blog post here on the things to do when you're in the city! If you have any questions for us, feel free to drop us an email or leave it in the comments section below.