Teppei Omakase is one of the most popular Omakase establishments in Singapore and for good reason! It is a cosy 22-seater located at the heart of our CBD (Central Business District) area.
At 129 SGD per person, it is one of the more affordable Omakases in town. Moreover, its popular theatrics makes this unique dining experience one not to be missed. Snagging a seat at this restaurant is incredibly difficult and requires very fast fingers.
Ever since our first visit in 2018, this has quickly become one of my family's favourite Japanese restaurants in Singapore. This time around, we're back again to celebrate my father's birthday.
Teppei has no fixed menu for its Omakase and it changes every season. For the latest offerings, be sure to check out its hidden webpage or Facebook page.
The experience
Butternut squash with scallop
Japanese macaron foie gras and miso soup
Fish cake with king prawn spring roll
Abalone brinjal with seafood sauce
Tile fish with beer batter and black vinegar sauce
Yellowtail sashimi don with sesame soya sauce
Yuchoe salmon sashimi with soya sauce, salmon confit
Hiroshima oyster with home made seaweed ball
Chutoro and otoro blue fin tuna with shiso edible flower
Minced nigetoro with white and red sushi rice with sea grapes
Fun fact: The rice on the right is slightly brownish-red because it was cooked using aged vinegar.
Japanese tomato puree porridge with mushroom paste and king crab meat
Duck breast with onion sauce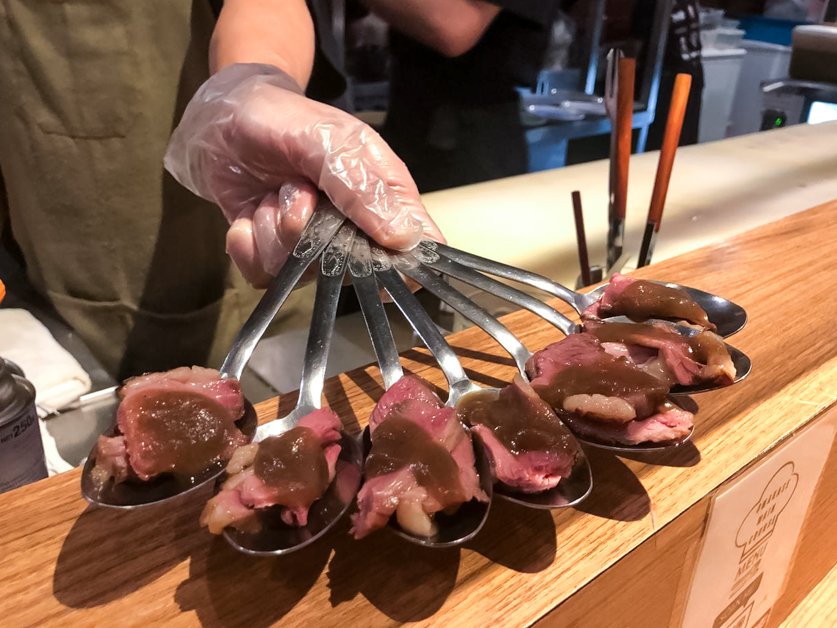 Rockfish sushi
Wagyu beef with mashed potato and red wine sauce
Grapes with red wine and cream cheese paste
Peach
Mains (Pick 1 out of 7 options)
Tomato on stick
Dessert Ice cream
Making a reservation
Trying to get a reservation to Teppei Omakase is a skill by itself. The over popular restaurant opens its reservation system a month before and the exact date of release can be found here.
You can try to make your reservation through this link. Before reserving, check the official Facebook page for any latest updates.
How to get to Teppei Omakase?
The restaurant is located at Orchid Hotel.
The nearest MRT station is Tanjong Pagar MRT station.
If you're driving, you can park in Orchid Hotel directly.
Final thoughts
If you've been counting, we've had a crazy 19 dishes in a short span of 3 hours. Every dish is so unique and varied that it breaks the boundaries of traditional Japanese cuisine. We can clearly see the thought and creativity that went into every dish.
On top of the taste of the food, we enjoyed the theatrics put up by the staff of the restaurant. They were very passionate about making sure we are entertained.
We'd recommend Teppei Omakase if you're looking for something more unique and different from traditional Omakase. If you're looking for something more traditional, then we'll recommend Miraku over Teppei as we felt the food were fresher and of higher quality.
---
Looking for more?
Are you looking for more Japanese Omakase options in Singapore? Check out Miraku Omakase!
We've tried several Omakase restaurants in Singapore and found that Miraku offered the best combination of value and quality. Read the post to find out more.