As an avid traveller, we're always on the lookout for ways to fly around the globe for cheap. We all know that flight tickets is one of the largest expenses of any trip. By reducing the cost of this component, our entire trip or vacation can get a lot more affordable. We'd like to share with you how to use Google Flights to get really cheap air tickets for your next vacation!
In the good old days before the advent of meta-search engines, we were used to simply going to our favourite airline's website and book from there. With the advancement in technology, meta-search engines such as Google Flights and Skyscanner emerged. They aggregate flight prices across multiple providers and give us an opportunity to compare across different flights.
We've personally used Skyscanner in the past as it was the most convenient tool and Google Flights did not exist back then. However, in recent years, we've switched to using Google Flights and we find that it is an easier and faster platform to use. We're also able to get travel inspiration from the platform.
There are 4 scenarios that we'll be covering here.
1. Destination decided, dates decided.
2. Destination decided, dates flexible.
3. Destination flexible, dates decided.
4. Destination flexible, dates flexible.
The basics
Using Google Flights is exactly the same as how you'd use any other travel search engines or your airline's flight search. Just key in your destination and travel dates and you're all set. In our examples, we'll be mainly using Round Trip and Economy as the search criteria. You can change them according to your preference and they will be largely the same.
Scenario: You already have your destination and dates decided.
Key in your origin and destination.
Select your dates. Upon clicking the 2 dates (if you're selecting one-way, then its 1 date), click Done and you'll be directed to the flight selection page.
If you have any other preferences, you can select the filters that show up now.
Here you'll see all the different flights that fulfil your search criteria. The best flights according to Google's criteria will be shown above. There are more options as you scroll down. Click into the tiles to be shown the booking options.
Scenario: You already have your destination set, but your dates are semi-flexible.
As you can from point 2, when you're selecting the dates, every date has a price affixed to it. This is a very useful feature of Google Flights where they inform you of the cheapest air tickets of the return date. This works wonderfully well for return trips!
Select the start date and subsequently, prices will pop up for the rest of the dates.
Once you've selected your dates, if you want more tools for price comparison across dates, you can click the Price graph function.
The Price graph shows you a bar chart of the cheapest prices across the different dates set according to the x-day trip you've set. This can be a really handy tool for price comparison and date decision.
Deciding when to book the tickets
In the travel industry, we all know that when you book your air tickets greatly affects the price of your tickets. Booking way too early and you might be missing out on potential flight deals. Booking too late and prices will skyrocket as supply gets low. It's always an internal struggle for us travellers to minimise the cost of our flight tickets. Many travel gurus advise booking within a period of between 2-3 months before your flight for the best possible prices.
What if we tell you that there's a more statistical way to do this using Google Flights? This can minimise the mental stress that comes with flight booking.
Seeing the price trend
Once you've selected your flight, you can see the price trend for that particular flight.
By expanding the View price history button, you'll get to see a graph of the price trends. This can be really useful for you to see the price trend for this particular flight. Take note that this function is only available for certain airline's flights.
Alerts for price drops
You can choose to receive email notification alerts whenever there are price movements. This includes both price increases and price drops. We find this function particularly useful when there's still some time away from the flight. We will just set the alert and wait for the price to drop to a level we're comfortable with. Note that you'll only receive email alerts if you've signed into your Google account.
Returning back to the main page, you'll get to see a list of all your tracked flights.
Getting travel inspiration
During the initial stage of your trip planning, you perhaps do not have a destination in mind. You only know that you have some vacation days from work that you have to spend. You can choose to use Google Flights to get an idea of where to go!
Scenario: You have decided on the dates of travel, but not the destination.
In the main page, enter your origin location and travel dates. Leave the destination empty and click Search.
You will be shown a list of cities together with a map. These are all the cheapest prices for air tickets from your origin location to said destination. You can drag and navigate across the map to find locations to travel to!
If let's say you don't have any specific destination or dates in mind, but is just having that travel itch, Google Flights has a function for you to kickstart your next vacation idea too!
Scenario: You have not decided on the dates of travel and not decided on the destination.
From the main page, just randomly select 2 dates and you'll be redirected to the maps page. On the maps page, click on the departure date.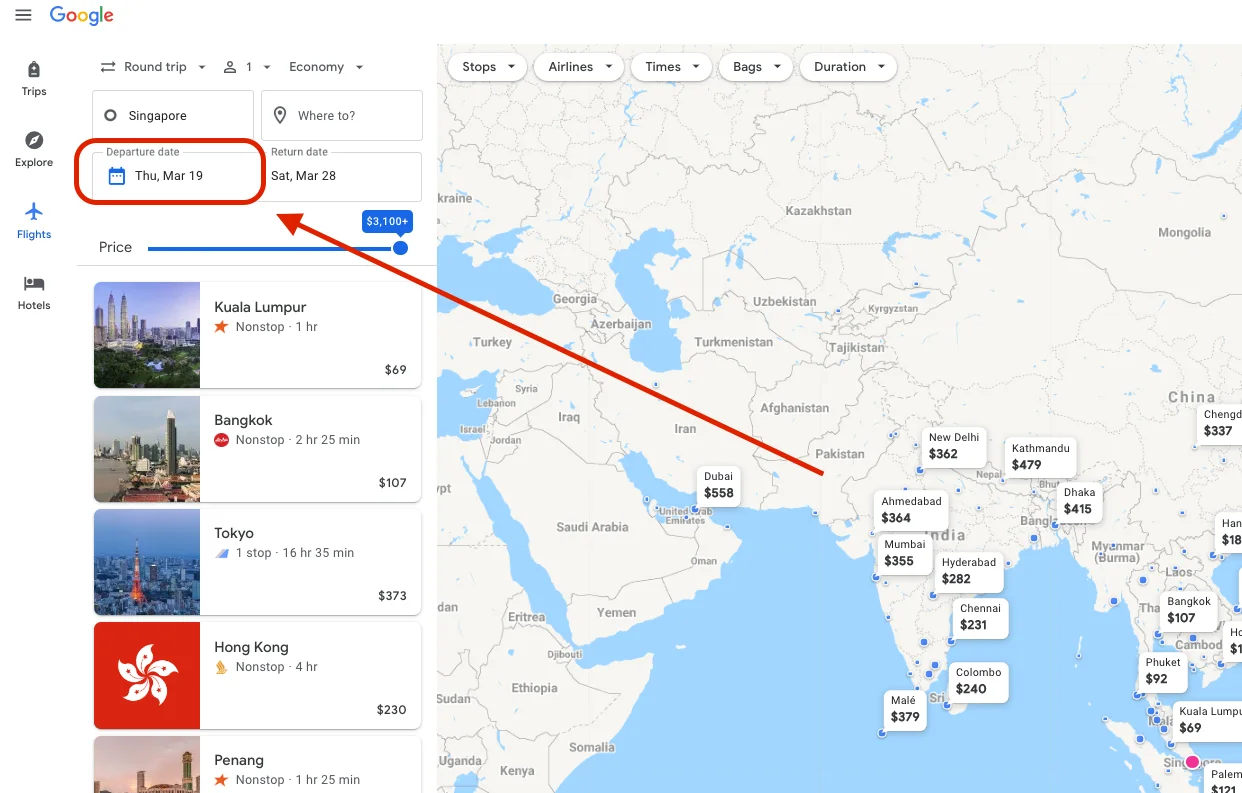 Select Flexible dates.
Choose the type of dates you want and click done!
Google will then show you the results for the kind of dates you want. You can similarly navigate the map to see flights to all around the world.
What I (JS) do during most of my free time…
---
We hope that the above tips will help you in your next trip planning! Using Google Flights for our flight comparison is one of our main trick to securing cheap flight tickets and being able to travel as much as we do. If you have any more tips and tricks to share with us, feel free to leave a comment below or DM us @ our Instagram account. We'll be writing a future post on using Google Maps to find hotels in the planning of your trip so stay tuned for that!
If you're looking for more travel inspiration or guides, check out our camping / hiking trip to Zion National Park, Utah! If you're looking for somewhere near Singapore for a short vacation, consider glamping at Anmon Bintan Resort!