As Singaporeans, we were always told that our passport is one of the most powerful in the world. It has been very useful to M and me whenever we travel. Visa applications are always at the bottom of the list of things to prepare for.
What if I told you that there's one more useful travel benefit as a Singapore passport holder? That is, we are eligible for the US Global Entry program!
In this post, we'll go through the steps to apply for it and our experience using the program!
What is Global Entry?
Global Entry is a program that enables expedited entry into the United States of America.
Typically when international travellers arrive in the US, they will have to go through long lines of immigration. The entire immigration process is known to be lengthy and very daunting. There's even a chance of a secondary screening if you answered any of their questions incorrectly.
Global Entry allows you to bypass all of that! As a Global Entry member, you get to skip the line when you arrive in the US.
As someone who travels frequently to the US, this is a must-have and it greatly improves the travel experience.
A Global Entry membership costs US$100 and lasts for 5 years.
Who is eligible for Global Entry?
The Global Entry program is available for US citizens, US permanent residents and citizens from a handful of countries. Luckily Singaporeans are on the list!
Argentina
Brazil
India
Colombia
United Kingdom
Germany
Panama
Singapore
South Korea
Switzerland
Taiwan
Mexico
How do Singaporeans apply for Global Entry?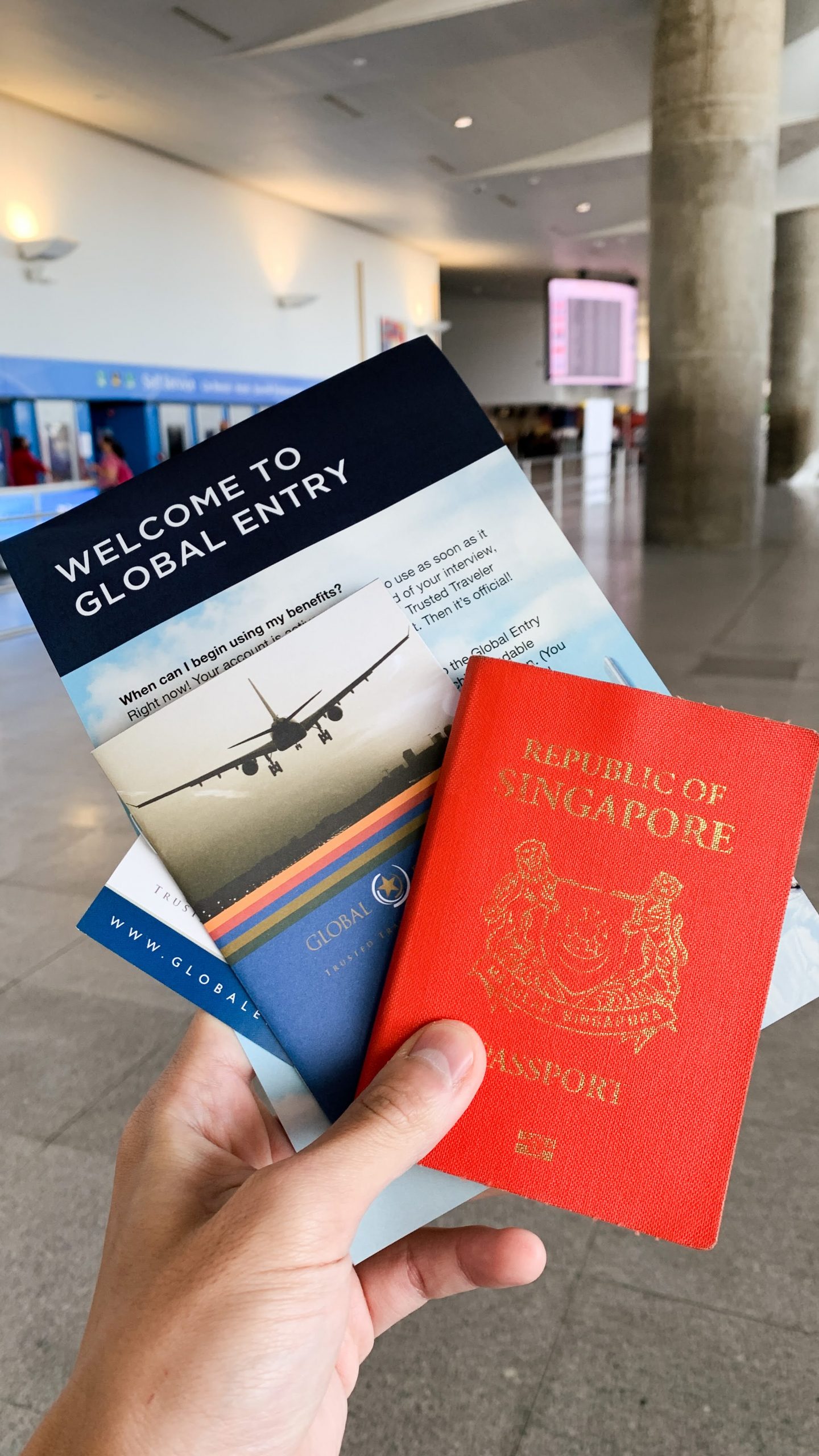 Create a Trusted Traveler Program account
You first have to create a TTP account here.
Fill up the Global Entry application
The entire application is very lengthy and the questions asked were similar to a standard US Visa application. It took me approximately 15 minutes to fill up all the questions.
At the end of the application, you'll be asked to pay US$100 for the application fee.
Wait to be conditionally approved
Once you've paid and submitted your application, you'll have to wait a couple of weeks/months for it to be reviewed.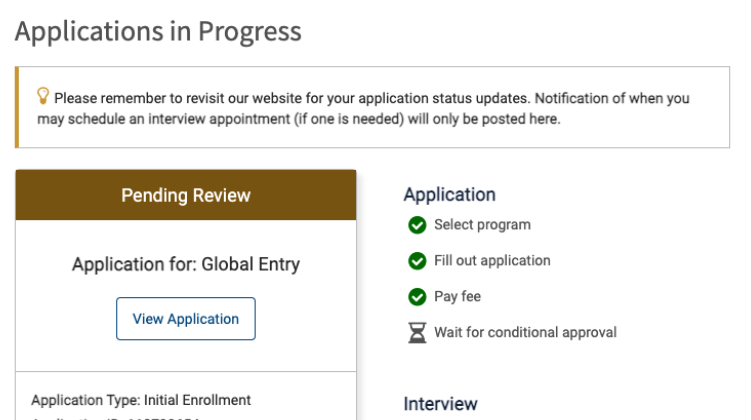 How long is the wait for Global Entry conditional approval?
In my case, I submitted my application on 9th August 2021. I received the conditional approval notification on 16th September 2021. That is a total of 38 days.
Attend a Global Entry interview
Once you received your conditional approval, you'll be asked to book a slot for an interview. There are currently multiple locations for applicants to have their interviews.
CBP Global Entry enrollment centres around the US
Enrollment on arrival
Embassies
As you are already conditionally approved, the interview is typically quick and simply a formal process. I was only asked about my occupation and why I joined the Global Entry program.
The officer will give you your Global Entry number at the end of the interview. To enjoy Global Entry benefits, you have to key the number in whenever you're making an international flight to the US.
Global Entry Enrollment Centers
If you're located in the US, this might be good as there are some locations within the cities. However, the lead time for an appointment is very long (2-3 months).
Enrollment on arrival
This is the option I'd recommend most people to go for.
You can choose to have your interview when you arrive and clear immigration at an eligible US port. This is the most convenient option as you do not have to make an appointment beforehand. This option is also available in multiple international airports like Canada, Ireland and UAE. Check out the full list here.
I tried to do an enrollment on arrival during my previous trip to New York but was unsuccessful. Despite Newark (yes, it's a New York area airport) being an eligible port, the terminal your flight lands in matters as well.
My flight landed in a different terminal from the designated interview terminal and there was no way I could transfer over without clearing immigration. This information can't be found anywhere on their website and requires community data points.
Embassies around the world
Although this was not explicitly stated on the CBP website, we found that we were able to schedule a Global Entry interview at the Singapore Embassy.
The lead time for the interview was much shorter and more convenient than the other options available.
READ ALSO: Hiking the Indian Head and Rainbow Falls trail in the Adirondacks
TSA Precheck
The Global Entry membership comes included with TSA-Precheck. This is a program that allows you to fast track the security checkpoints when you're taking a flight within the US.
If you have ever been on an internal US flight, you'll know how much of a hassle it is! With TSA Precheck, you won't have to take out your shoes and your laptops when you're clearing security. You'll also join an expedited security line which is really helpful when you're in a busy airport.
Experience using Global Entry to enter the US
In a busy airport like LAX, I was able to clear immigration within a minute!
When I arrived at the immigration lines, I immediately looked for the designated Global Entry lines. At the front of the lines, there are Global Entry kiosks where I had to scan my passport and get my thumbprints taken. A few seconds later, I got a receipt which I later passed to the CBP officer standing beside me.
And that was it! I was off to collect my baggage!
Final Thoughts
Travelling can be very stressful and we are all for improving the process. The Global Entry program is one such useful tool that Singaporeans can take advantage of.
We think that this program is a must-have for anyone who travels to the US on a frequent basis. It greatly improves the entire travelling experience. However, if you're only there very rarely for holiday, the extra effort and money to apply for it might not make sense to you.