M and I are big fans of renting our own car whenever we travel overseas. In our opinion, it is the most convenient way to explore any new destinations. This was precisely what we did on our trip to Cancun, Mexico!
Unfortunately, things did not turn out the way we wanted. This is the story of our rental car experience in Cancun where we almost got stuck in the jungle!
The Cancun area is a popular tourist destination spanning Cancun, Playa del Carmen and Tulum. To fully explore what the area has got to offer, having a car is almost a necessity. There are countless "off the beaten path" Cenotes and ancient ruins along the way that are not convenient to get to.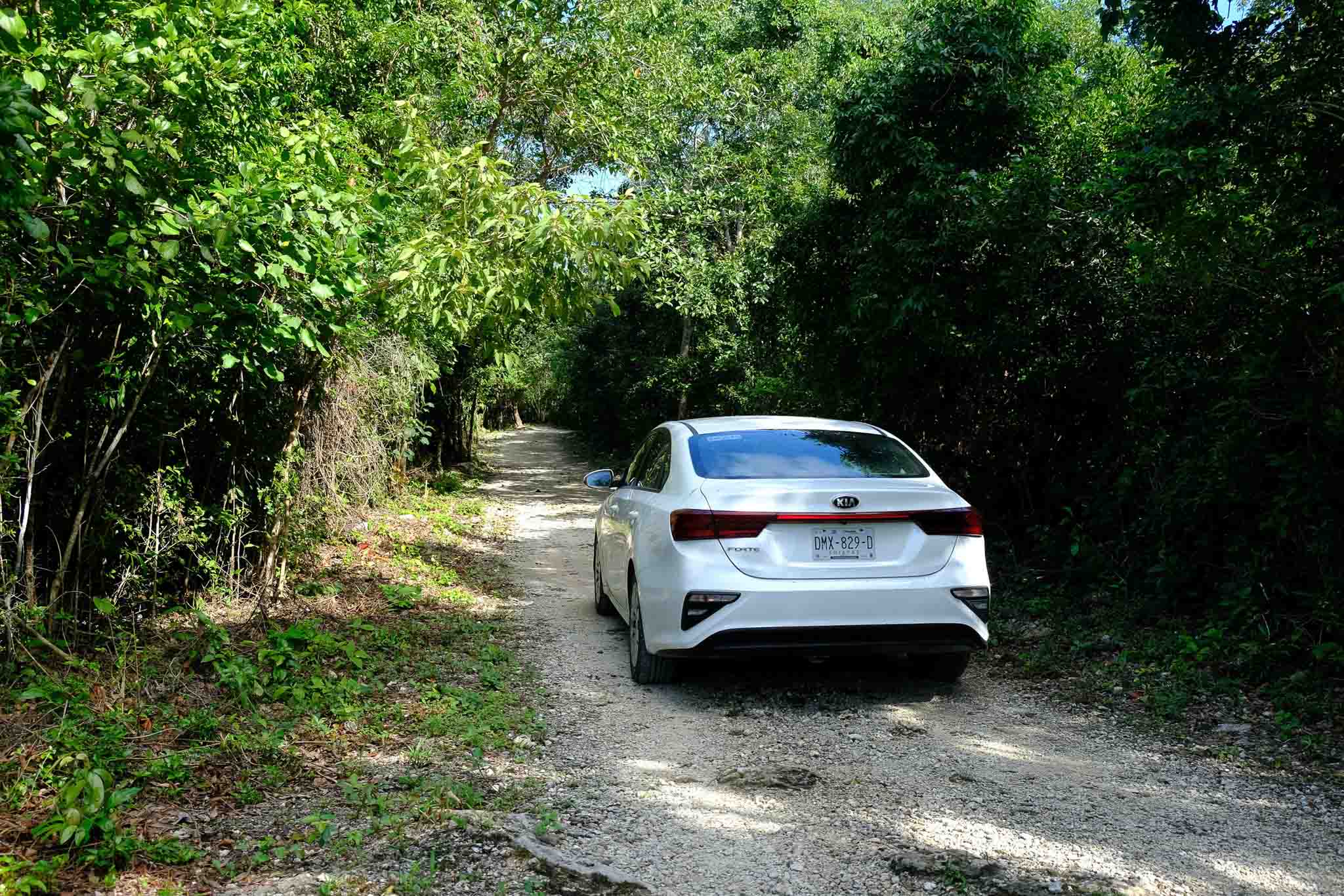 Renting our car in Cancun
To find the best deals, we've always used a search aggregator like Kayak or Rentalcars.com. They allow us to compare the best rates across multiple car rental companies. This proved to be our mistake #1 when renting our car in Cancun.
Car rentals in Cancun are generally very affordable as compared to the US.
After looking at several companies, we've decided to go with Mex Rent a Car. For our 8 day rental, it costs us a total of US$226. That is just US$26 a day! We thought we got ourselves a steal.
When we were making the booking, I reserved the car for collection at 10 am. We did not change the collection time even after booking our flight which was due to reach Cancun at 4 pm instead. This mistake was on me as I thought collection times didn't matter.
Collecting our rental car in Cancun International Airport
Once we exited immigration at the Cancun International Airport, we were greeted by rows of rental car booths. We found our rental company and proceeded to take a 10-minute shuttle ride to another terminal where the cars are.
At this point, we don't yet have any cell service as our T-mobile plans from the US did not provide a 4G signal overseas. There was only a measly 3G service that wasn't able to load up any web pages. Our initial plan was to collect our car and buy a SIM card afterwards.
When we arrived at Mex's main office, there was no queue and I could immediately speak to a representative. To my horror, I was told that because we were late, our initial booking was entirely nullified and the original car wasn't available anymore.
To get another rental car from them, I would have to top up another US$225 from our initial booking. This was exactly what we paid initially to get our car, which means we would have paid double for our rental!
As we did not have any cell service, we were unable to call Rentalcars.com for help. Out of desperation, we decided to take the car and pay the extra money.
Before accepting the car, we always make sure to take photos and videos of the entire car to make sure we are not liable for any damages we incur. This was no exception. Especially after this initial debacle, we were determined not to get into any more issues with the rental company.
Total damage so far: US$451
Calling Rentalcars.com for a refund
The same night, we decided to call Rentalcars.com's hotline to see if they could do anything. After almost an hour on the phone, it was clear they couldn't do much to help us with the extra cost.
They told us that since we've taken a car and technically signed a new agreement with the car company, there's nothing they could do on their side. They mentioned that there was a chance they could do something if we called when we were collecting our car.
We decided to give up and not let this incident affect the rest of our holiday. We then went on to visit some amazing landscapes and places across the Yucatan peninsula.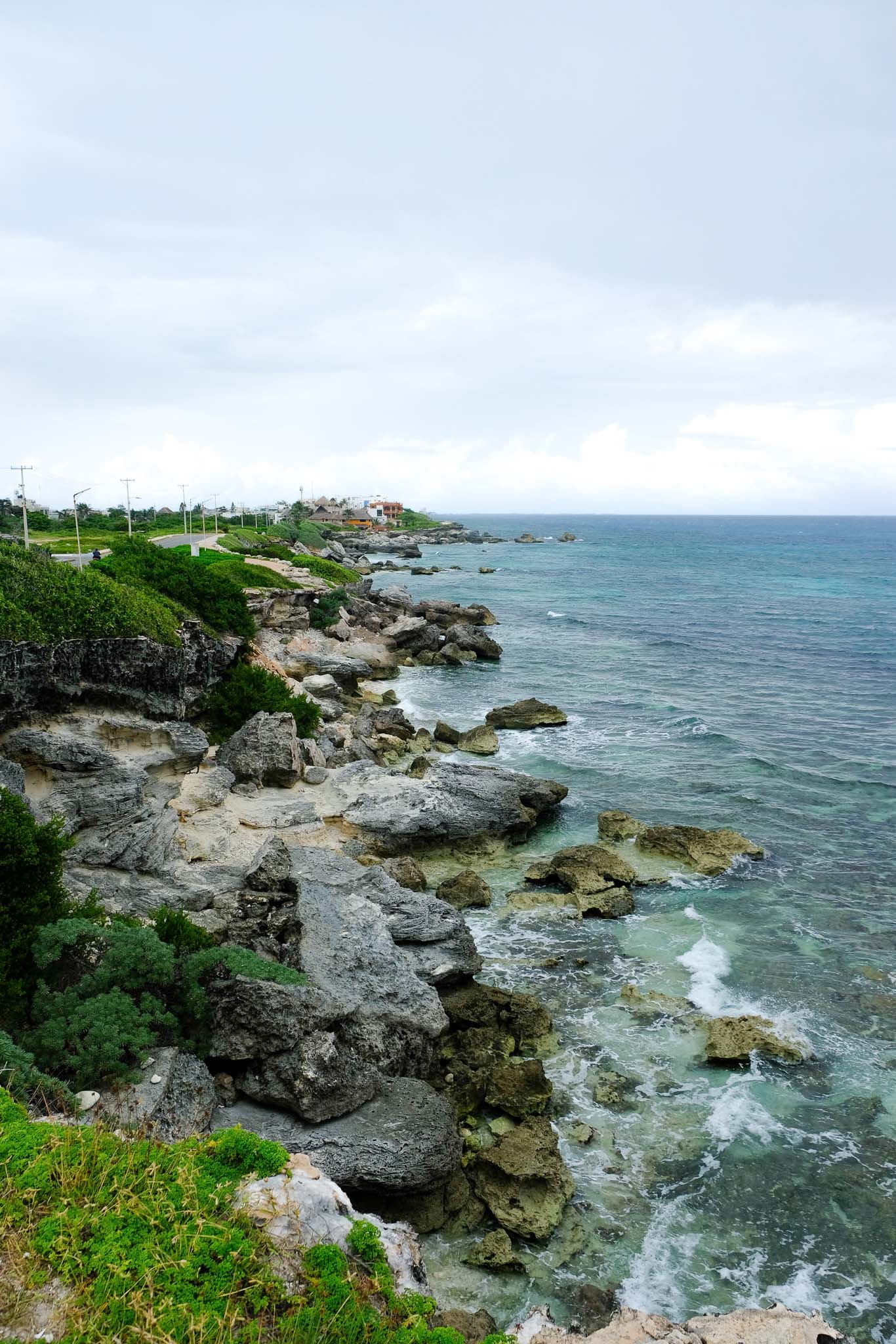 Burst tires
Just when we thought it couldn't get any worst with the car, our car tire burst while we were travelling between Playa del Carmen and Tulum at night. The Chetumal-Cancun highway that we were driving on connects the 2 major cities in Mexico.
We immediately pulled over to the side of the highway once we found out that one of our tires has burst. It was a thrilling experience to change the tire in the night on a tiny side lane with large trucks driving past ride beside us.
We immediately tried to call Mex's emergency roadside assistance for help. Throughout the call, they kept telling us to change the tire ourselves and they will only be able to help us the following day.
With the help of Youtube and some prior experience from our trip to Canada (yup it's not the first time I've burst a tire), we managed to change the tire in about an hour and headed off to our accommodation in Tulum.
The next day after bursting our tires
The next morning, we headed to Mex's Tulum office immediately after waking up. It was a quick 5 minutes drive from where we were staying the night before.
At the branch office, the representative told us that they don't have a tire on hand and will require their main office in Cancun to deliver it over. It would cost us US$193.03 for the tire and another US$100 for the delivery fees.
After some deliberation and recommendations by the staff, we decided to pay for the tire immediately but not have it delivered to us to save on the delivery fees. We would continue driving the car with the spare tire and only return the car at the end of our trip.
In hindsight, this was a totally bad decision and we'd not recommend anyone to drive a car without a spare!
Total damage so far: US$644.03
Burst rims and stuck in the forest
We were left with just 1 day in Tulum before returning back to Cancun. In our original plans, we wanted to visit the famous Chichen Itza which was a 2-hour drive from Tulum. Because of our situation, we decided to visit the ancient Coba city instead as it requires a much shorter drive.
While we were there, we visited the famous Coba ruins and Cenote Choo-Ha. On a side note, we highly recommend anyone visiting Cancun to also visit these places! They are incredibly beautiful.
It was late afternoon (4 pm) when we decided to leave Coba for Cancun. We were headed for a 2-hour drive along the Quintana Roo Nuevo Durango – Coba road.
This road cuts through a jungle and there was no cell phone reception throughout. It was also incredibly bumpy and there were potholes all over. Lo and behold, I went over a deep pothole and we heard the dreaded hissing sound. We had just burst another tire!
At this point, panic started setting in as we had no more spare tires and were literally in the middle of the jungle. The sun was slowly setting and getting stuck in the middle of the forest at night was the last thing we wanted.
I tried to hail down a car to help us but it was just so deserted that no cars went past us while we were there. In a desperate attempt, we drove the car with a flat tire very slowly in search of a village to help us.
Help from villagers and fixed our tires
Within 5 minutes, we crawled to a village entrance and I immediately got out to seek help from the villagers. After speaking to them, we decided that the best course of action was for them to drive us to the nearest town to fix our burst tires.
I split with M (and her sister who was on the trip with us) at the village, took the originally burst tire from our boot and went in search for a car repair shop. As it was late at night on a Sunday, most shops were already closed.
The villager who was with me went to several shops and eventually found one which offered to help us fix the tire.
The whole ordeal took us about 2 hours and we would not have made it without the help of the kind people we met along the way. We exchanged contacts with the kids from the village and eventually went on our way back to Cancun.
We were glad we booked out night at Residence Inn Cancun Hotel Zone as we have had a great experience there before and it wouldn't add to anymore stress for us that night.
Returning the car to Mex Rentacar Cancun Airport
At this point, we were already exhausted from the entire experience. We just wanted to get rid of our car as soon as possible even though there was the dreaded final car inspection. We were just hoping that there would not be any more damages or charges that we would have to pay for.
In a twist of fate, the inspector told us that there were 2 additional damages on the car when we returned the car. A dent at the bottom and a damage at the tire rims.
We checked our footage from our initial inspection and those damages were indeed new. At that point, we decided not to argue and pay for the damages that we've incurred from our trip. We were hoping that the rental car insurance from our Chase Marriott Bonvoy Boundless card could reimburse us for these damages.
The additional charges were US$435 for the rim damage and US$153 for the dent.
Total damage so far: US$1252.03
Insurance Claim
As mentioned earlier, we booked our car with a credit card that comes with rental car insurance. I immediately initiated the insurance claim process once our trip ended.
It was a very lengthy process that spanned 4 months before I got a final result. There was a lot of back and forth, mainly because of a lack of documents. I also had to contact Mex Rentacar to get an itemized repair matrix bill which contributed significantly to the delay in processing.
We were ultimately returned US$476.35 for the damages.
Total damage so far: US$775.68
Final thoughts
This whole car rental experience was a first for us and we learnt a lot of valuable lessons from it.
First and most important is that a rental car insurance is absolutely necessary. It gives us a piece of mind when we're renting a car. We've heard stories of people paying tens of thousands of dollars for their rental car damages.
Another important point is to never drive without a spare tire! We never want to be stuck in a situation again where we can't get ourselves to safety.
Lastly, try to book direct with the car rental company as much as possible instead of through booking aggregators. They can be useful tools to compare prices across companies, but can prove to be a whole lot of pain when things go wrong during bookings.
Despite everything that happened, we still firmly believe that renting a car is the best way to explore a new location. Armed with the knowledge gained, we hope that we'll have better rental car experiences in the future.
Final damage of the car rental: US$775.68