As part of our Riveria Maya week-long vacation in the winter of 2021, we stayed and explored Cancun for 3 days. During our time here, we split our stays between Cancun downtown and the Cancun Hotel Zone.
Other than Cancun, we've also visited Playa del Carmen (where we stayed at the amazing Hilton Playa del Carmen all-inclusive resort) and Tulum.
For our stay in the Cancun Hotel Zone, we chose the Residence Inn Cancun Hotel Zone property as it's a new property and highly raved about in Flyertalk forums!
Our booking process
We made our booking directly through Marriott. For our stay in the Studio, 2 Queen Balcony Room, we paid a total of US$90.60 for 1 night. This includes a US$30 extra person charge as we had a party of 3 during our trip.
For our trip, we made 2 bookings at this hotel. 1 at the start of the trip and 1 towards the end as the hotel was located very near the Cancun Airport.
Check in
The entire check-in process at Residence Inn Cancun was fast and smooth. During check-in, the staff also explained to us some of the facilities available in the hotel.
As I've experienced the contactless check-in feature Hilton implemented during our stay in Front Royal Hampton Inn, I originally wanted to try out Marriott's version here. I checked in via the app 2 days before our stay and immediately requested a mobile key.
Unfortunately, I did not receive a mobile key up till the point where I checked in physically. I requested for it to be activated during my check-in but it wasn't working throughout my entire stay.
Guests have to wear masks whenever they are in public areas like the restaurant or the lobby. There were staff "patrolling" around to ensure that this rule is adhered to.
We really liked the overall decor of this Residence Inn. It's slick, modern and clean.
There is a pantry area for guests to purchase snacks or groceries. This is very useful as the hotel isn't located near any shops.
2 Queen Studio Suite at Residence Inn Cancun Hotel Zone
The Residence Inn Cancun Hotel Zone is an all-suites hotel that's suitable for long stay guests. This is clearly evident in their room design and amenities.
For our first stay, we were given a corner room that was very far away from the lobby and the entrance. We had to take a 5 minutes detour through the hallways whenever we wanted to get anything from our car.
The room has the same design elements as the main lobby.
Every room comes with a large 55" LG TV which has modern casting features. You won't have to worry about bringing an HDMI cable during your stay here!
The sofa faces the back of the TV which we found to be quite an awkward placement. We didn't use the sofa much other than to place our bags.
There's a large dressing area with large cabinets. If you're staying long term in this Residence Inn, this would be very useful to store all your clothes.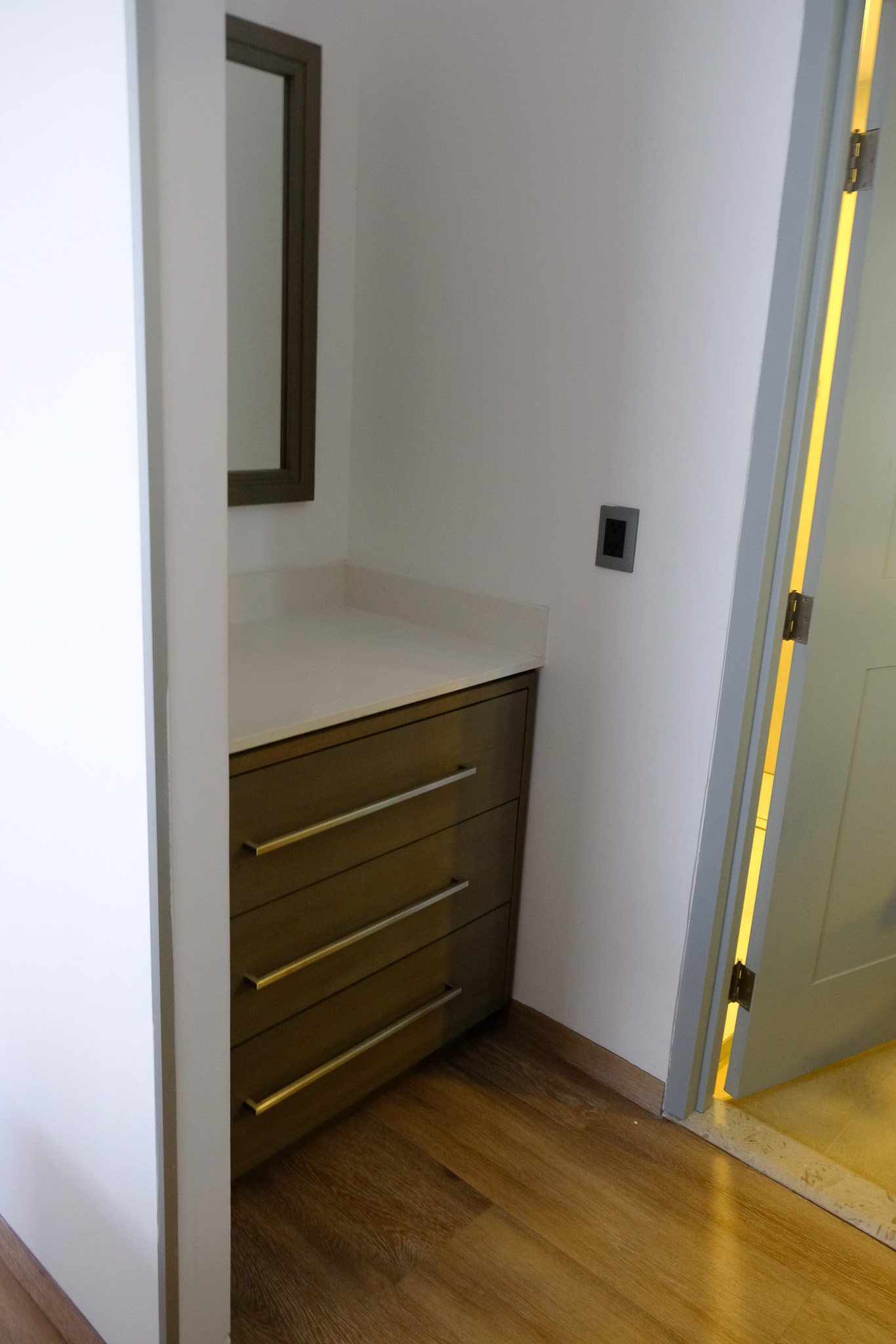 READ ALSO: Hampton Inn Front Royal Review
Kitchenette
The main reason for staying in a Residence Inn for many guests would be the kitchenette area. As the hotel is located relatively far from restaurants and eateries, cooking might be a decent option for some meals.
Every room comes with complimentary packs of coffee and tea. You can choose to brew them with the coffee machine that comes with the room.
However, I don't really like the flavour of this coffee, unlike the ones they serve during their breakfast. The tea packets provided on the other hand was good.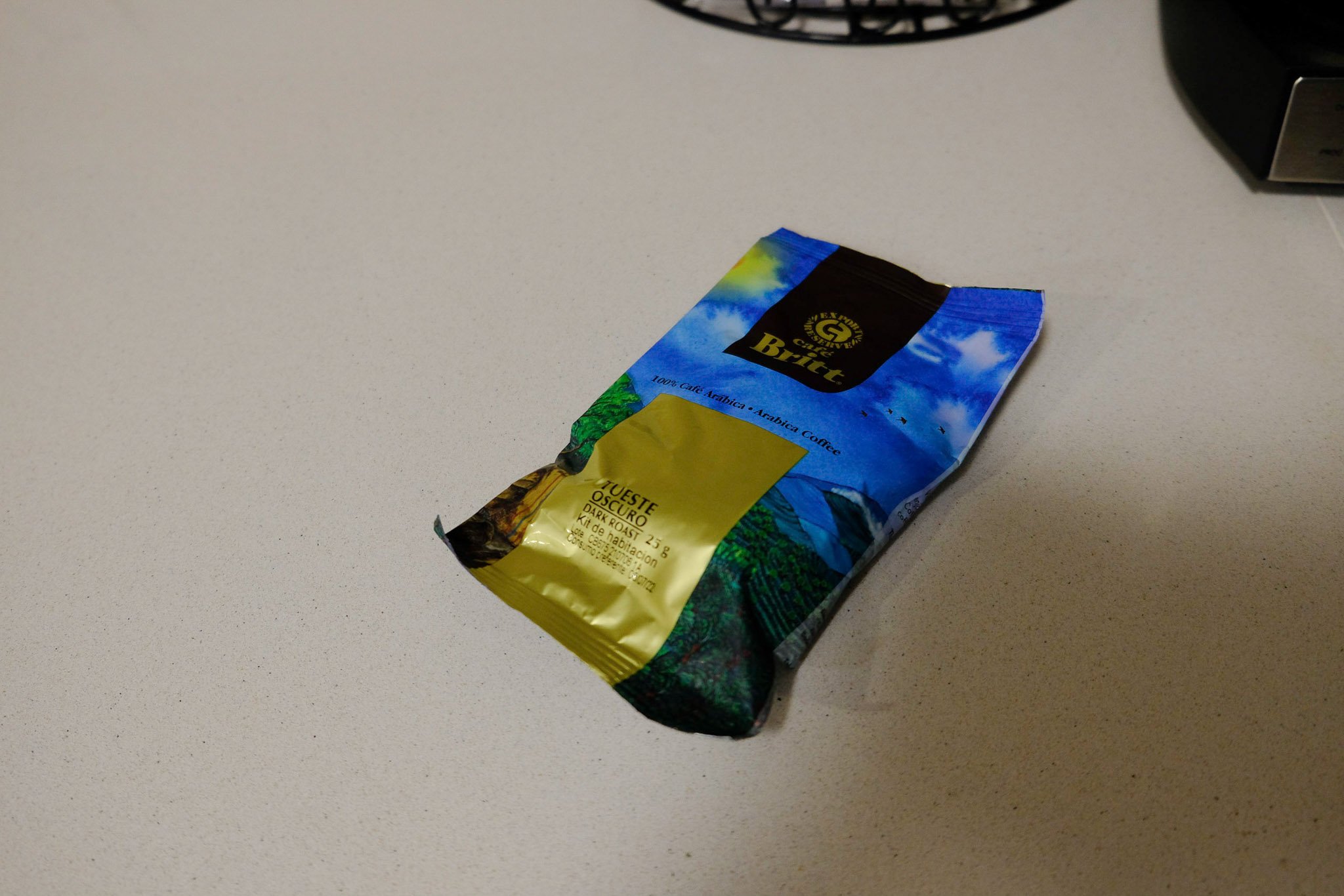 A dishwasher! This is a godsend for folks like me who don't like to wash their plates after using them.
There's a full-size refrigerator in the room for guests to store their weekly grocery purchases.
There are plenty of cooking utensils and cutleries available in our room at the Residence Inn Cancun Hotel Zone. You can pretty much cook up whatever you want with the utensils available.
One of my biggest gripes with our room in the Residence Inn Cancun Hotel Zone is the air conditioning. I could never seem to get the perfect temperature. It's always too hot and stuff or cold. I found myself constantly adjusting the thermostat. This might just be me as M did not have any problems with the temperature of our room.
Every suite in the hotel comes with a balcony. It's a small one, but good enough to hang your dirty clothes after a day out in the Cenotes nearby.
It'll be perfect if your room faces the beach. Unfortunately for both of our stays, we were located on the lower floors facing the car park.
Charging Ports
There is no shortage of charging ports in the suite. Plenty of USB ports are available, reducing the number of adapters guests have to bring.
Bathroom
The bathroom in the Residence Inn can be described as large, modern and clean.
There's a single washing basin here. In the scenario where several people need to use water at the same time, we always find ourselves using the other one in the kitchenette.
Although there are no bathtubs in the suites, the shower area is huge. Water pressure is good and temperature can be easily controlled. Overall, the shower experience was amazing.
Shower gels from Botanicus are provided. This is a local Mexican company that was started in 2001. We really enjoyed using these products during our showers.
Amenities
Gym / Fitness Center
The fitness centre is located right beside the check-in lobby. At the time of writing, reservations are needed to enter the centre. Otherwise, your keycard will not be activated to allow you in.
I wasn't aware of this fact when I visited. Luckily, there weren't many people using the gym at that time and the staff simply let me in.
The gym is a very basic one, with some treadmills, machines and dumbbells.
Swimming Pool
The swimming pools in the hotel are located on the rooftop. Note that I said "swimming pools". There is not just 1, but 2 almost identical pools on the rooftop.
They offer a spectacular view of the Cancun beach and is a perfect location to view the sunset.
Laundry
There's a laundry area for guests to wash their clothes. This is self-service only and it costs $8 for washing and drying.
Breakfast at the Residence Inn Cancun Hotel Zone
Every stay at the Residence Inn comes with a complimentary continental breakfast. It starts at 7 am daily and runs till 10 am. We noticed that the space tends to fill up around 8 am, so come here early if you want to secure a seat.
The food here is a mix of American and Mexican.
There's bread, toast and milk.
The egg feels a bit plastic and mass-produced.
You can't have a meal in Mexico without having some tortillas.
As mentioned earlier, it's much better to get your morning coffee here than the one in the room.
Staying here on 2 separate nights, we notice that the breakfast food selection did not change much. This might not be a problem if you're only staying for 1 or 2 nights. But stretching that to a week and you might find yourself ordering Ubereats for breakfast. This is something to take note of if you're considering a long stay here.
Location of Residence Inn Cancun Hotel Zone
As its name suggests, the property is located within the Hotel Zone in Cancun. However, do note that the Hotel Zone is a large area.
The Residence Inn is located at the southern end of the zone. It is quite a distance from the main stretch and the beach. We wouldn't recommend staying here if you don't have a car.
Final thoughts on the Residence Inn Cancun Hotel Zone
We very much enjoyed our stay at the Residence Inn Cancun Hotel Zone. As a property meant for long term stay, we think that it provides most of what's necessary to make the stay comfortable.
As a new property, everything feels clean and modern. We felt very comfortable throughout our entire stay. There are some dates that are going for around US$60 per night which in our opinion is a steal.
If you have a car or don't mind calling a taxi (there's no Uber in Cancun) every time you want to go somewhere, then the Residence Inn Cancun Hotel Zone is a great property to stay at for your vacation.