We were in Cancun, Mexico for our long-awaited vacation. After being in the US for a couple of months, we thought the best place for us to relax and escape the cold would be the Riviera Maya.
During our week long trip, we decided to visit 3 popular locations along the coast – Cancun, Playa del Carmen and Tulum. There are numerous all-inclusive resorts along the coast.
As Hilton Honors members, M and I always keep a look out for the Hilton branded resorts wherever we travel. This led us to finding Hilton Playa del Carmen, an all-inclusive resort located at the heart of Playa del Carmen city.
Spoiler alert: We love this resort!
Booking a room at the Hilton Playa del Carmen Resort
A night at the Hilton Playa del Carmen Resort typically runs for US$500 or 85,000 Hilton Honors points. This signifies a 0.58 cents value per point.
We used the Hilton free night certificate that we received a year ago for our stay. The Hilton Playa del Carmen resort is the only all-inclusive Hilton resort that allows for free night certificate redemptions. With it expiring by the end of December (before the announcement of extension), we thought this would be the best place for us to use it!
Check-in
Checking in at the resort was a very seamless and enjoyable experience, especially if you're a loyal Hilton member. There was a standard car valet service for guests who are driving to the resort.
As a Hilton member, you'll be brought into a separate, more cosy check-in area.
After checking in, we were briefed about the hotel and the restaurants included as part of the all-inclusive package.
On top of a welcome drink, we were also given some snacks to choose from!
Junior Suite Garden View Room
As an all suites resort, you're guaranteed a suite with your booking. Unfortunately, we were not able to score any free upgrades during our stay as we needed 2 separate beds (we had 3 guests) and this was the only room type for this configuration.
Room service brought our luggage to the room. Upon entering the room, he was very detailed in explaining every single function of the room. We really appreciated the great service by the staff.
Every room in the Hilton Playa del Carmen resort comes with its own jacuzzi tub! This is probably the most iconic feature of this resort.
The room had a balcony which comes with a hammock for us to sit in. Unfortunately, the one in our room was dirty so we did not use it throughout our stay.
The room came with a large TV that was unfortunately not-swivellable. Also, there were no casting features available so the only way to view your own content is to connect your computer via an HDMI cable.
Compared to our experience in hotels in the US, the TVs in Mexico hotels are much better.
They made sure to let our loyalty be known by sticking a bright golden ribbon across our room door.
The tablet in the room is the gateway to the resort! Almost everything can be done via the tablet, such as room service, restaurant or spa reservations.
Information about the resort can also be found on the tablet.
Every item in the mini-bar is included for free, even the 2 cans of beer! Even the fridge is well stocked up.
Bathroom
The bathroom is very spacious with a separate corner for the basin. It comes with his-and-hers so you don't have to fight over hand washing time!
Hilton Playa del Carmen provided Crabtree & Evelyn products for its showering amenities which is in line with the rest of the Hilton brand. Absolutely no surprises here.
There was a bottle of water placed beside the basin which we suspect was meant for mouth washing. This is a nice touch as we heard that the tap water from Mexico is not safe for drinking.
READ ALSO: Hampton Inn Front Royal Hotel Review
Restaurants
Restaurants are the main reason for all-inclusive resorts! You don't have to worry about footing the bill after your meal as they are all covered as part of your stay.
Rincon Mexicano
Rincon Mexicano specializes in small-plate Mexican food. Here you'll find finger food such as Tacos and Pastor. All food is ordered and served by a dedicated waiter.
This was the restaurant we first visited during our trip to the resort. Our goal was to try as much food as possible, so we didn't ordered that much here.
Pelicanos
Right next door to Rincon Mexicana was the Pelicanos. This beachfront restaurant specializes in Caribbean food.
I immediately ordered the burger and fries combo when I saw it as it was a long time since I'd had it.
The squid legs were very delicious! We highly recommend ordering this.
Barefoot
Barefoot is a Grab & Go bar located right beside the main resort pool. On top of alcohol and beverages, their offerings include Poke bowls and salad.
Aromas Cafe
Right beside the check-in lobby is the Aromas cafe. Given its central location, you can easily swing by for your morning coffee fix or after-meal dessert!
It also makes for a great location to chill in with its comfortable sofa chairs and balcony which overlooks the resort pool area.
There are a wide variety of pastries and sandwiches available for guests to choose from.
Maria Marie
Maria Marie is a Mexican restaurant that's open specifically for dinner.
We ordered bone marrow, flank steak and scallop for our meal here. My favourite has to be the scallop dish! It was very juicy, delicious and chewy.
STARTING TO TRAVEL AGAIN? READ OUR TRAVEL EXPERIENCE DURING THE PANDEMIC HERE.
Kalamata
Kalamata is one of the newest restaurants in Hilton Playa del Carmen. It features a buffet style tapas counter, together with some seafood offerings.
Spice for breakfast
Spice is a Mexican buffet restaurant that's most popular for its wide breakfast selections. This is where we'll recommend for guests to get their breakfasts.
The food at spice is a good mix of international buffet and local Mexican cuisine.
Asiana
Asiana as its name suggests, is the dedicated Asian restaurant in the resort. They serve gourmet sushi, poke and other Asian fusion food.
Unfortunately, we did not get a chance to dine here as we were already very full from our other meals. We also had a lot of other Asian food throughout our Cancun trip, so we naturally thought it was best for us to skip this restaurant.
Direct Beach Access at Hilton Playa del Carmen
Located right beside the beach, Hilton Playa del Carmen offers direct beach access from the pool area. However, this is not a private beach. Non resort guests can also enter the area, although there is staff around to answer to guests needs.
There are cabanas set up for guests use. You can simply walk up to any available ones and use them. No reservations or payment is needed. There is even a section of cabanas specially reserved for Hilton honor members.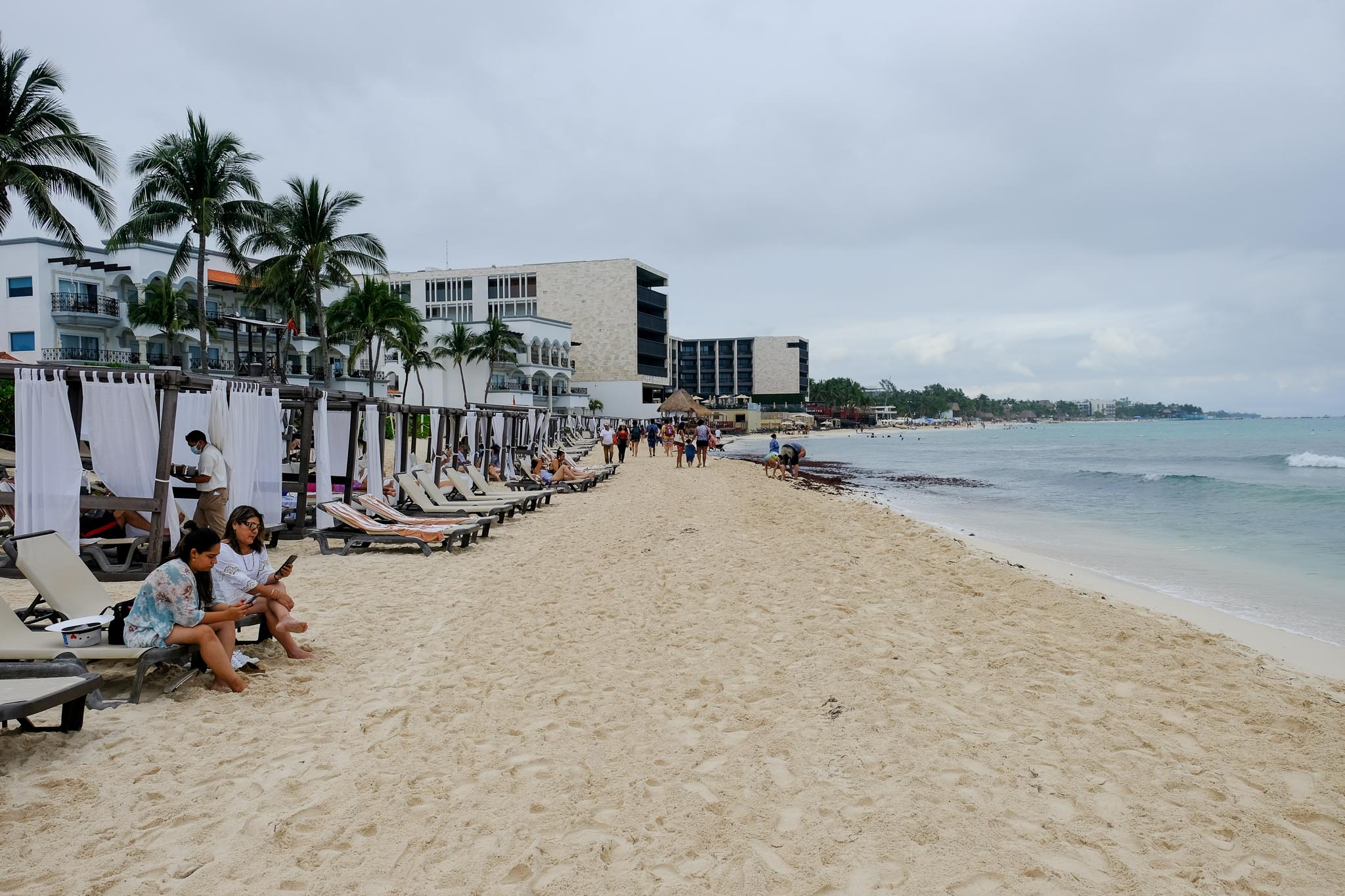 We however, did not specifically like the stretch of the beach that the hotel covers. There seems to be a perpetual seaweed problem (as you can see from the photo above) that has been around for a couple of years. It is also a very rocky area which makes swimming in the sea really difficult and dangerous.
The staff on site recommended us to go towards the public beach site for a better area to swim.
Amenities
Swimming pools in Hilton Playa del Carmen Resort
There are 2 swimming pools in the resort, the Main Swimming Pool and the Quiet Swimming Pool.
The main swimming pool is where most of the action is at (or inaction as people just lounge on the cabanas). Most people hang around here probably because the pool is slightly heated.
We did not get a picture of the quiet pool, but as the same suggests its really quiet. There weren't many people there when we visited and its a lot smaller in size.
Gym
For people who felt sinful after indulging in the all-inclusive restaurants, you'll be glad to hear that Hilton Playa del Carmen features a pretty well equipped gym.
The gym is almost as big as some full featured gyms that you have to sign memberships for.
Guests do not have to make any reservations for their visit to the gym, which is a refreshing change from all the hotels we've been to on this trip.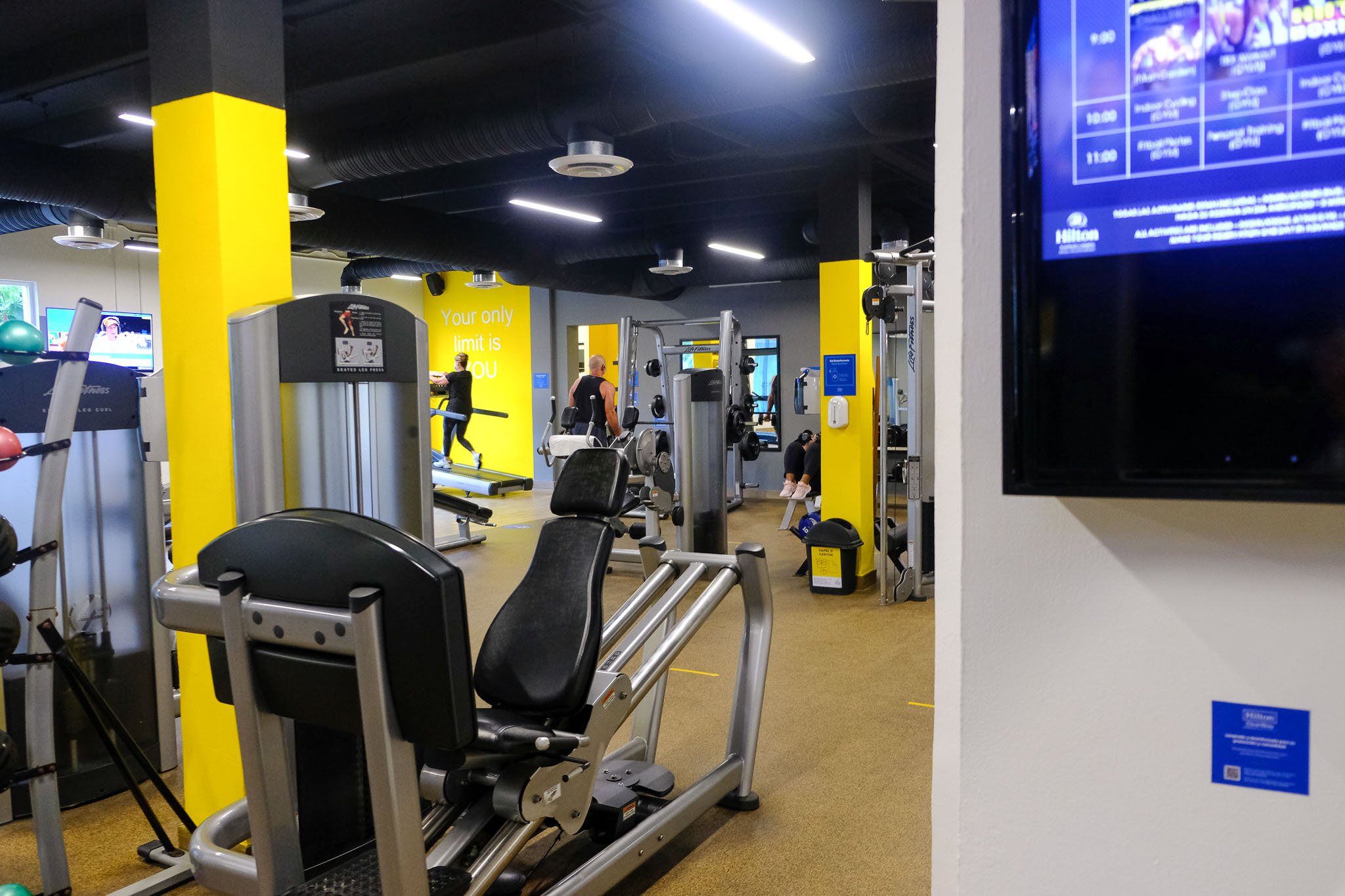 Diving School in Hilton Playa del Carmen
Did you know that there's even a diving school in the resort? How cool is that!
For guests who are on longer stays, you can choose to complete your Padi open water course here. There is a small but really deep pool for this purpose. However, we think there are better places to do that, especially in the Riviera Maya region where you can get your certification in the big open natural sea.
Tennis Court
We did not visit nor use the tennis court during our stay. However, just know that it exists.
Business Room
If you need to print anything or close any last minute business deals, know that you're covered at the resort. There's a small business room with outdated computers for you to settle any light computing needs.
Wifi
The Wifi speeds in Hilton Playa del Carmen is pretty respectable. It's one of the fastest internet speeds we've seen thus far in hotels within the region.
Getting to Hilton Playa del Carmen
Hilton Playa del Carmen is located in downtown Playa del Carmen, right beside La Quinta Avenida (fifth avenue). It's central location is hard to miss. The international airport that most visitor fly in from will be the Cancun International Airport.
The resort does not offer any airport transfer services. However if required, the resort can specially arrange something for you. This is a huge downside for Hilton Playa del Carmen as most all-inclusive resorts in the area offer complementary airport transfer services from Cancun Airport.
If you're touring the region extensively after your stay, renting a car might be a feasible option. It's convenient and offers you the flexibility to visit wherever you want.
Alternatively, there is a Cancun airport shuttle that brings visitors straight to Playa del Carmen. It costs US$25 per person per trip.
For more detailed information on getting to Playa del Carmen, we'd recommend reading this blog post.
Final thoughts
To start of, this review of the Hilton Playa del Carmen resort is one of the most exciting and fun hotel reviews I've ever written.
This stay was our first Mexican all-inclusive experience and we loved every moment of it. We received amazing service from the every staff we encountered at Hilton Playa del Carmen.
The highlight of our stay in the resort has to be the restaurants and bars. As an all-inclusive resort, I did not have a very high expectations of the food initially but Playa del Carmen exceeded that expectation by a mile. In our next trip to the Maya Riviera region, we would definitely try to squeeze in another stay at the Hilton Playa del Carmen all-inclusive resort.