Are you a fan of Netflix's Stranger Things? You can now visit Hawkins in New York City!
A Netflix original, Stranger Things opened an official store in New York City Times Square! Here is what to expect in The Official Stranger Things Store, New York.
Welcome sign at NYC Stranger Things Store
Once you go through the revolving doors, you will be greeted by a huge neon sign. The staff encouraged us to snap a picture with the Stranger Things signage when we exit the store instead. This is to prevent visitors from overcrowding the entrance of The Official Stranger Things Store.
Stranger Things store exclusive merchandise 
You can find a wide array of official merchandise in The Official Stranger Things Store. You can consider getting a merchandise as a keepsake. There are jackets, t-shirts, tote bags, magnets, figurines, and little knick-knacks such as candies and bubblegum.
If you know of someone who is a fan of Netflix's Stranger Things, this is your best time to shop for a gift! There are store-exclusive items that can only be found in The Official Stranger Things New York Store. It will definitely make someone's day.
We got this shirt for our brother because he is a huge fan of Netflix's Stranger Things character – Dustin. Random fact: He even sang a song from Stranger Things while sleeping. This store exclusive Stranger Things shirt with illustrations of the main characters costs 29 USD. 
You can identify whether an item is a store exclusive with the above sticker. There is an online store and another Stranger Things official pop-up store in Los Angeles, so the products with this sticker are truly unique to the New York City store.
Recreations of iconic Stranger Things scene
Not only do you get to browse through a wide array of Netflix's Stranger Things merchandise, you also get to immerse in and experience the iconic scenes from the show. The store is so well designed and curated, it felt like we were transported right into the filming set.
Photo opportunity at the Byers family's living room
If there is one photo you have to take at The Official Stranger Things NYC Store, this has to be the one. You will see the iconic A-Z alphabet wallpaper upon walking in. There is a staff around to regulate the queue and help with photo taking.
If you are coming alone, fret not because you will get a beautiful photo taken by the staff. Just pass them your camera or phone and the staff will help snap some beautiful photos of you in the Byers family's living room.
Yellow phone at Joyce's house
There is a photo opportunity at every turn. Pay attention to every detail because you will likely recognise them from the Netflix Stranger Things show should you watch it again for the second time!
Palace Arcade
As you walk out of the living room, you will enter a galaxy-themed room. It is yet another iconic scene from Netflix Stranger Things show. Inside the palace arcade section, you can find arcade games machines and capsule machines.
The best part if that the game machines are working and not just a prop! There are many people, both kids and adults so if you want to play, expect a wait. For those who prefer a shopping experience, you can even customize your own Stranger Things T-shirt using the tablet. There is a variety of options featuring the stars and scenes from the show.
Stranger Things demogorgon photo wall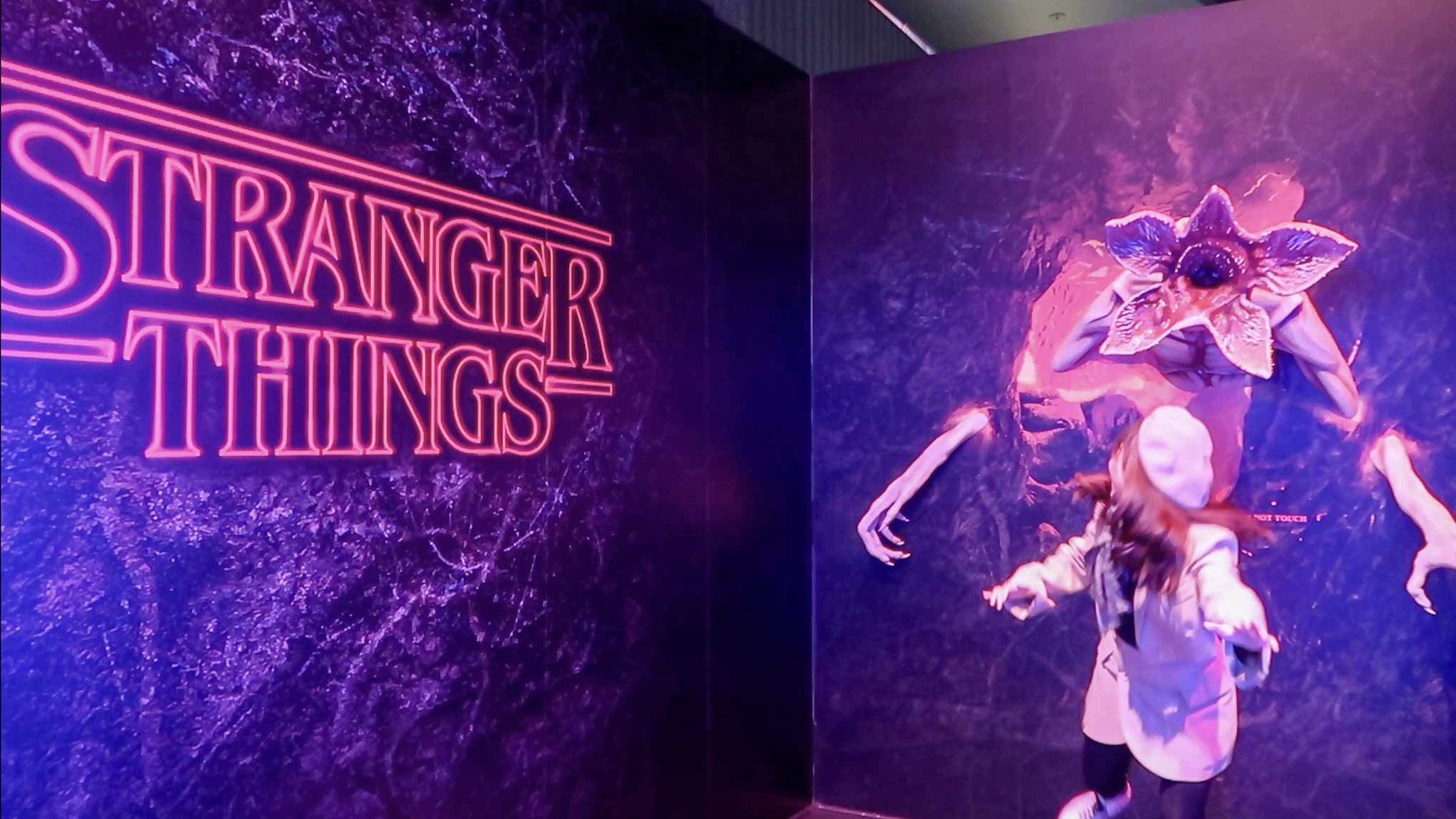 Lockers of Hawkins High
As you journey out of the Demogorgon photo wall, you wil be transported to Hawkins High. It is brightly lit as compared to the rest of the stores, giving a youthful school vibe. The intricacy in the design remains. Be sure to check out the lockers where you can find more props related to the show.
Russian Lab
Immersive experience
There are loads of interactive activities. While you shop shopping, there will be a change in lighting and music giving off a similar vibe as when you are watching the Netflix show. The lights started flickering when the Demogorgon appeared on the LED screen at the check-out station.
It is truly an immersive shopping experience in the Stranger Things universe. 
Tips to get a free gifts
To qualify for a free gift, you can either spend $50 in stores or answer a question related to the show! Look out for the staff who are dressed up in characters. They walk around the stores to take pictures with you but also have a little bag of goodies.
After requesting a photo, they asked if we would like to answer a question to get a free gift. Here is the question that we got – What did Eleven eat when she first escaped from the lab? The answer is FRIES. If you do get the same question as us, you will score a free gift. There are 5 different pin designs that are given at random.
How to get to the offical Stranger Things store in NYC
The Official Stranger Things store in New York City is located in Times Square. The nearest subway is Times Sq – 42 St. Exit via 7th Ave & 42nd St at SW Corner. The New York City store is expected to be opened till Jan 2022. 
Location: 200 W 42nd St New York, NY 10036
Opening hours: Mon-Sun: 10am – 10pm
There are a total of 2 Official Stranger Things stores in the world, the other one is in Los Angeles.
How to reserve a spot to the official Stranger Things store
Admission is free. You can pre-book your visit, which will grant you priority access. Reserve your slot: https://strangerthings-store.com/
If the tickets are not available for your desired time, they do accept walk-ins. There will be 2 queues, one for those with reservations and one for walk-ins.
Due to the pandemic, the number of people in the store has to be regulated so do expect a wait if you are showing up without a ticket. You are highly recommended to reserve a slot at the official website for guaranteed admission. 
Conclusion and thoughts on Stranger Things Official Store NYC
If you're located in New York City or will be visiting soon, you should totally book a slot in advance and experience this interactive Stranger Things store for yourself!
Overall, it was a great experience where you will be transported back to the 80s, right in the set of Netflix's Stranger Things. Stranger Things Season 4 is scheduled to be released on Netflix in mid-2022.
While you are here, check out our experience at the Museum of Ice Cream Singapore.