After a couple of months travelling across the Americas, M and I are back in Singapore for the lunar holidays. It has been some time since we've last did a staycation in the city and so we've decided to find a property that we've never stayed at before.
We were specifically looking out for Marriott properties as we were trying to work our way towards Platinum Elite status.
Four Points by Sheraton – Booking
We booked a room into Four Points by Sheraton as part of a Marriott promotion first spotted by Suitesmiles. The room package costs S$198 and comes with S$98 dining credits. These credits can be used in any restaurant located at the first level of the hotel.
In my opinion, this is a very good deal for a staycation in Singapore which should not be missed!
Also, Marriott was having a promotion where they'd award 2x elite nights and 1,000 bonus points per night. This makes it a good opportunity for us to work towards our elite status aspirations.
Four Points by Sheraton – Check-in
I reached the hotel at 12 pm, way ahead of regular check-in hours and was hoping to be granted early check-in. Fortunately, there were rooms available and I was able to check-in immediately.
I was also glad to have reached early as there was a noticeably long queue to check-in at 3.
The hotel has an unassuming and small lobby area. From the lobby, you can get to the two main restaurants of the hotel – Eatery and The Best Brew.
Four Points by Sheraton – King, Cityview Room
There are two main standard room types in Four Points by Sheraton Singapore, the Cityview rooms and the Riverview rooms. I was checked into the King Cityview room for this stay. Their layout and amenities are almost exactly the same, other than the view their facing.
The unique point about the rooms in Four Points is that they all come with a sofa trundle against the windows. This makes for a great spot to lounge in and enjoy the view from the room.
The city view faces the Copthorne Kings hotel directly and Tanjong Pagar CBD area in the far background. In hindsight, we would have prefered the river view as we would have been able to see the Marina Bay area from there.
The alarm clock rang randomly in the middle of the night. A previous guest has probably set it and it was just kept there ever since.
The room comes with a 32″ TV that felt too small and far from the bed. I would have preferred something a little larger in this day and age.
There are also no built-in casting abilities, so guests will have to bring their own device and HDMI cable if they want to play their own media. We've so far only found this feature at the relatively new Residence Inn Cancun Hotel Zone property.
Mini Bar Area
The bar counter in the room is pretty basic, featuring 2 bottles of water and a tray of coffee and tea. I was surprised by the lack of a coffee machine given that it's slowly becoming a standard in most hotels worldwide.
In place of a coffee machine, the room had 2 packets of Boncafe instant coffee and multiple packets of Dilmah coffee. If I was being honest, although the Boncafe coffee tasted pretty good, it is nowhere near the quality of a Nespresso coffee.
Bathroom
The bathroom can be described as modern, clean and comfortable.
There are ample supplies provided, including a teeth brushing kit which is increasingly rare in hotels.
There were 2 more bottles of water in the bathroom. We guessed that guests will use them for brushing teeth although Singapore's water should be perfectly clean for drinking.
Shower amenities are from Activ which is a Four Points in house brand.
Four Points by Sheraton – Wifi
The Wifi speed in the room was one of the fastest we've ever experienced in a hotel. It was incredibly reliable for any form of work or content streaming that you'll need.
Four Points by Sheraton – Swimming Pool
The swimming pool at Four Points by Sheraton is located at the fifth level of the property. Due to safe distancing measures, guests will have to make reservations to use them. During our stay, there were more than enough slots available to visit almost immediately.
The pool area is quite small, which I guess can only accommodate up to 10 people. It's a decent pool for a quick dip, but definitely not suitable for doing laps in.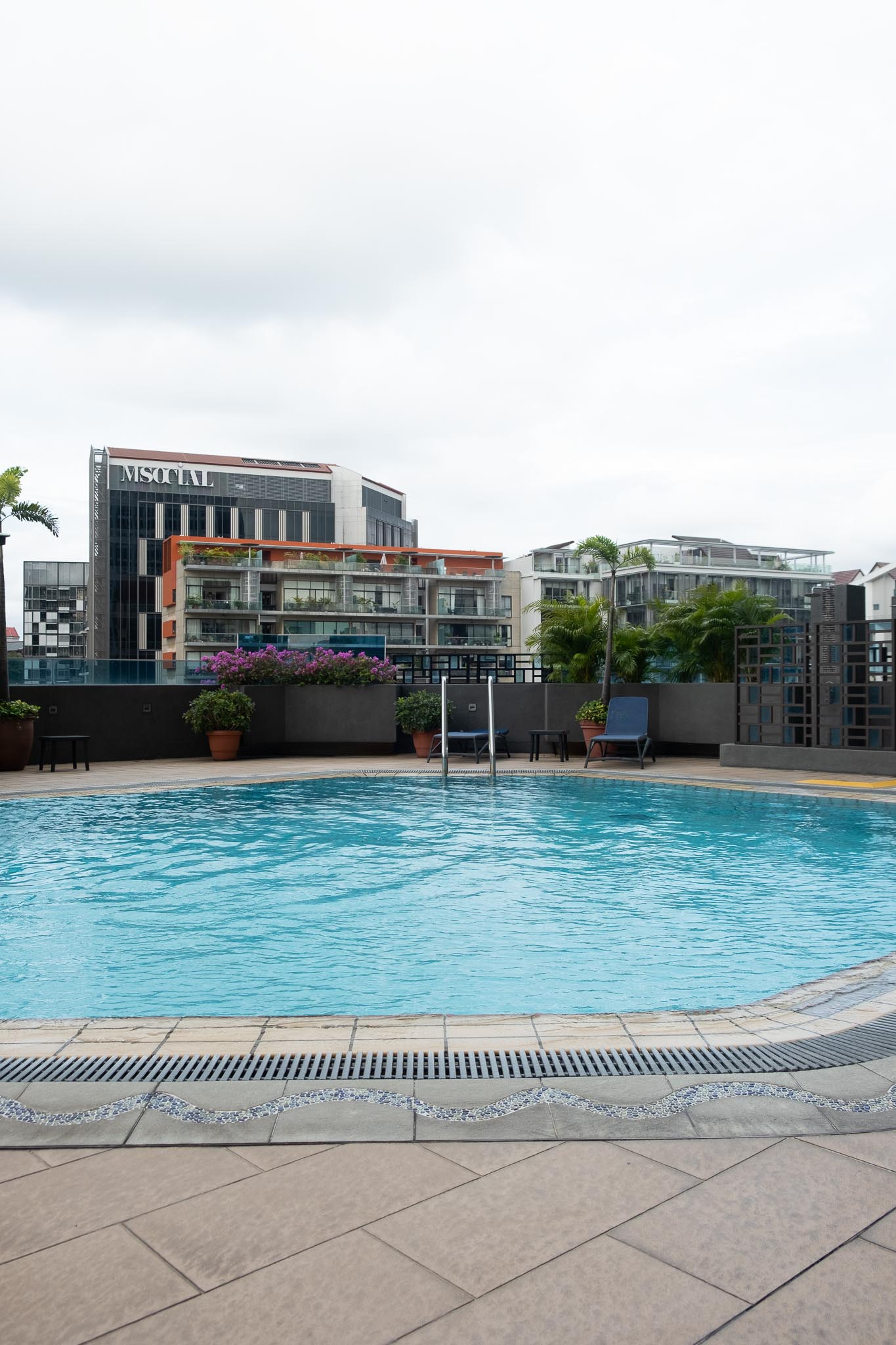 Four Points by Sheraton – Restaurants
There are 4 restaurants located within the property.
Four Points Eatery, which is the main restaurant of the property, serves Southeast Asian and International cuisine.
The Best Brew is primarily a coffee shop and beer bar where guests can chill and relax.
Irodori Restaurant, located on the 3rd floor of the property, is a Japanese restaurant that has a wide selection of a-la-carte buffet items.
Lastly, the Imperial Restaurant is an upscale Chinese restaurant that serves hearty Chinese cuisine.
Do note that if you booked the same package as us that comes with a S$98 dining credit, they can only be used in Four Points Eatery and The Best Brew.
Eatery
As we've heard great things about the Bak Kut Teh that they served, we wanted to get our hands on it during our stay. Unfortunately due to its popularity, they ran out of it during dinner.
We decided to try their Signature Baby Rock Lobster Laksa (S$24) and Fried Hor Fun Seafood (S$17) instead. They both tasted really good although we felt that the amount of meat in the lobster was too little.
The serving is quite substantial and M and I were having trouble finishing it.
We were determined to try the famous Old Town Bak Kut Teh (S$25) and so we headed to the restaurant again the next morning for brunch. The lunch menu is only available after 11 am so make sure to only visit after this time if you want to order the Bak Kut Teh.
I also ordered the Luncheon Meat Burger (S$16) as I was really hungry that day.
True to its popularity, the Bak Kut Teh did not disappoint. The peppery soup was strong and the pork ribs were tender. The dough fritters served was a generous amount though we wished they were a little more crispy.
The Best Brew
We did not get anything from The Best Brew but it seems like it has a strong partnership with Starbucks. If you're a loyal coffee drinker with the said brand, you'll not be disappointed during your stay here.
Four Points by Sheraton – Location
The property is located in a prime location within the city, right beside the Singapore River. There are a couple of popular cafes like Toby's Estate and Publico right across the bridge from the property.
The Clarke Quay train station is just a 15 minutes ride away which makes it convenient for guests to visit downtown Singapore. We'd only wish there was a walkable train station nearby which will greatly improve its connectivity.
Four Points by Sheraton – Final Thoughts
Four Points by Sheraton offers great value as a staycation option in Singapore. Compared to a similarly priced property like the Hilton Singapore, we'd prefer the Four Points for their modern room designs.
It is also the most affordable Marriott property in the country, making it an amazing choice if you're looking to do mattress runs to reach your next elite status.