Towards the last legs of our multi-month trip to the US and Mexico, M and I were in California to camp out 14 days to qualify for our Vaccinated Travel Lane (VTL) flights back home to Singapore. As Mexico where we were in was not a VTL country and we fervently want to avoid a quarantine back home, this was the only option we've got.
We were initially planning to visit the Catalina Islands with a couple of our friends whom we were travelling together. However, because of our very tight travel schedule and the fact that we were very exhausted from so much travelling, we wanted to head somewhere chill instead.
This led us to stumble upon The Waterfront Beach Resort, Huntington Beach, a Hilton Hotel (Yup, it's a mouthful). Located right by the famous and original surfer's paradise, we thought this would be the perfect place for us to spend a weekend in SoCal.
The Waterfront Beach Resort – Booking
To book a stay at this property, we spent a total of 80,000 Hilton Points. A weekday night here typically runs for US$340 including taxes and a US$33 resort fee while a weekend night runs for US$540 all in.
Here's where it makes sense to do a points redemption at this property. Hilton generally does not charge resort fees for points redemption, thereby increasing the values of your loyalty points by that small margin.
As we've stayed over a busy weekend, this made our points redemption worth a respectable 6.75c per point, well above the general consensus of 5c per point.
We were also Hilton Gold Elite members during our stay at the Waterfront Beach Resort. This granted us an entitlement of a US$30 credit for food and beverages within the property.
The Waterfront Beach Resort – Check in
Checking into the Waterfront Beach Resort was both very seamless and awkward. As a Hilton managed hotel, it participates in the contactless check-in program where guests can check in to their rooms from the mobile app.
Given our previous amazing experience at the Hampton Inn Front Royal, we decided to try it again here at this property. We did manage to get into our room with the digital key provided on the mobile app. However, access to amenities within the hotel such as the gym and the pool was not supported as we later learnt from the staff.
We had to eventually head down to the front counter to get a physical key card which makes the whole premise of a digital key moot.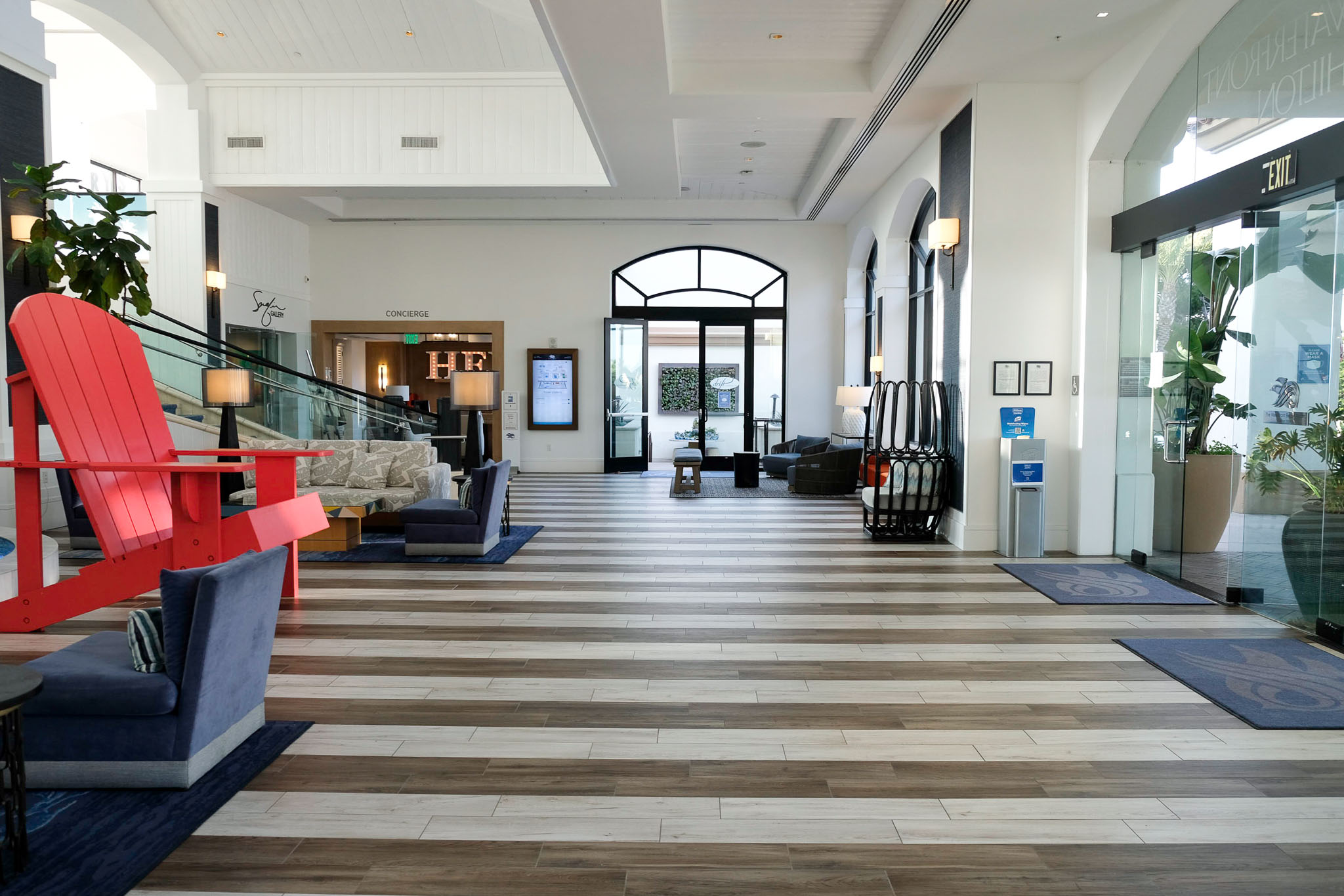 If you're driving as we did, do note that the resort only has valet parking and no self-serve parking available. It costs US$44 a night which will be charged automatically to the final room bill.
The Waterfront Beach Resort – Oceanview 2 Queen Room
We initially booked the Partial Oceanview 2 Queen Room as that's the standard redemption for this hotel. To our surprise, we received an email 3 days before our stay to inform us that we've been upgraded to the Oceanview 2 Queen Room.
This is in line with the recent improvement to Hilton's upgrade program for elite members and we're happy to experience it first hand!
Every of these 470 sq ft premium rooms is fitted with a 42″ modern TV. Although there is a wide variety of programs available, there are no options for guests to log into their own streaming services or stream their devices to it. The only way will be to bring your own HDMI cable and computer.
The walls around the room hung many SoCal inspired artwork like brightly-coloured works and beach photos. This fits perfectly in line with the vibes of the overall Huntington Beach area as a surfer's paradise.
Every room comes with a Cuisinart coffee machine and The Coffee Bean and Tea Leaf coffee pods. This is slowly becoming a standard in most luxury hotels around the world and we really appreciate this.
Bathroom
The bathroom in our ocean view room was really spacious and modern. The main design theme around here will be vinyl flooring and white marble tops.
As usual with Hilton properties, the bathroom is kitted out with Crabtree & Evelyn amenities.
The Waterfront Beach Resort – Amenities
The Waterfront Beach Resort has a ton of amenities within its large resort compounds. It features 2 distinct compounds, namely the Huntington Tower and the Twin Dolphin Tower. Within each tower, it has its own swimming pool area and dining establishments.
As guests of the resort, you'll have no problem walking between the two areas. Actually, you won't even know they are of a different tower as internally, they feel exactly like one resort.
Multiple Swimming Pools
There is one pool area at each of the resort's towers. Out of the 2 pool areas, the Huntington Pool is the one to go for. One of the main reasons we decided to stay at this hotel was for the water slides!
Even though the slides look small, they are quite fun even for adults like us.
There are a ton of sunbeds around, though when we visited no one really used them. We reckon it'll be more popular during the summer period when it isn't freezing cold outside.
You can find the Drift Spa and Sanglia Art Gallery near the entrance of the resort.
The Gym
The resort houses a relatively well kitted out fitness centre. Over here, you can find most of the equipment needed to complete a full-body workout.
I managed to squeeze in a quick workout during our stay there! The equipment is generally clean and well taken care of unlike what we experienced at Holiday Inn Downtown Hartford just a couple of months back.
The only downside I see to this gym is that it's located in the Huntington Tower which is very far from where our room was. I had to walk about 15 minutes from my room to get there.
When I visited early in the morning, there wasn't anyone around.
The Waterfront Beach Resort – Restaurants
There are a total of 6 places restaurants in the resort where you can have your meals. They are Henry's Continental Cuisine, Hero Pizza, Offshore 9 Rooftop Lounge, Surf Hero Marketplace, The Boardwalk Restaurant and The Dock Bar.
If you have dining credits, you can use them at any of the restaurants mentioned. For our stay, we visited The Boardwalk for brunch.
We got the Smoked Salmon Bagel (US$16) and the Boardwalk Eggs Benedict (US$18), which in my opinion, taste pretty good. With tips and taxes, it came up to slightly more than the credits we were given. I'd highly recommend spending your dining credits here as we did.
The only other dining establishment open in the morning was the Surf Hero Marketplace. It seems like a mini convenience store that happens to sell some quick grab-and-go food.
The prices here are pretty much in line with what you'd find throughout SoCal.
The other restaurants around the resort were unfortunately closed in the morning, probably catering more towards the lunches and dinners.
The Waterfront Beach Resort – Location
The Waterfront Beach Resort is located right by the famous Huntington beach. Although it does not have direct beach access or a private beach, it's only a fairly short walk to the beach from the hotel exit.
It is also just a 5 minutes walk to downtown Huntington, making it an all-around convenient option if you're looking to explore the area.
Final Thoughts
We really enjoyed our stay at The Waterfront Beach Resort in Huntington Beach. Its close proximity to the beach and the downtown Huntington area makes this property a good choice if you're looking to explore the area.
The decorations throughout the resort make it feel a lot more youthful and vibrant as compared to the more serious business feeling of typical Hilton properties.