This is a review of our 5-night stay at the Intercontinental Abu Dhabi Hotel.
Intercontinental Abu Dhabi (not to be confused with the nearby Intercontinental Residences Abu Dhabi) is known to be the hotel that hosted the first-ever GCC summit in 1981. The property has housed many important people and guests in the famous Gulf city.
During our recent Middle Eastern trip, we visited multiple cities along the Gulf and stayed in Abu Dhabi for close to 2 weeks. The Intercontinental Abu Dhabi stood out to us during our trip planning for its low points redemptions in the generally expensive city.
We typically prefer Marriott or Hilton properties as we have statuses that confer complimentary breakfasts. However, we'll occasionally choose IHG properties if there are good redemption opportunities to be had.
Booking
We booked our stay at the Intercontinental Abu Dhabi for a total of 77,000 IHG Points for 5 nights. We took advantage of IHG's 4th night free benefit which averages our nightly rate to 15,400 IHG points.
It typically costs about 472 AED (US$128) per night during the period we're staying. This means that our stay would have cost us 2,360 AED (US$640), which makes our redemption about 0.83 US cents per point. This is a relatively good redemption in our books.
If you're making a cash reservation at this property, we'll recommend using the UOB Lady's Card paired with Instarem Amaze to earn up to 6 mpd.
Location
The Intercontinental Abu Dhabi Hotel is located at the western end of Abu Dhabi City. It is 30 minutes by car from the airport and about 11 minutes by car to the downtown World Trade Centre.
We'd recommend staying here if you are planning to visit the famous Al Watan Palace or the huge Marina Mall.
Check-in
As we were flying in from Muscat, Oman, we only arrived at the Intercontinental Abu Dhabi past midnight. To our surprise, there were a few other groups of travellers checking into the property too, so we had to wait for our turn. Unfortunately, there weren't any dedicated lines for elite members.
The staff was very friendly and polite when checking us in. Even though we had status, we were not given any significant upgrades as the occupancy was high during our stay. The staff explained that he has bumped us to a higher floor. He then carefully explained the facilities and information that we had to know.
As IHG Platinum Elite members, we were given a drink voucher to be redeemed at the Lobby Cafe. We could choose any drinks we wanted only barring cocktails.
King Classic Garden View
The King Classic Garden Room comes in at about 41 sqm which is large for a standard room. There is plenty of room to walk around and put down our luggage.
On both sides of the large king-sized bed, you get 1 armchair sofa and a fixed Ottoman to rest in. We've never really used them throughout our 5-night stay though.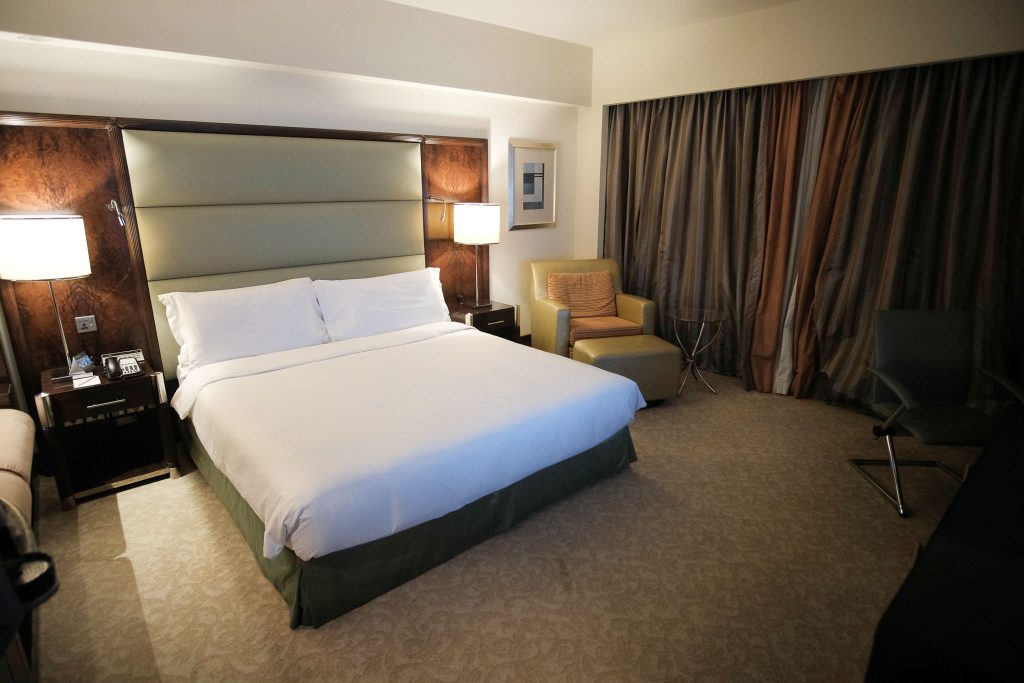 It is common for hotel rooms to have multiple switches to control the dozens of lights. Unfortunately, the Intercontinental Abu Dhabi makes it really frustrating to control them as the switch often doesn't work. You'll have to try multiple times and there's often a small lag between pressing them and the light switches working.
It is a first-world problem, but this gets increasingly frustrating when you're tired from a day out and trying to fall asleep as soon as possible.
Once the day arrived, we opened our curtains and were greeted by an amazing view of downtown Abu Dhabi. We could even spot the beautiful Corniche beach area from our window.
Minibar
The minibar in the room came with complimentary coffee pods and tea bags. Aruya provides tea bags whereas the coffee pods are by Caffitalia. These get refilled every day during housekeeping.
There were no other snacks or drinks available for purchase.
Bathroom
The bathroom in our room looks old and in need of refurbishment. Although it is large, the white tiled walls and brown marble resembles the popular interior designs of the 2000s.
There is a separate bathtub and shower area which is always welcome.
Similar to other Intercontinental properties that we've stayed at previously, the bathroom amenities are provided by Byredo. As a perfumery, the scent is on the flowery and stronger side.
The rain shower was of the right water temperature and pressure which makes for an amazing shower.
Unfortunately, despite having a strong water pressure, the water isn't able to drain fast enough. This often creates a small puddle whenever we're showering.
Amenities
Swimming Pool
The swimming pool is located on the 3rd floor together with most of the property's other amenities. There were plenty of sun loungers surrounding the odd-shaped pool.
Despite the 40-degree summer heat, almost all of the sun loungers were taken when I visited.
Gym
The gym is located right beside the hotel's swimming pool. This is a moderately sized gym and there is plenty of equipment for workouts.
I love the floor-to-ceiling window that provides an incredible view of the marina below.
Bayshore Complex
The Bayshore Complex is a separate recreation building on the other side of the marina. It is shared between Intercontinental Abu Dhabi and Intercontinental Hotels Residences Abu Dhabi.
To get to the Bayshore Complex, you have to walk through the boardwalk along the marina. It is a short 5 minutes away from the main hotel building.
The hotel organises regular activities at the Bayshore Complex where guests can participate for free.
There are yoga sessions on Tuesday and Thursday evenings, and Pilates every Friday morning.
The Bayshore Complex has a private beach which faces a small bay area. There isn't much of a view apart from some luxurious buildings on the other side, but it's still good to have a private beach.
The beach area stretches fairly far, so there are more than enough sun loungers to accommodate guests.
There are 2 swimming pools behind the beach. During our visit, many families and children were playing in the pool. It might not be the best decision to hang out around the pool if you want peace.
Service Standards
The service standards at Intercontinental Abu Dhabi are generally amazing. We've received great service from the check-in staff to the daily housekeeping staff who comes by our room to make them.
However, we encountered a small mishap in the middle of our stay that is worth pointing out. On one of the days, we forgot to turn off the Do Not Disturb (DND) button before leaving the room.
As we were leaving the property, we informed the reception staff that we wanted our room cleaned. We weren't sure if the staff was paying attention as she did not take down any notes or made any phone calls right after. After a long day out, we found that our room was not made despite making the request in the morning.
Objectively, this is likely a one-off incident and we were at fault too for not turning off the DND button in our room. However, as frequent travellers, we would generally expect a room to be made if explicit requests were made to the staff beforehand.
Summary
Despite its age and a small mishap, Intercontinental Abu Dhabi has done well on multiple fronts. There are some bits of the property that feels dated and in need of a touch-up. It certainly cannot compare to the nearby Edition Abu Dhabi which is one of our favourite properties in the region.
We especially loved the fact that the property has private beach access despite being a city hotel! This makes the hotel a really easy getaway for anyone living in the city.