Protea Kruger Gate – Booking
We used 40,000 Marriott Bonvoy Points for this 5-night booking. We used the 5th-night free benefit that Bonvoy members enjoy when booking their stay with points.
A night in the standard room here typically goes for 2622 ZAR (US$174) per night. This means we essentially got a whopping value of US$0.02 for our redemption.
However, note that all paid rates include breakfast and dinner buffets. Redemptions on the other hand do not come with these inclusions. There are plenty of affordable dining options both within the hotel and outside. Therefore, guests do not have to worry about running out of options if they do not purchase room rates with dining inclusions.
Protea Kruger Gate – Check-in
The check-in process was smooth and easy.
You'll be directed to the parking area located right in front of the lobby if you're driving. When checking in, the staff was friendly and gave us a brief overview of our room and benefits as Marriott Silver Elite members.
She also gave us a brief introduction of the resort, and the activities it provides regarding game drives to the nearby Kruger National Park.
Protea Kruger Gate – King Guest Room
We booked the King Guest Room in the hotel. This is the standard room that points redemption typically receives.
When we first stepped into the room, we thought it was a lot larger than we'd expected. The king-size bed barely took up any space when compared to the rest of the room.
Every guest room on the property comes with a sofa bed, increasing its appeal to larger travel parties.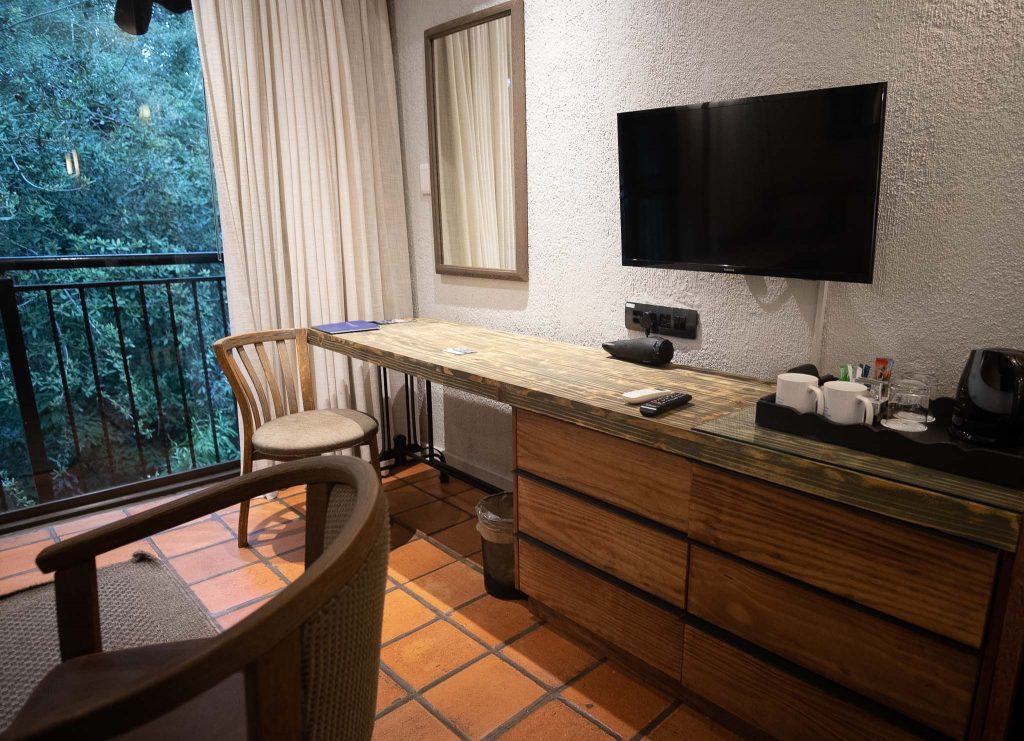 Bathroom
The bathroom in Protea Kruger Gate can be described as utilitarian. There's minimal design but its huge and generally clean.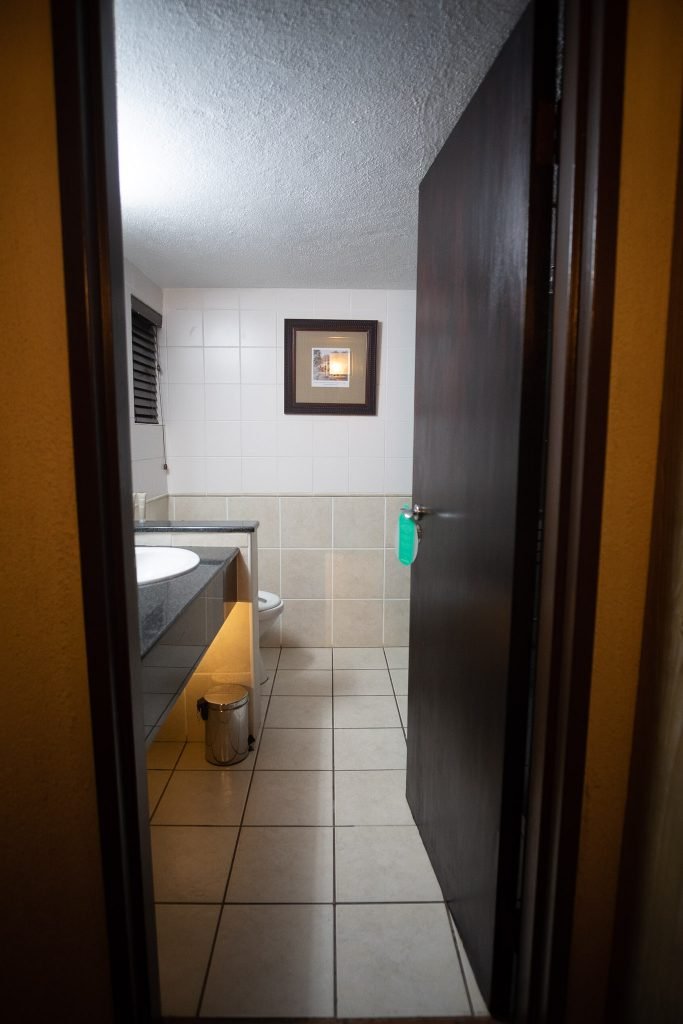 Unfortunately, I was a frequent user of the bathroom during our stay here as I caught the traveller's diarrhoea. I stared at this art work so much to the point where I've memorised most of the words here.
Similar to other Protea properties we've stayed in, we received the eartherapy shower amenities.
Protea Kruger Gate – Restaurants
There is no lack of restaurants within the Protea Kruger Gate hotel.
Lapa Restaurant
Lapa Restaurant is where guests have their dinner buffet. As mentioned above, all paid rates in Protea Kruger Gate come with dinner provided.
However, if your rate does not include dinner, it will cost ZAR 350 (US$23) per person to dine here.
We've decided to splurge on the dinner buffet on one of our nights here. For the price we paid, we don't think the food is worth the money.




Kudyela Restaurant
The Kudyela Restaurant is where guests have their breakfast buffets every day. Unfortunately, we did not get to try this restaurant during our stay as there were other breakfast options available outside of the hotel.
Pool Bar / Ebony Africa
The Pool Bar is the main highlight of the hotel for many. It has an infinity pool that overlooks Kruger National Park.
Occasionally, guests can even see animals grazing the fields in front. It makes for a perfect place to hang out after a day of game drives.
Most guests come here for their drinks. However, they have an ala-carte food menu which is identical to the room service menu. We're pretty sure the room service food comes from this restaurant.
Protea Kruger Gate – Wifi
Protea Kruger Gate boasts an impressive wifi speed that exceeded all our expectations. As digital nomads, fast internet speeds are a necessity wherever we stay.
As the property is in a relatively remote location, we did not have very high hopes for it.
We were able to make international video calls and it was very reliable throughout our stay there. This is a stark contrast to what we've experienced in the Silverkris Lounge at the world-famous Changi Airport.
Protea Kruger Gate – Amenities
Swimming Pool
There are 2 swimming pools in Protea Kruger Gate.
The first is the infinity pool at the Pool Bar / Ebony Africa. The second is a family pool right behind the bar.
Both pools are not heated and can get quite cold in the mornings or evenings. Throughout our stay, we didn't see anyone using the infinity pool. It felt more like a decoration than something people actually use.
Gym
There is a simple gym room in Protea Kruger Gate. Most equipment necessary for a basic workout is available, along a wide selection of dumbell weights.
Games room
There's a games room available for guests to hang out in during their stay in Protea Kruger Gate. This is very useful at night when the park is closed and you're looking for something to do.
Basketball & Volleyball Court
There were a lot of outdoor sports facilities available in Protea Kruger Gate. This ranges from Volleyball, Basketball to Tennis courts.
Protea Kruger Gate – Location
The Protea Kruger Gate hotel is located in an incredibly prime location, right outside Paul Kruger Gate. It takes 2 minutes to drive from the hotel's parking to Kruger's Gate.
It is a 6 hour non-stop drive from Johannesburg O.R Tambo Airport and just 30 minutes away from Skukuza town.
Protea Kruger Gate – Final Thoughts
Protea Kruger Gate hotel is a wonderful place to stay at if you're looking to explore Kruger National Park. It is the only points redeemable hotel near the national park.
It is also a great choice for guests exploring the park who are looking for more modern comforts. We have stayed in rest camps within the park and they have almost no cell service and wifi available. If remote working is part of your trip here, this might be the best option available.