The Singapore Airlines flight from Singapore to Cape Town, South Africa is famously one of the best miles redemption. This 13 hour 55 minutes flight includes an hour's stopover at Johannesberg.
There are no affordable flight options between Singapore and South Africa as its not a popular travel route. This makes for a greater value proposition to redeeming miles for the flight.
Having stashed quite a bit of points and miles over the past year, M and I decided to redeem them for a business class ticket for our upcoming South Africa trip.
This is a review of our experience on the Singapore Airlines A350-900 Business Class flight from Singapore to Cape Town, South Africa.
Booking
We spent 49,000 Krisflyer miles and US$50 for this one-way flight. This is the normal pricing for a Business Saver ticket from Singapore to Cape Town.
For our return flight, we managed to snag an available date during the spontaneous escapes promotion. That required a much lower 34,300 Krisflyer miles.
We checked the revenue tickets for these exact dates and it would have cost us S$3120.30 (US$2290). This meant we got a whopping S$0.061 (US$0.045) per mile redemption.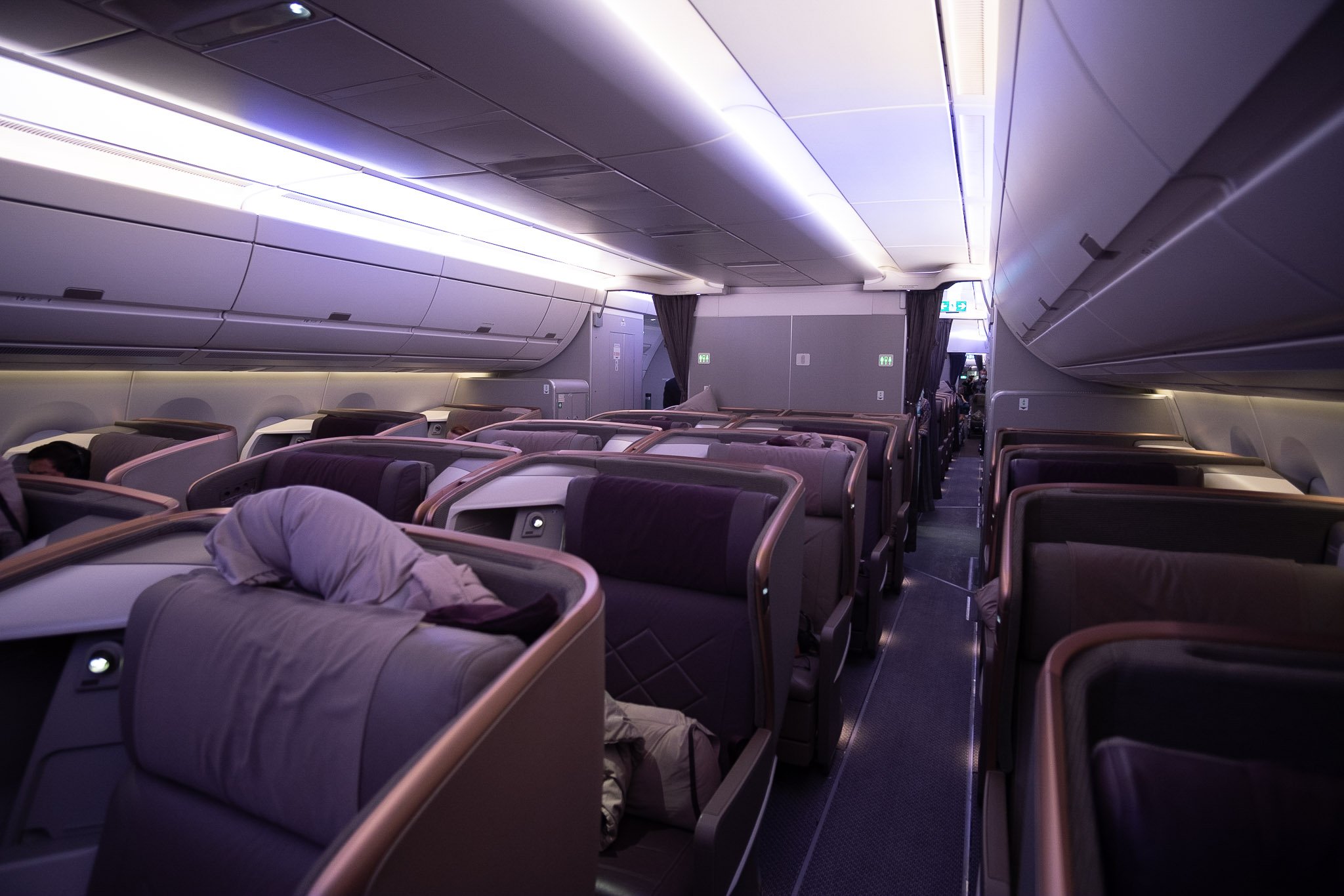 Lounge Access
A Singapore Airlines business class seat will give you access to the Silverkris Lounge in Changi Airport Terminal 3. While it is huge and offered a wide variety of food, it was very crowded when we visited.
Check out our full review of our Silverkris Lounge experience here.
Seats in the Singapore Airlines A350-900
The A350-900 is fitted with the 2013 Business Class seats. Although slightly dated in today's regard, this has been a highly rated product.
The comfort levels on these seats are unparalleled and make for a great flying experience, especially for long haul flights.
Within the aircraft, it is fitted in a 1-2-1 configuration.
If you're looking for more privacy, we'll recommend choosing the window seats towards the front. If however you're travelling with a partner, it might be better to choose to the middle 2 seats.
The seat features a 28″ seat that can be converted into a fully lay down bed.
There is enough space in the area to put small items like a passport and jacket. Unfortunately, there's no proper space to stow hand carries. During landing and takeoff, the bags have to be kept in the overhead bin.
Every seat comes with an 18″ large TV that is unfortunately non-touch screen. All interaction with the In-Flight Entertainment (IFE) system is through the controller at the side of the seat. This interaction isn't as intuitive as compared to touching the screen directly.
Both M and I got the window seats for this flight. On our return flight, we'll be trying out the side-by-side seats.
The seats provide sufficient privacy for passengers with their large side covers. Although it will be appreciated if there are full sliding panels, those are usually reserved for the more premium first-class seats.
Storage Spaces within the seat
Within the seat, there are various compartments to store your belongings.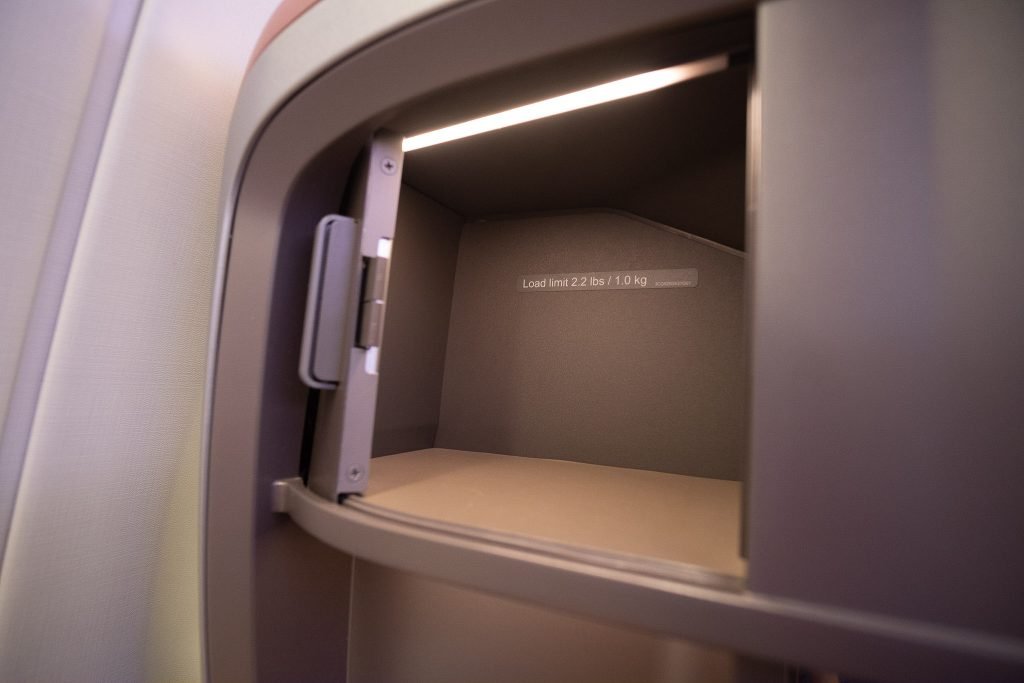 Basic amenities are neatly kept in a small compartment at the side of the seat. This includes a bottle of water, SIA care kit and noise cancelling headphones.
The two compartments on the arm rest are triggered with light presses. I found that on occasions, this can be mildly annoying especially when I'm leaning on the arm rest to peak out from the windows.
Full lay down bed
One of the best reasons for flying business is the access to a full lay down bed. This improves your travel by leaps and bounds especially when you're travelling long haul and a great improvement over flying premium economy.
There are pillows and blankets available for use when your bed is put down.
Food
There was a total of 3 meals throughout the duration of the flight. The first 2 meals happen during the Singapore to Johannesberg leg and a smaller meal between Johannesburg and Cape Town.
Appetizer
To start off our supper, we were given a plate of Salmon Salad. The salmon was very tasty, though the dressing was thick and a little too sour.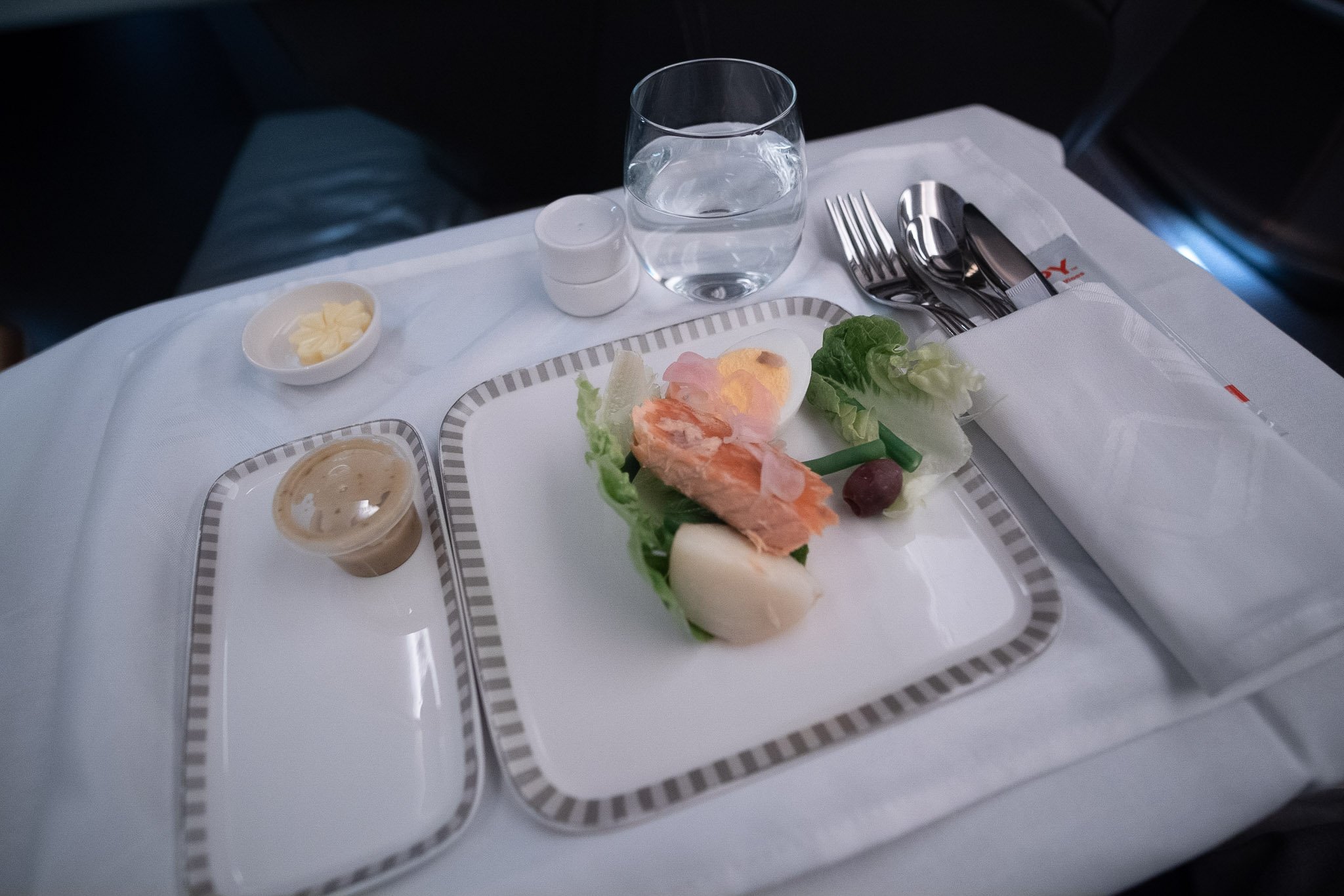 Book the Cook – Boon Tong Kee Chicken Rice
One of the unique features of Singapore Airlines' premium cabins is their Book the Cook feature! You can pre-book your meals onboard through their mobile app and this usually features a wider selection than what's usually available in flight.
For my first meal, I chose the Boon Tong Kee Chicken Rice set. The brand is hugely popular within Singapore, so I'm excited to see if it lives up to its name.
The rice was piping hot when first served. It tasted similar to the original version, though it leaned towards the saltier side.
The chicken, on the other hand, was too dry and unpalatable. The chilli was good and had the right spiciness, but I would prefer it to be slightly wetter.
Overall, it was a decent plate of chicken rice. But if I've had it in a hawker centre, I probably would not patronise it again.
Book the Cook – Laksa
As for M, she got the other Singaporean favourite – Laksa.
It was flavourful and was very generous in terms of the ingredients served.
Book the Cook – Lobster Thermidor
The Lobster Thermidor is a fan favourite of Book the Cook. We've heard good things about it before our flight and knew we had to try it.
First off, the vegetable was too salty and I couldn't finish it. The brussell sprouts, on the other hand, was very well cooked and easy to bite.
The lobster was meaty, generous and incredibly flavourful. My only nitpick here will be that there's too much butter dripped on it.
Bagel with Chicken Mayo
A light breakfast is provided for the 2 hour flight between Johannesberg and Cape Town.
The Bagel with Chicken Mayo served came with salad at the side, and it was really good. The chopped onions and tomatoes added a lot of flavour to the otherwise bland taste of the vegetables.
The bagel itself was cold, and I would very much have preferred it to be hot and toasted. Luckily, the saviour of the dish was the chicken mayo spread.
Bathroom
There is a separate bathroom for business class passengers on the flight. This is located in the middle of the 2 business class sections.
The bathroom itself isn't any different from the economy ones, other than the wider variety of hand creams and lotions provided.
Final Thoughts
The Singapore Airlines A350-900 business class experience has changed the flying experience for us. For long haul flights, the comfort of a full lay down bed is a game changer.
Although the food is good relative to other airplane food we've had, we feel that there's still room for improvement. We really enjoyed the great service we received by crew members of the flight.
With a Singapore Airlines business class seat, we're actually looking forward to our next long haul flight instead of dreading it.