This is our full review of the Turkish Airlines Business Class Lounge at Istanbul Airport (IST).
The first destination of our multi-month around-the-world trip is Barcelona. To get there from Singapore, we first took a 10-hour flight from Singapore to Istanbul where we had an 8-hour layover. From Istanbul, we then took the Turkish Airline's Regional Business Class (review coming soon) to Barcelona.
Our premium cabin ticket granted us access to Turkish Airlines's Business Class Lounge. Topping off with the long layover at the airport, gave us the perfect opportunity to do a comprehensive review of the lounge.
Basic Information
There are 2 main lounges operated by Turkish Airlines here in Istanbul Airport (IST). The Turkish Airlines Business Class Lounge and the Turkish Airlines MilesAndSmiles Lounge. The 2 lounges are very similar, in terms of layout and offerings. Their main differences would be the guests they are providing for, with the former primarily for premium cabin passengers and the latter for elite-status members.
Location
The Turkish Airlines Business Class Lounge is located in Istanbul Airport International Terminal, right after immigration. When you exit the immigration counters, turn right and head towards Gate E1.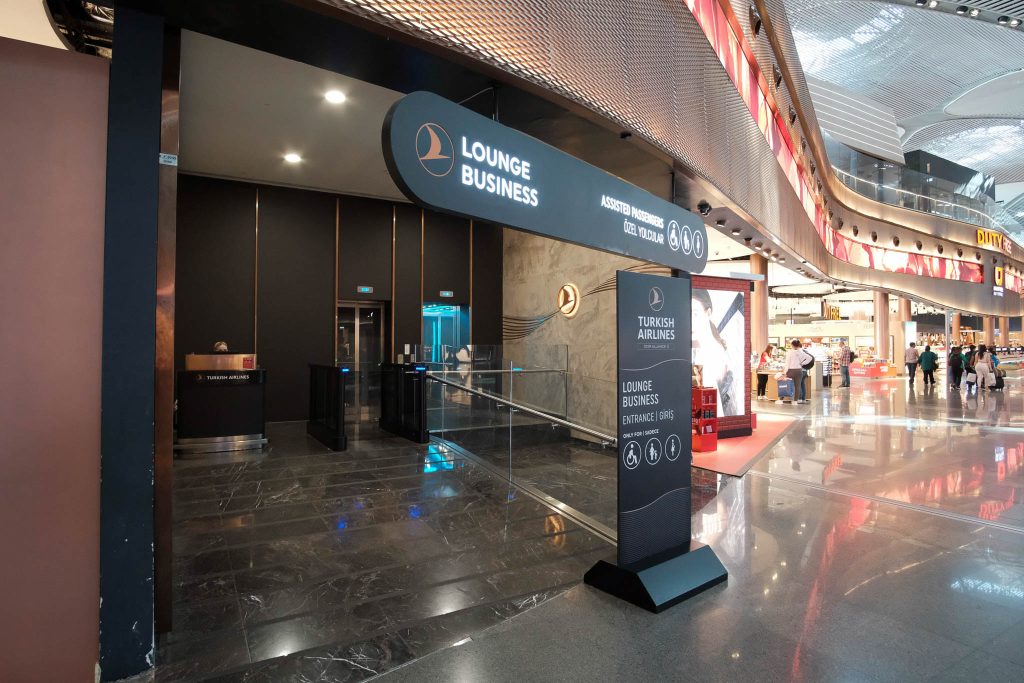 Even though you'll pass by an area that seems like the entrance, it's not actually the main entrance of the lounge. This more accessible entrance is meant for guests with needs and the staff is very strict about who they allow through these gates.
How do I access the Lounge?
Access Methods
Turkish Airlines Premium Cabin Passengers
Star Alliance Premium Cabin Passengers
As a Business Class lounge, the Turkish Airlines Business Class lounge primarily caters to premium cabin passengers flying in Turkish Airlines metal or any Star Alliance partners.
You'll need a boarding pass that's departing on the same day to enter the lounge.
There are many other airport lounges in the same terminal that cater to non-premium cabin passengers. If you're interested in finding out how you can access those lounges, check out our ultimate guide to airport lounges here!
Opening Hours
The Turkish Airlines Business Class lounge is open 24 hours a day, 7 days a week.
The Experience
When we first entered the lounge, our first impressions were "wow". This lounge is huge and expansive. It easily rivals one of our favourite and largest airport lounges – SilverKris Lounge in Changi Airport's Terminal 3.
There are many nooks and crannies of the lounge where seatings are available. The wide variety of seatings meant that every type of traveller was catered for.
Even though the lounge is located above the main airport transit area and they technically share the same place without separation, you can't really hear or feel the business of the airport here when the lounge is empty. This is a completely different story when the lounge itself gets busy (and it does).
If you're planning on the lounge, we'd recommend coming early in the day or late at night when it's less busy. The crowd in the lounge starts to pick up around 12 pm in the afternoon when more flights are scheduled. This significantly deteriorates the experience in the lounge, in terms of available seats and queues for the food. The Wifi quality also gets significantly affected as a result of the crowd which we'll get to in a later section.
Food and Drinks
The food and beverage department has to be one of the lounge's strongest aspects. As a large airport lounge, it has many food counters spread across its entire space.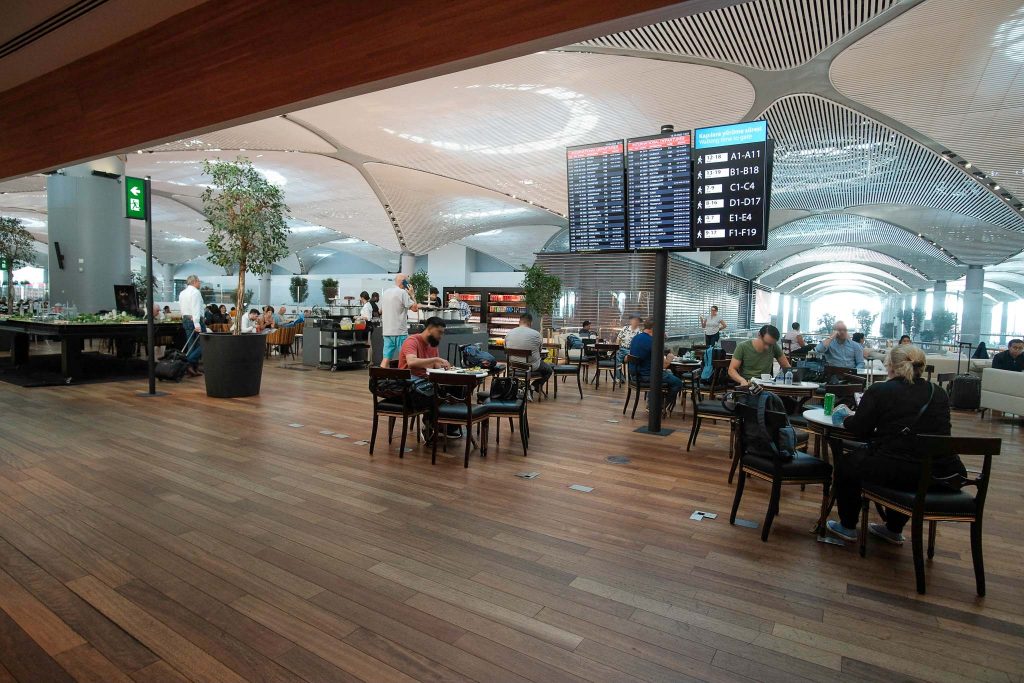 Even though there are many food options available, most of them offer Turkish or Middle Eastern food. If you're looking for something more International, you're out of luck.
With that said, the food quality is really amazing. Even if you're not a huge fan of Turkish cuisine, you'll enjoy the food offered in the lounge.
As for beverages, there are many self-service counters for soft drinks and water available throughout the lounge. On top of that, there is also a barista counter that makes fresh coffee and tea for guests.
You can even get a cup of fresh Turkish coffee here which we missed greatly since our last trip to the country!
Amenities
WiFi
| | |
| --- | --- |
| Download (Mbps) | 75.6 |
| Upload (Mbps) | 80.8 |
Wifi speeds in the Turkish Airlines Business Class Lounge
There is a dedicated Wi-Fi access point in the Turkish Airlines Business Class lounge. When we first arrived at the lounge, the speeds were fast and great for doing any kind of work.
As more people came in throughout the day and the lounge got really packed, the Wi-Fi speeds also suffered. This reached a point where it was almost unusable right before we left the lounge at around 2 p.m.
Showers
Showers are available for guests but require enquiry at the concierge desk. It is not openly available and you might have to wait during busy hours.
Luggage Storage
We first noticed the huge luggage storage area at the side of the entrance when we entered the lounge. This is complimentary for guests of the lounge and we think it's really useful if you're travelling with a large carry-on.
Golf Range
Tucked away in a small corner of the lounge is a virtual golf range. For all you golfing enthusiasts out there, this might be a good place to spend your long layover!
Soccer Lounge
There is a not-so-mini area in the lounge dedicated to showcasing soccer team apparel.
I'm not really sure what the purpose of this area is, given that there isn't really anything you can do here other than look at the apparel. To me, this feels like a huge wasted space that could have been repurposed for more guest seating. Even if you were a huge football fan, I'm not sure how much a random football museum in an airport lounge would have sparked joy in you before your flight.
Conclusion
Turkish Airlines Business Class Lounge Istanbul Airport (IST)
Summary
Turkish Airlines's Business Class Lounge at Istanbul Airport (IST) is one of the best airport lounges we've ever visited. It has an expansive and beautiful space, coupled with great food options makes this an oasis within the chaotic airport.