Overseas travel from Singapore has largely ground to a halt due to the recent pandemic. There is also virtually no domestic travel opportunities on this tiny island as you can travel coast to coast on public transport in a mere hour.
Late last year, the Singapore Tourism Board (STB) allowed the resumption of cruise sailing which spurred the current cruise to nowhere packages. Under these packages, the cruises will not be allowed to dock at any foreign ports, effectively just sailing around the open seas.
There are currently 2 cruise liners operating this cruise to nowhere services, namely Royal Caribbean and Dream Cruise by Genting.
As travel-starved Singaporeans, M and I have decided to jump aboard the train (ship) and try out the Royal Caribbean's Quantum of the Seas. This post contains our review based on our experience, as well as some tips and tricks to improve your own cruise experience!
Activities
If you're like me and you're wondering what will you be doing for so long on board the ship, fret not.
You won't ever run out of activities to do on the Quantum of the Seas! The entire ship itself is a massive resort with countless activities to keep your time filled onboard.
FlowRider
Ever since the closure of Flow Rider in Sentosa, this might be the only one left available in Singapore.
Each rider is limited to a ride time of about 5-10 minutes and it's absolutely worth queueing up for. There are instructors on-site to guide you even if you are a total beginner like us.
FlowRider is only available at select timeslots, from 10:00 to 12:00 and 14:00 to 16:00.
Pro tip: We recommend heading there slightly earlier for the afternoon session. There are fewer people in the queue, likely due to lunch hours.
North Star
The North Star is the pride and joy of Quantum of the Seas. You can have a panoramic 360 view of the entire ship and surroundings for 15 minutes.
However, we did not try it out during our trip as we felt that the ocean view from the upper deck was good enough. Moreover, there is an additional fee of US$20 per person (varies according to sailing). We did not think that the cost was justifiable, and it seems like many others onboard agree as we did not see it much in operation throughout our sailing.
Rock climbing
The cruise features a 40 feet high rock climbing wall on the upper deck. As you scale the wall, you can have a bird's eye view of the surrounding waters behind you.
Similar to the FlowRider, there are specific timings when it's open and we'd recommend heading over slightly before the time slot to avoid queueing under the hot sun.
Ripcord by iFly
If you've always wanted to try sky diving, but are afraid of actually jumping out of a plane, then iFly is your best alternative. It is a sky diving simulator that is intended to give you the same experience and feeling.
If you've been to the iFly in Sentosa, this is exactly the same, except on the cruise.
Do note that this is a paid experience which costs US$40 per person. If you've ever wanted to try it, this might be your best option as it's slightly cheaper than the offering at Sentosa.
Shows & musicals
There are plenty of shows and musicals onboard.
On the Quantum of the Seas, these are mainly held between Decks 3 to Deck 5 at the Royal Theatre, Two70 and Music Hall.
You'll have to make your reservations to the shows through the app and officially, each guest can only attend 1 shows at each venue throughout the sailing. To secure your reservation, you have to arrive at the show no later than 5 minutes after the start of the show. Therefore, you'll need to be strategic in which show you intend to watch.
Don't worry if there are a couple of shows at a single venue that you're interested in as there's a waitlist system. However, this gets filled up quickly for popular shows. Therefore, we'd recommend making reservations for shows that you really want and do the waitlist for shows that you're ok with missing out on.
Some of the shows we really enjoyed are the Sequins and Gold at the Royal Theatre and the Beatlemaniacs at two720.
Pro tip: If you're joining the waitlist, we recommend arriving at the theatre 30 minutes before the show's timing to put down your names. This will grant you higher chances of being let into the show.
Trivia and game shows
For those of you who want to flex your brain muscles even during a vacation, you can participate in the various trivia and game shows onboard. There were some very interesting ones such as Famous Landmarks of the World, Tri-Bond quiz and Boys vs Girls general trivia. Each trivia show lasts for about 30 minutes.
You stand to win prizes like pens, water bottles and baseball caps. They are generally great fun and we enjoyed participating in them.
Bumper car and games arena
The bumper car and games area is held at Deck 15's Seaplex.
Over at the Seaplex, there are plenty of activities to do. This includes Xbox gaming, table tennis and air table hockey.
You will need to make a reservation through the Royal Caribbean's app for the bumper car. If you've missed your timeslot, you can also just head over to try your luck if there are any no-shows.
The turnaround time is fairly quick (about 5 minutes) so your chances of second dips are high.
Gym and spa
Quantum of the Seas houses a gym that boasts incredible views of the seas. Imagine running on a treadmill that faces the waters. This was one of the activities I've been looking forward to doing prior to the trip.
Unfortunately due to the new restrictions, all gyms had to be closed and the one on the ship was no exception. My dream of visiting the gym was dashed. Or so I thought…
On the third day of our cruise, M and I booked an evening stretching session. Lo and behold, it is conducted in the gym!
Due to the restrictions, each class was only allowed 2 participants. The entire stretching session lasted 30 minutes and it was a good workout to burn off some of the fats we gained from all the food we had.
I managed to snap a quick shot of the gym before leaving. It certainly lived up to my expectations of being a beautiful gym, but I did not get to try out any machines and therefore cannot give any comments on that.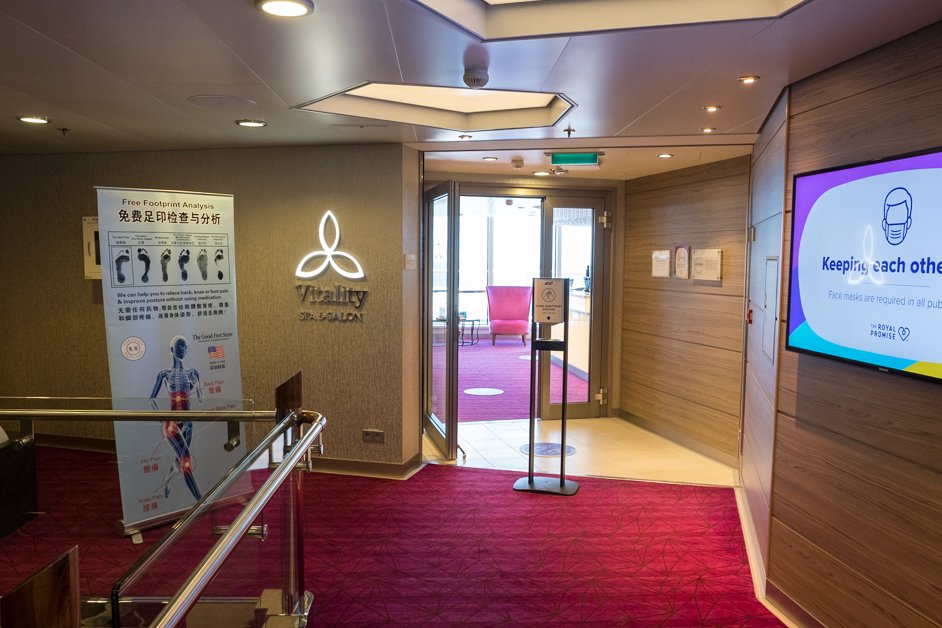 1 level below the gym houses the Vitality Spa where you can pamper yourself with a massage or manicure. Packages can be purchased through the app while you're on board.
Casino
This might be the sole reason some people head to cruises.
If you're a hardcore gambler, the casino in Quantum of the Seas might disappoint you. As a family-friendly cruise, it was clear that the casino is not the main focus of the company.
Firstly, it is located in a tiny bottom of the ship location which is easily missable. Also secondly, it is very small and does not have many offerings of more full-fledged casinos.
You'll get a couple of slot machines, roulette tables and blackjack tables.
All bets have to be made in USD cash or a credit on your cruise balance. Do note that the ATMs onboard charge a US$6.50 fee for withdrawal and credits have 5% surcharges.
Swimming areas
There's no lack of swimming pools nor sunbeds on the cruise as the pool is served with 3 main swimming areas. They are the outdoor area, indoor area and the Solarium. You'll be sure to get your Vitamin D fix on your vacation (unless you choose to stay in your stateroom the whole time).
The outdoor swimming area features a central swimming pool, a mini-wave pool (that's really only useful for small kids) and 2 jacuzzi pools.
The indoor area also features a central pool, but with 3 jacuzzi pools instead. We find that the indoor central pool is very cold, at a temperature similar to ice baths found in spa centres.
Our favourite swimming area is the Solarium. It is partially air-conditioned, so it's not too hot nor too cold. Its main selling point has got to be the incredible frontal view of the vast ocean. You're literally at the nose tip of the ship.
The pools at Solarium is stacked, probably inspired by Pamukkale. It is pretty small for swimming, so it only makes for a good soaking session and some nice photo opportunities. There are 2 more jacuzzi pools in this area.
During our sailing, entry into all pools requires face masks to be worn other than the indoor central pool. Therefore, we couldn't do any real swimming here with your face in the water.
Do note that all swimming areas close at 6 pm daily. However, the jacuzzi pools will still be operational until 12 am albeit no lifeguards on duty.
READ ALSO: Morning hike at Sungei Buloh Wetland Reserve
Food on the Quantum of the Seas
For anyone new to the cruise ship experience, most foods on the cruise do not require additional fees and are included in your package. In usual times, food is served in various restaurants across the ship. Extra food & beverage packages can be purchased prior to the trip, granting you access to speciality restaurants such as Jamie Italian's or Izumi Japanese.
As our trip was during the Phase 2 heightened alert period, the food situation was slightly different.
Firstly, all food and drinks have to be consumed within our stateroom. This meant that we had to place orders through a webpage for the following day's meals. Also, any food that we got from restaurants like Sorrento's has to be brought back into our room to be consumed.
Therefore, do take our dining experience with a pinch of salt (pun intended) as it will likely greatly defer from yours.
Secondly, speciality restaurants were closed and we were not able to purchase any dining & beverage packages. However, room service was available and takeaway will be served into the room.
The night before our trip, we received an email notifying us to place our orders for the first dinner. Subsequently, QR codes were given for us to book the next day's meals.
The choices for starters and desserts were the same every day whereas those for the mains will change. For every meal, there were 4 choices for the mains and we always chose 2. As we had a total of 10 meals on the ship, we were able to sample a wide variety of the ship's offerings.
We find that the food is generally of high quality and tasty even though some of them were already cold by the time we consumed them.
Starters
Mains
Desserts / Soups
Apart from the food that gets delivered to your room, there are 2 other places to get food outside of dining hours.
Seaplex hot dog stand
You can get nice good hot dog buns at the Seaplex stand. Due to distancing measures, the entrance via the Seaplex was blocked and we could only enter via the side entrance beside the FlowRider.
The entrance was really tiny and inconspicuous. We missed it a couple of times and only found it after asking a staff member.
Sorrento's
This is our favourite place on the ship and we frequented it at least twice every day. So much so that I forgot to take any photos of it throughout our time there.
At Sorrento's, they offer coffee, tea, salad, fries and amazing pizzas. As a non-pizza lover, their pizza tasted really good and we had to keep going back for more.
Important things to take note
Money
All charges and prices onboard are displayed in USD. This means that when you're purchasing anything on the ship, be it luxury bags or even a cup of latte, they will be coded as a foreign transaction on your credit card.
To avoid getting charged pesky foreign transaction fees by your banks, we recommend using a card like Revolut or Instarem Amaze. You can link this card to your sailing during check-in.
Electronics
All charging ports on the ship are US standard ports. There are also no USB ports available in the stateroom.
Remember to bring your travel adapters or you'll be left with empty devices the whole trip.
Wifi
There's Wifi onboard Quantum of the Seas. It is provided by the external company Voom.
There are 2 packages available, the Voom Surf and Voom Surf and Stream. The difference is the price and speeds you're getting.
Prices defer as there are always promotions so keep a lookout for them in your pre-departure emails.
Do note that you DO NOT need to purchase any Wifi packages to access the Royal Caribbean app to make your reservations. You can simply connect to the guest Wifi and the app will work normally. You just won't be able to access any other web pages or apps.
Covid tests
There are 2 covid tests to be done before the start of your sailing.
The first is a PCR test, scheduled 2-3 days prior to your sailing. They will send an email for you to schedule your test about 1 week before your sailing. The test is currently held at Raffles City Level 2 – KopiTiam and is administered by Fullerton Health Group. In our experience, the whole process was quick and didn't take more than 10 minutes.
The second is the less invasive Antigen Rapid Test (ART) that is conducted 1 hour before boarding. This on the other hand took a significantly longer time as there were more people (everyone who were boarding) and we had to wait an hour at a designated outdoor tent for our results before we were cleared.
Dress comfortably for your boarding as the hour wait is outdoor and can get unbearably hot depending on the weather.
All expenses for the tests are paid for by Royal Caribbean and is included in your ticket.
Last sailing day / Disembarkation
The ship will reach back in Singapore at 6 am on the last day of your trip. A simple breakfast will be served to your room (during P2 HA) before 7 am.
If you have no luggage, then you can disembark anytime after 8 am. However, if you do, you'll be assigned a backage tag and a specific timing.
The entire disembarkation and immigration process was quick and took only 20 minutes.
Strategies for making the most of your trip
Book your tickets during first release for the cheapest prices
Cruise tickets go by the simple logic of demand and supply, similar to those of hotels and air tickets. When tickets are first released, there's plenty of supply and prices are lower for the same stateroom. As more rooms are booked, the leftover rooms get more expensive.
Royal Caribbean releases sailing dates regularly. If you're looking to make a booking, be sure to keep track of their deployment schedule page so that you won't miss a release.
On the day of release, you'll have to make decisions with regards to the stateroom type and sailing date fast as they sell out fast.
Download the Royal Caribbean app prior to your sailing
Your vacation starts and ends on the Royal Caribbean app. Everything on board such as reservations or fetching cruising information has to be done through the app.
You wouldn't want to be in a situation where you are forced to purchase the Wifi package (if you didn't have intentions to) just to download their app to do anything onboard.
Spend the first hours onboard reserving activities
The app will only be available to you after you board and have connected to the ship's Wifi network. Spend the first couple of hours planning and making reservations for the shows or activities you want to participate in the most.
Due to safe distancing measures and occupancy limits, slots for popular shows run out fast.
Keep a lookout for email updates
Due to the rapidly evolving Covid situation, things onboard can change on a whim. In our case, the Phase 2 Heightened Alert (which prohibited all dining in) was only announced 2 days before our sailing date. This changed the expectations we needed to have going into our sailing.
Also, as mentioned earlier, there will be frequent promotional emails sent by Royal Caribbean prior to your trip. This can range from discounted Wifi packages to room upgrade packages. You'd not want to miss these as they can help you save some money on your perfect vacation.
Be flexible with your expectations
This also leads to our next point which is to be flexible with your expectations. Even though our dining experience wasn't what we had expected, we thought that these enhanced restrictions were a blessing in disguise.
There were much fewer people onboard (25% capacity), and therefore we did not have to queue for most activities. We also ironically felt safer from the pandemic as the social distancing measures were taken much more seriously.
Summary
Prior to this, I was not a huge fan of cruising. I felt that I could get a better travel experience overseas and that cruises were more for older people. Boy, was I wrong!
Because of the pandemic, this was as good as it gets to "overseas" travelling and it sure felt like it. I'm glad that this cruise to nowhere has kickstarted my cruising experience.
It has opened my eyes to the world of cruises and I've even started researching more on future cruises around the world. The ones that I've shortlisted are those that sail to the Caribbean Islands and Alaska.
Similar to other trips, there is plenty of research and preparations that can be done to ensure that you get the best out of your time there. We hope that our experience can help you do that.
Leave a comment down below if you have any questions about the cruise and we'll do our best to answer them!
---
Are you looking for more Vitamin D soaking experiences in Singapore? Check out the Lazarus Islands, located 30 minutes south of Singapore.
It is a great place to escape the busy city and have a chill weekend out with the family.