During my flight from the US to Asia, I had a short flight between Tokyo's Haneda International Airport and South Korea's Gimpo Airport. This 2 hour 20 minute flight is served by Asiana Airline's Boeing A330 aircraft.
Asiana Airlines with one of the 2 major South Korean Airlines, with the other being Korean Air. It is part of the Star Alliance and has been in operation since 1988.
Before my flight, I got to enjoy the amazing ANA Lounge at Tokyo's Haneda Airport. The lounge was just a short walk from my gate so I luckily did not have to rush to catch my flight.
If you want to find out how you can visit airport lounges for free before your flights, check out our guide here!
In this blog post, I'll be sharing my experience on Asiana Airlines Boeing A330 Economy Class flight.
Boarding
Long lines have already formed long before standard boarding commenced. Luckily as I was a Star Alliance Gold member, I was able to skip the entire line and board immediately.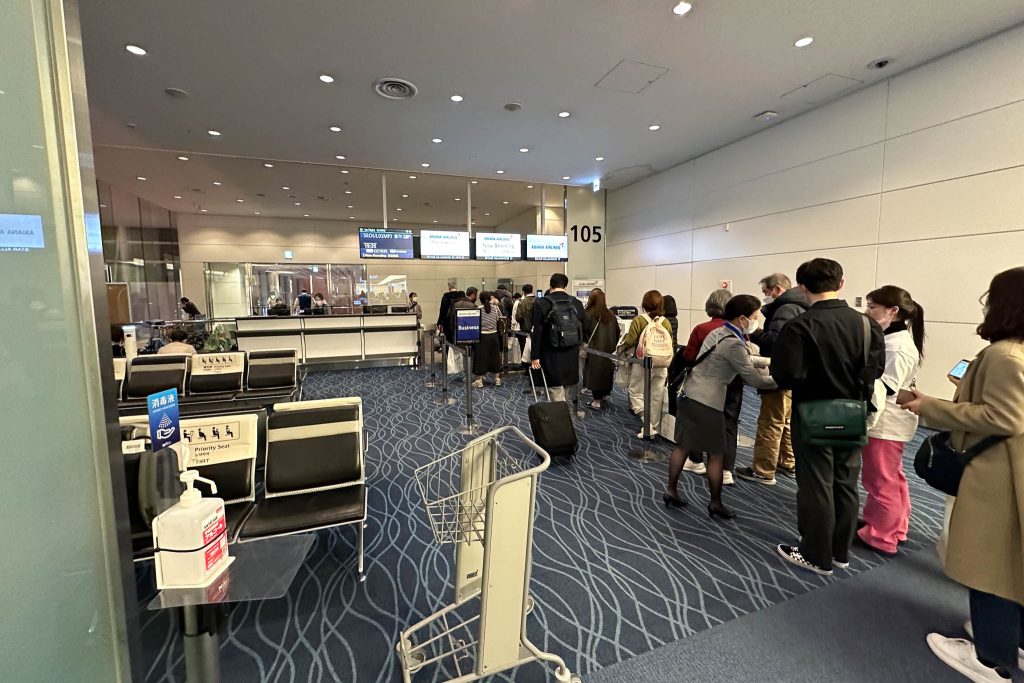 I appreciate this as I have found not all airlines enforce this priority boarding experience, especially the budget ones like Scoot.
All in all, the boarding experience was prompt and completed very quickly. As a result, the plane took off on time as scheduled.
Plane Configuration
The Asiana Airlines A330 economy class follows a 2-4-2 configuration. This configuration is great for couples who choose to sit in the outer 2 seat columns.
Leg space is not an issue on this short-haul regional flight. As someone who is 175 cm, I don't find it cramped at all throughout my short 2-hour flight.
In-flight Entertainment
In-flight entertainment is one of the most important factors that make or break a flying experience. After all, when you're spending hours in a metal tube in the air, there's nothing much to do other than to entertain yourself with TV shows or movies.
The in-flight entertainment (IFE) system in this aircraft is one of the most ancient I've ever seen. The small screen appears to be at least as old as I am. Viewing angles are terrible and I have trouble viewing it if my head even slightly tilts off the angle by a bit.
As for media selection, this IFE only has pre-selected channels and is not on demand. There were only a select few channels and all of them were in Korean or Japanese language.
As a result, I skipped the entertainment altogether and simply stared at the flight map throughout this flight across the east Japan sea.
Guests were given a pair of headphones for use with the IFE. This is nothing to shout home about and is of typical quality on economy flights.
Another thing to note is that there is no Wifi service on this flight.
Meal Service in flight
There was a single meal service for this short 2-hour flight across the sea of Japan. The only option available was chicken teriyaki.
It was passable for airplane food, not the worst, but also not the best meal I've had on an economy flight.
Bathroom
The bathroom on this flight has to be its most commendable feature. This is definitely one of the largest airplane bathrooms I've ever encountered. It even has a dedicated space for baby care.
It easily beats our even long-haul business class bathrooms like the one from Singapore Airlines.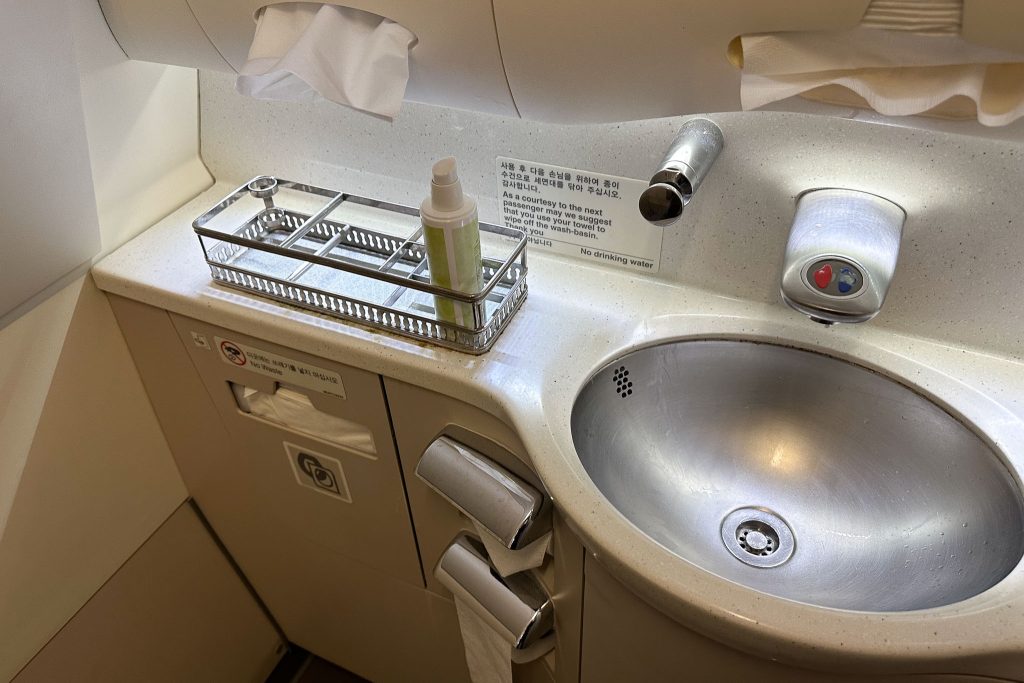 The bathroom in general is very dry and clean. The trash bins were clean and no wet paper towels were lying around.
Service in the Asiana Airlines flight
The service was great throughout the entire flight, typical of the hospitality standards found in Asia. Flight attendants also passed down the required paperwork for embarkation entry before the flight touched down.
There was a small blip during meal service where the attendant accidentally spilt orange juice on my pants. This was an unforeseen accident and fortunately, she did proper service recovery.
Conclusion
My short international flight on Asiana Airlines was pleasant and enjoyable. Despite some notable flaws such as its outdated IFE system, it aced in other important factors such as leg space and service quality.
I will always remember the shock I got when I first saw its enormous bathroom which is unheard of in an economy class flight. This is by far my biggest surprise and I would imagine it'll be hard to beat for any other airline where space is a premium in the air.