In the Fall of 2022, we were lucky enough to stay at the Bodrum Edition, a property of the Marriott portfolio. This has been the dream for many playing the points and miles game.
Out of all the Edition properties in the world, the Bodrum Edition is said to be one of the finest available.
As we were planning for a trip to Europe at the end of 2022, I was thinking that it might be possible to fit in a quick visit to Bodrum to experience this property.
And so we did.
Bodrum Edition: Booking
We managed to make a booking at the luxurious Bodrum Edition using a 50,000 free-night certificate. This was a speculative booking that we made earlier in the year before the removal of the Marriott award chart and the subsequent devaluation of Marriott points.
Even before the devaluation, finding 50,000 rates at the property was already tricky. We probably managed to find it because we were travelling in the shoulder season in October.
Cash rates at the Bodrum Edition range from €750 in the shoulder seasons to €1,500 in peak seasons. Points redemptions now range from 71,500 points to 104,500 points per night.
It is still a great redemption going by this valuation but of course, it's nowhere near as spectacular as it was a year ago.
Bodrum Edition: Check in
For our visit to Bodrum, we rented a rental car from rentalcars.com. We collected our car from Bodrum airport and drove directly to the foyer of the property. We'd highly recommend anyone who's thinking of visiting Bodrum to rent a car as it's not a very public transport-friendly place.
The drive from the Bodrum International Airport to Bodrum Edition takes about 50 minutes of driving on the highway.
Bodrum Edition also provides private transfers from the airport. However, it costs a staggering €150 + 18% VAT each way. That was almost what we paid for our entire week of car rental in the country so we decided against it.
During check-in, the staff told us that as part of our status, we were upgraded to the Sea View, Loft Suite! This was a pleasant surprise as we've only booked the base Deluxe Guest Room.
These suites typically go for €1,500 in the low seasons and upwards of €4,000 during the peak seasons so we really lucked out on this!
As part of the check-in process, we were also given small tubs of traditional Turkish flavoured ice-cream. We requested to have the ice cream in our room as they gave us 4 tubs and we wanted to enjoy it over the course of our stay.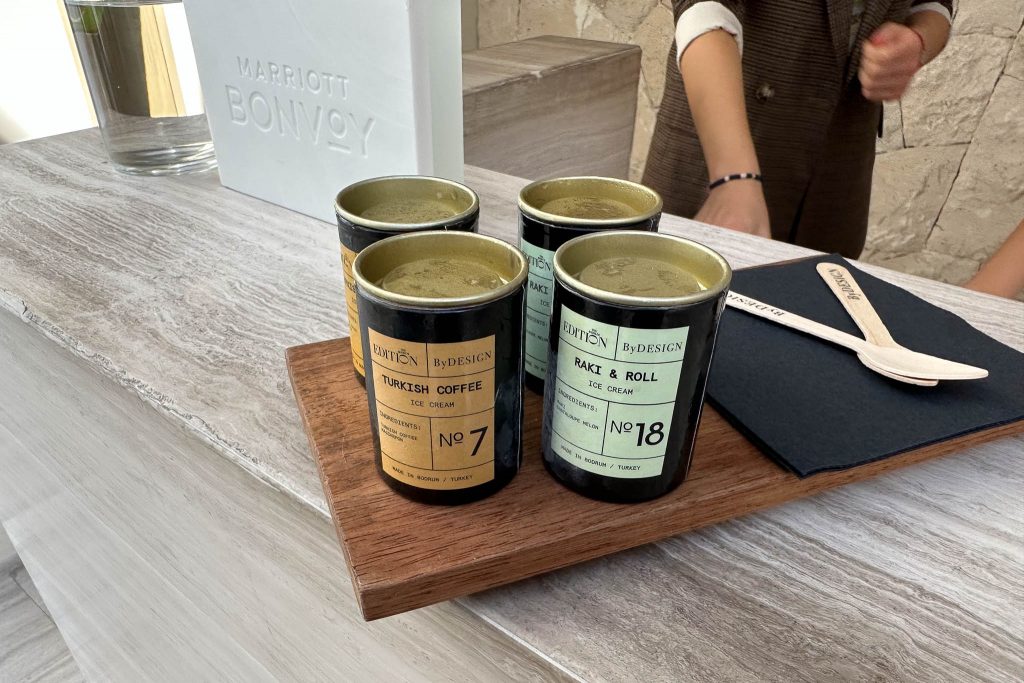 Bodrum Edition: King Bed, Sea View, Loft Suite
Our first impression of the suite was that it was huge. Like really huge.
According to Bodrum Edition, the suite spans an area of 97-129 sqm or 1044 – 1388 sq ft. This is much larger than many apartments that we have in cities.
King Bed, Sea View, Loft Suite: Living Room
The first, which greeted us when we entered, was the living room. In the middle of it all sat the huge dining table.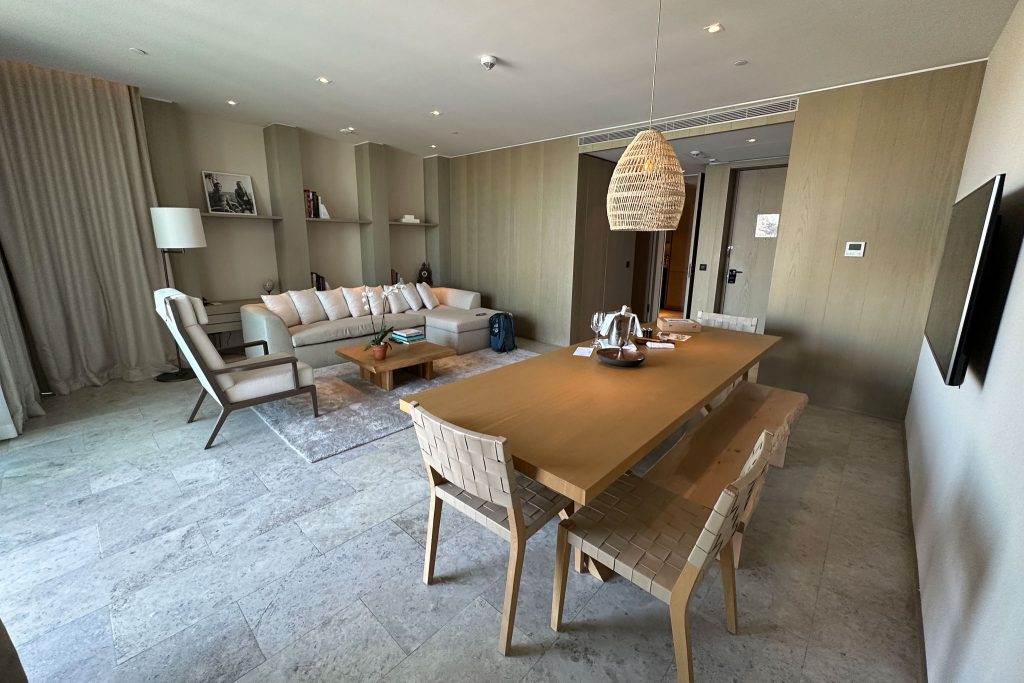 What really made this suite unique was the balcony which has a direct view of the bay below. This made the suite feel more luxurious than it already is.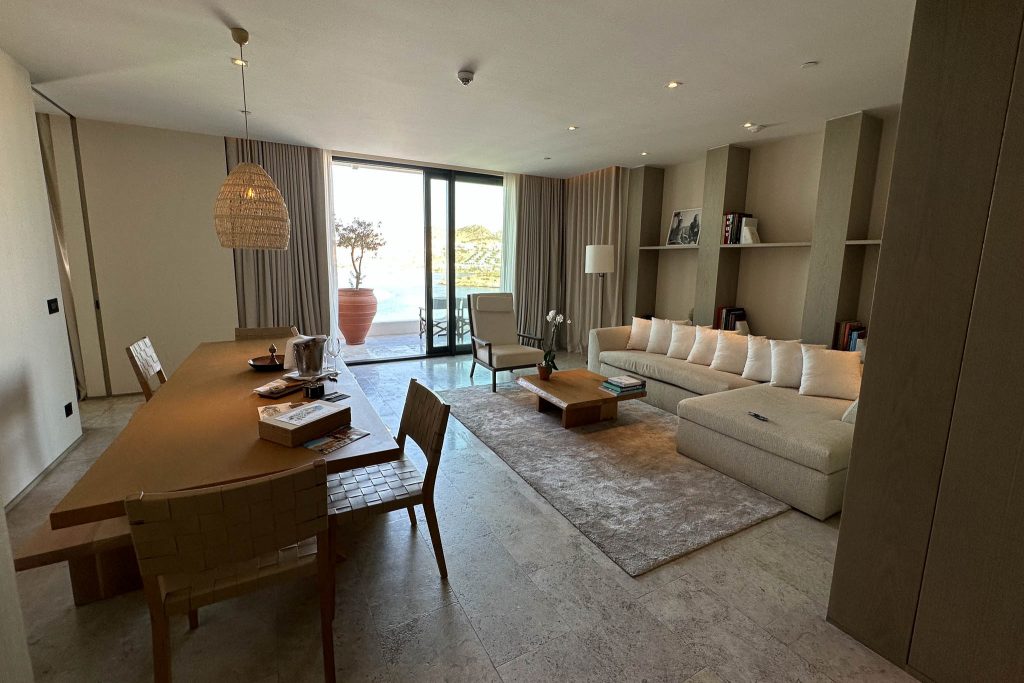 As Marriott Elite members, we received breadsticks and a bottle of sparkling wine in our bottle as welcome amenities. This is very generous considering that we have already gotten the tubs of ice cream at check-in.
Inside the huge wooden box, there were products like masks and hand sanitisers which are always great to have.
King Bed, Sea View, Loft Suite: Kitchen
Each suite at Bodrum Edition comes with a kitchen with a separate entrance. This is probably for guests who hire private chefs during their stay.
The kitchen has almost every utensil and cutleries needed to cook up a fancy meal. We, however, did not use it at all during our stay. The only times we came to the kitchen were for the Keurig coffee machine and for the water.
The kitchen was well stocked with coffee pods and mineral water.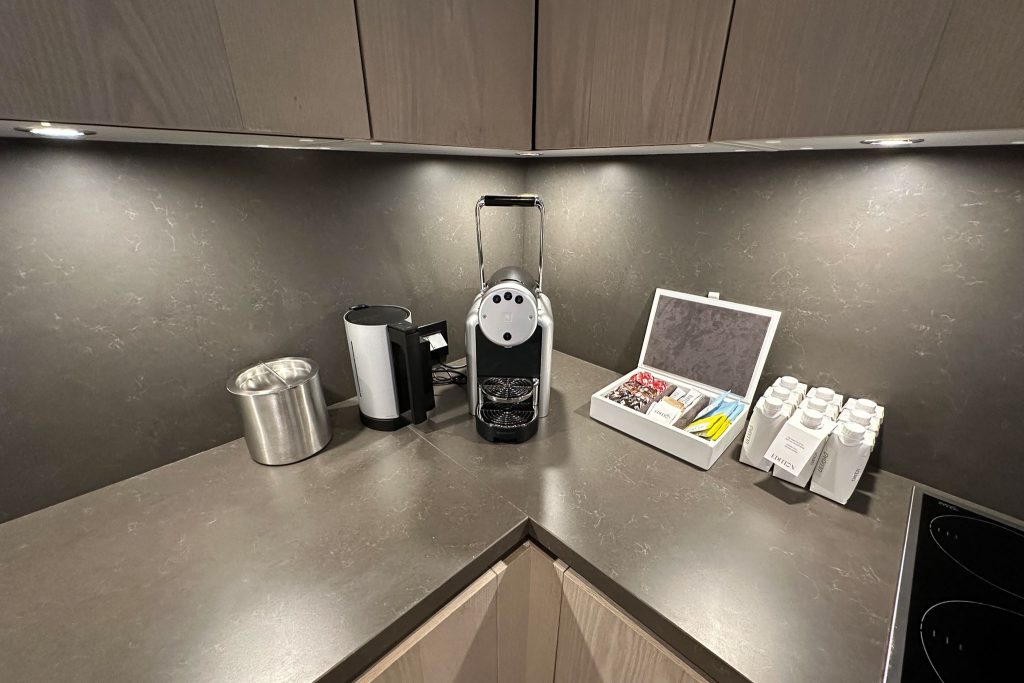 King Bed, Sea View, Loft Suite: Bedroom
Heading over to the adjacent bedroom, you get a huge king-sized bed with a lounger at the side. The mattress was really comfortable to the point where our awake hours were almost non-existent that night.
The room is also connected to the same balcony as the living room which provides the same expansive view of the bay.
King Bed, Sea View, Loft Suite: Bathroom
There are 2 bathrooms in the suite, 1 in the common living area and 1 in the master bedroom.
The master bathroom is huge, with a separate bath and shower area. Although comparatively, we've very much preferred the bathroom we experienced at Regent Phu Quoc which was much larger and has more character.
Bathroom amenities in all Edition properties are provided by the famous Le Labo fragrance brand, and each Edition has its own unique fragrance. It is also not possible to purchase this fragrance outside of this property.
We particularly like the one provided in Bodrum Edition and regretted not purchasing it before leaving. I guess this is a setup for a follow-up visit!
Bodrum Edition: Amenities
Bodrum Edition: Gym
The Bodrum Edition features a gym centre that was really difficult to find. As the property is split into multiple terraces, I got confused trying to find where exactly the gym was. The entrance was also pretty inconspicuous which caused me to miss it multiple times.
The gym is fairly large for a property of this size. There are enough equipment and free weights needed for a proper workout.
The real standout here is the bouldering wall which is a first for me. I can't imagine myself bouldering here though as the floor seemed a little too hard for my liking.
Bodrum Edition: Pool
There is an infinity pool located on the second-level terrace of Bodrum Edition. During our stay, we did not see anyone swimming in the pool or lounging around it. This was probably because it was really cold in the middle of October.
We tried to take a quick dip but quickly came out as the water was unbearable and we were not looking for any cryotherapy.
However, the sunbeds are still comfortable enough to lounge for a considerable period of time. We imagine that this area will be fully occupied during the height of summer as the views are really incredible.
Bodrum Edition: Private Beach
The Bodrum Edition is directly connected to the beach at the lowest levels of the terraces. This area is considerably more populated than the pool area during our visit.
Similar to the pool, the waters at the beach are really cold. However, we saw many guests swimming in the waters and we tried it ourselves. It was really fun as there were many fishes, but we couldn't stay long due to the temperature.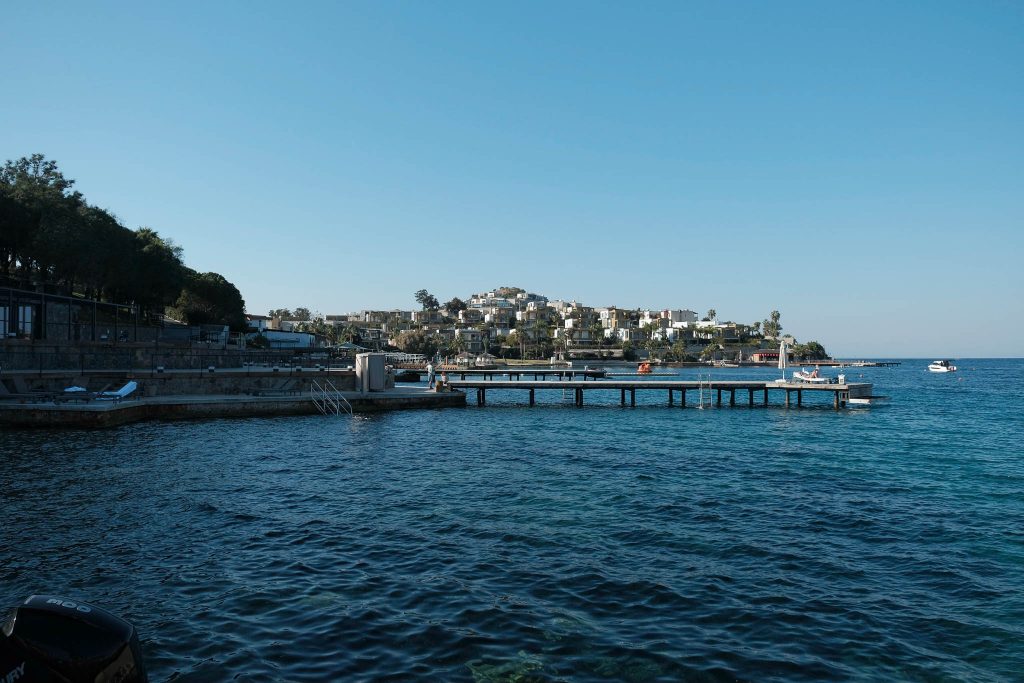 There is even a water sports centre right by the jetty where guests can rent equipment like jetskis and kayaks.
There are also plenty of retail shops selling beachwear available just in case anyone forgot to bring their attire to a beach vacation.
Bodrum Edition: Yoga Session
There are daily yoga sessions conducted at the sunrise pad overlooking the beautiful bay. Typically, there is a session during sunrise and one during sunset. They last for an hour each.
We attended the sunset session and it was incredible. Apart from the instructor, there was an assistant who was playing traditional Turkish instruments which really made the experience unique.
As we visited in October, it got cold really quickly once the sun goes below the horizon. The instructor offered every guest thick blankets which we really appreciated.
Bodrum Edition: Breakfast
Typically, redemption stays at this property do not confer complimentary breakfast even with status. However, we were very pleasantly surprised when the staff told us at check-in that we were given complimentary breakfast during our stay. We do not know the reason but would reckon a guess that it was because we stayed during the shoulder season.
The breakfast offered at Bodrum Edition is a set menu with an unlimited choice of main courses. Guests will first be served the "Traditional Experience" which is essentially a Turkish-style breakfast with multiple small dishes.
The main courses are closer to standard cafe brunch food which is the common pancakes and toasts.
Bodrum Edition: Conclusion
The Bodrum Edition was our final luxury stay of the year and it didn't disappoint. As they said, this is one of the pinnacles of our travel hacking hobby and at this point, I completely agree. It was our first time staying in an Edition property and we already can't wait to visit the other properties in the world.
After our stay at the suite, we were even given an extremely late check out at 6 pm which we've only experienced once at W Bali. However, they were unable to give us the suite after 12 pm so they moved us to a much smaller Deluxe Room but we really appreciated the gesture.
The Edition footprint is slowly expanding and there will even be one in Singapore and Kuala Lumpur in the fall of 2023. We will be holding our breaths for those!