This is our full review of the DBS Vantage Credit Card.
The DBS Vantage Card is DBS's first foray into the mid-tier travel credit card space. This tier of credit cards usually offers elevated benefits and requires a minimum annual income of S$120,000.
With almost every credit card issuer having an offering in this credit card tier, Singapore's largest bank is oddly missing from the list. That is, until early 2022 when DBS announced the DBS Vantage Card to fill in that gap.
Although launched with an attractive signup bonus and high miles earn rate, it has since undergone several changes throughout the short span of time. Is it still worth applying for the card now?
Subscribe to us on Telegram

Join JS and Marilyn on Telegram to receive insider travel hacking tips and exclusive deals. Subscribe to unlock a world of wanderlust.
Earning Miles
Earn Rate
1.5 mpd on Local Spend
2.2 mpd on Overseas Spend
6 mpd on Expedia bookings (Until 31 March 2024)
1.5 mpd on Local Spend
The DBS Vantage Card earns an uncapped 1.5 mpd on all local spending. This is a relatively high rate as compared to other cards that provide uncapped earnings.
2.2 mpd on Overseas Spend
In addition, you'll earn 2.2 mpd on all spending made overseas or in a foreign currency. However, do remember that foreign spending would incur a foreign transaction fee of 3.25%.
6 mpd on Expedia Booking
As a limited-time offer until 31 March 2024, you'll earn 6 mpd on your bookings made through Expedia. To receive the extra points, you'll have to make your booking through this dedicated link.
Even though an elevated earn rate of 6 mpd is high, you won't be able to use any cashback portals like Shopback or Rakuten to make your booking. These portals consistently give between 5.5% to 12% cashback for making your hotel bookings on Expedia throughout the year.
In addition, if you use a card like the UOB Lady's Card (with the Travel category selected), you'll be able to earn 6 mpd on top of the additional cashback that the cashback portals provide.
DBS Vantage Transfer Partners
| Program | Conversion Rate (DBS Points : FFP) |
| --- | --- |
| AirAsia Big Loyalty | 5,000 : 10,000 |
| Cathay Airways Asia Miles | 5,000 : 10,000 |
| Singapore Airlines KrisFlyer | 5,000 : 10,000 |
| Qantas Airways | 5,000 : 10,000 |
DBS has the standard Singapore Krisflyer and Cathay Airways Asia Miles program that almost every other bank provides. In addition, it also has Qantas and AirAsia (which you shouldn't bother due to the poor value) as its transfer partners.
It costs S$27 (with 8% GST) per redemption regardless of the number of points redeemed. Therefore, it makes sense to only redeem your DBS Points when you have accumulated a substantial amount of it.
Expiry of DBS Points
DBS Points earned on the DBS Vantage Card will expire 3 years from the day they are earned. This is a pretty reasonable expiry date, much better than what the DBS Woman's World Card offers.
Switch between Miles and Cashback
A big selling point of the DBS Vantage Card is its ability to let users switch between miles and cashback easily through the app. When the switch is toggled, all DBS Points earned on the DBS Vantage Card will be auto-converted into cashback on the statement on the 1st business day at the start of the month.
The conversion rate stands at 1 DBS Point : S$0.02 cashback. For simplicity, this means you're getting 1.5% cashback for local spending and 2.2% cashback on overseas spending on the DBS Vantage Card.
This is a good option if you have DBS Points that are expiring, and you don't have any desired travel redemptions coming up. In addition, you save on the S$27 miles redemption fee that gets charged when you transfer DBS Points to a frequent flyer program.
Sign Up Offer
Offers Available
60,000 miles for new cardmembers
40,000 miles for existing cardmembers
Promotion valid until 31 January 2024
The sign-up offer is available to new and existing DBS credit card members. The difference is that new card members will receive a slightly higher number of miles by signing up for the DBS Vantage Card.
You are considered a new DBS credit card member if you do not currently have any DBS/POSB credit cards and have not cancelled any DBS/POSB credit cards within the last 12 months before your application.
For both sign-up offers, cardholders must pay the 1st year annual fee of S$594 and spend S$4,000 within 30 days of card approval.
Complimentary Accor Plus Explorer Membership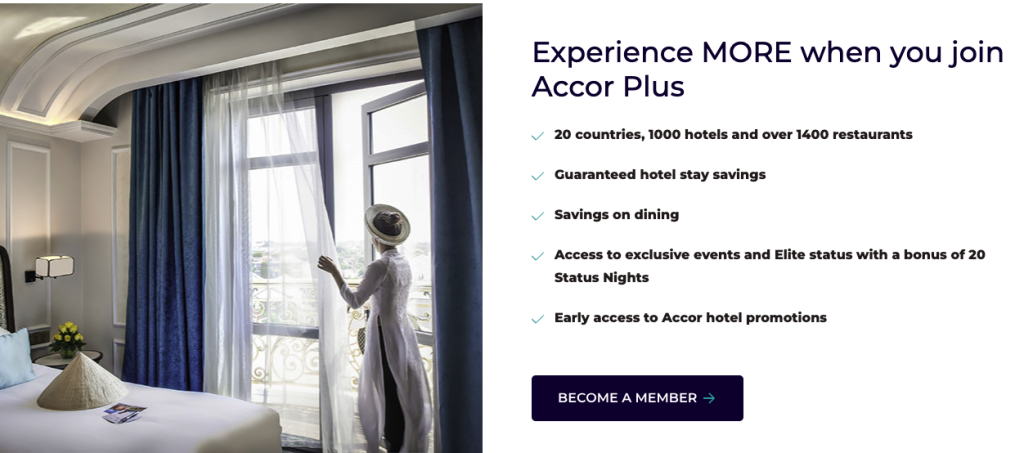 The biggest benefit that comes with the DBS Vantage Card has to be its complimentary Accor Plus Explorer Membership. The Accor Plus program is a paid program, slightly different from its sister loyalty program, the Accor Live Limitless.
In case you're not familiar, Accor is a hotel chain that has a significant footprint across Asia Pacific and Europe. Popular brands under Accor include Fairmont, Ibis, Raffles, Mercure and Sofitel.
An Explorer tier membership goes for US$295 per year if you were to purchase it from Accor.
Notable Benefits of Accor Plus Explorer Membership
1 complimentary night at Accor properties across Asia Pacific
Up to 50% off dining in Asia Pacific
Member's Rate of 10% off Best Available Public Room Rate
Accor Live Limitless Silver Status
20 bonus Status Nights
Complimentary Night in Accor Asia Pacific
The single biggest benefit of having the Explorer membership is its complimentary night at Accor properties across Asia Pacific. You can use them at various luxury hotel brands such as Sofitel, Fairmont and Banyan Tree. Regrettably, the ultra-luxurious Raffles is absent from the list.
These are some of the amazing redemptions you can make.
| Property | Country | Average Price (SG$) |
| --- | --- | --- |
| Sofitel Singapore Sentosa Resort & Spa | Singapore | S$380 |
| Sofitel Singapore City Centre | Singapore | S$400 |
| Sofitel Sydney Darling Harbour | Australia | S$580 |
| Sofitel Auckland Viaduct Harbour | New Zealand | S$280 |
| Mantra Lake Tekapo | New Zealand | S$320 |
| Sofitel Fiji Resort And Spa | Fiji | S$690 |
| Sofitel Legend Metropole Hanoi | Vietnam | S$400 |
There are many more properties in the region that are available for redemptions. If you're able to find a redemption, you can get an outsized value just from this perk alone.
Up to 50% off Dining in Asia Pacific
As an Accor Plus Explorer member, you'll get to enjoy up to 50% off the food bills in Accor hotel restaurants across Asia Pacific.
To extract the most value out of the membership, you can dine with 1 other guest (total 2 people) for half the total price.
This can amount to a significant saving if you frequently dine in hotel restaurants. You can take advantage of this benefit regardless if you're staying in the hotel or not.
Save up to 50% off Standard Room Rates with Red Hot Room
As an Accor Plus member, you'll have access to Accor's Red Hot Room program which provides huge discounts for stays across the Asia Pacific.
Taking a look at the list of current promotions, the discounts provided are pretty incredible if you're travelling to those cities. This is something I'll definitely take advantage of if I am travelling to these cities.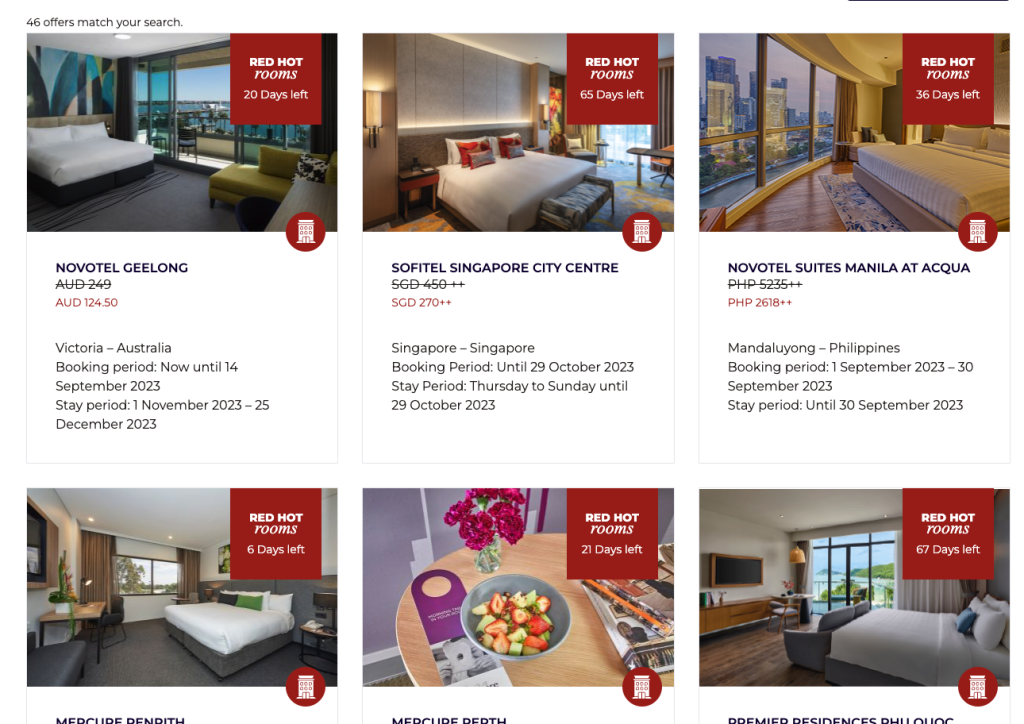 Accor Live Limitless Silver Status
By being an Accor Plus Explorer member, you'll be automatically upgraded to Accor Live Limitless's Silver Status. The Silver status is just 1 level above the general public, and therefore it does not confer many benefits.
You'll typically need to stay 10 nights at Accor properties in a year to obtain this status.
The main addition of an Accor Silver status would be a welcome drink and late check-out which is subject to availability when you're staying at an Accor property.
Complimentary Lounge Access
By having the DBS Vantage Card, you'll get a Priority Pass Membership that grants you 10 complimentary airport lounge visits per year.
A Priority Pass membership allows you to access 1,300 airport lounges around the world and we love it for the fact that it easily elevates our travel experience.
Check out our ultimate guide to Airport Lounges here!
However, the DBS Vantage Card only grants you 10 lounge visits in a year. This is very little compared to the Citi Prestige Card, a very similar card, that grants unlimited complimentary lounge access with 1 guest.
Eligibility
You'll need to have an annual income of S$120,000 and above to be eligible for the DBS Vantage Card.
This makes the DBS Vantage Card a mid-tier credit card when it comes to eligibility.
Fees
| Fee Type | Amount |
| --- | --- |
| Annual Fee | S$594 |
| Supplementary Card | Free |
The annual fee of S$594 is not waivable unless you spend a minimum of S$60,000 on the card in the preceding card year.
For paying the annual fee every year, you'll get 12,500 DBS Points which translates to 25,000 miles. You're essentially paying 2.3 cents per mile when you're paying the annual fee for the card.
Do note that if you waive your annual fee through spending on the card, you'll not receive the bonus 25,000 miles.
My Verdict – Should you get the DBS Vantage Card?
The DBS Vantage Card offers quite a package for a $120k card. I would reckon that the biggest reason for having the card would be its complimentary Accor Plus Explorer Membership. Just having the Accor membership grants you a whole lot of benefits that go towards subsidising the cost of the card's annual fee.
The biggest letdown has to be its airport lounge access complimentary limits. Offering 10 complimentary visits a year is simply too little, considering that this card is targeted at globetrotters and frequent flyers.
While writing this review, I was secretly hoping that the DBS Vantage Card could be a killer card. Something that I overlooked that could have been a great addition to my credit card setup. If we value the 25,000 miles that we get every year for paying the annual fee at 1 cent per point, that's S$250 off the annual fee yearly. We're essentially paying S$344 a year for an Accor Plus Explorer membership.
In my opinion, S$344 a year for an Accor Plus Explorer membership is cutting it close to downright purchasing the membership yourself. I don't feel like I'm getting enough outsized value to lock myself down to an additional credit card.
Personally, if you're looking for a card within the 120k annual income range, I would recommend the Citi Prestige Card over the DBS Vantage Card.