This is our guide to earning a ton of KrisFlyer Miles for the Singapore Airlines KrisFlyer program.
We've all heard stories of people travelling on business and first-class flights paying close to nothing. Buzzwords like travel hacking have been floating around the interwebs as early as 2010.
You're based in Singapore, so you decided to sign up for Singapore Airlines' KrisFlyer Program as that's what everyone's talking about. However, you find that no matter how many times you flew with the carrier, you never seem to be able to rack up enough KrisFlyer Miles to make that elusive "free" trip.
We're going to show you all the ways that you can a ton of KrisFlyer Miles easily, and most of them wouldn't even involve flying with Singapore Airlines!
Subscribe to us on Telegram

Join JS and Marilyn on Telegram to receive insider travel hacking tips and exclusive deals. Subscribe to unlock a world of wanderlust.
What can you do with KrisFlyer Miles?
To start off, you might be curious about what could you do exactly with KrisFlyer Miles. After all, if the benefits aren't worth it, what's the point of earning any KrisFlyer Miles at all?
Flying Singapore Airlines Business or First Class/Suites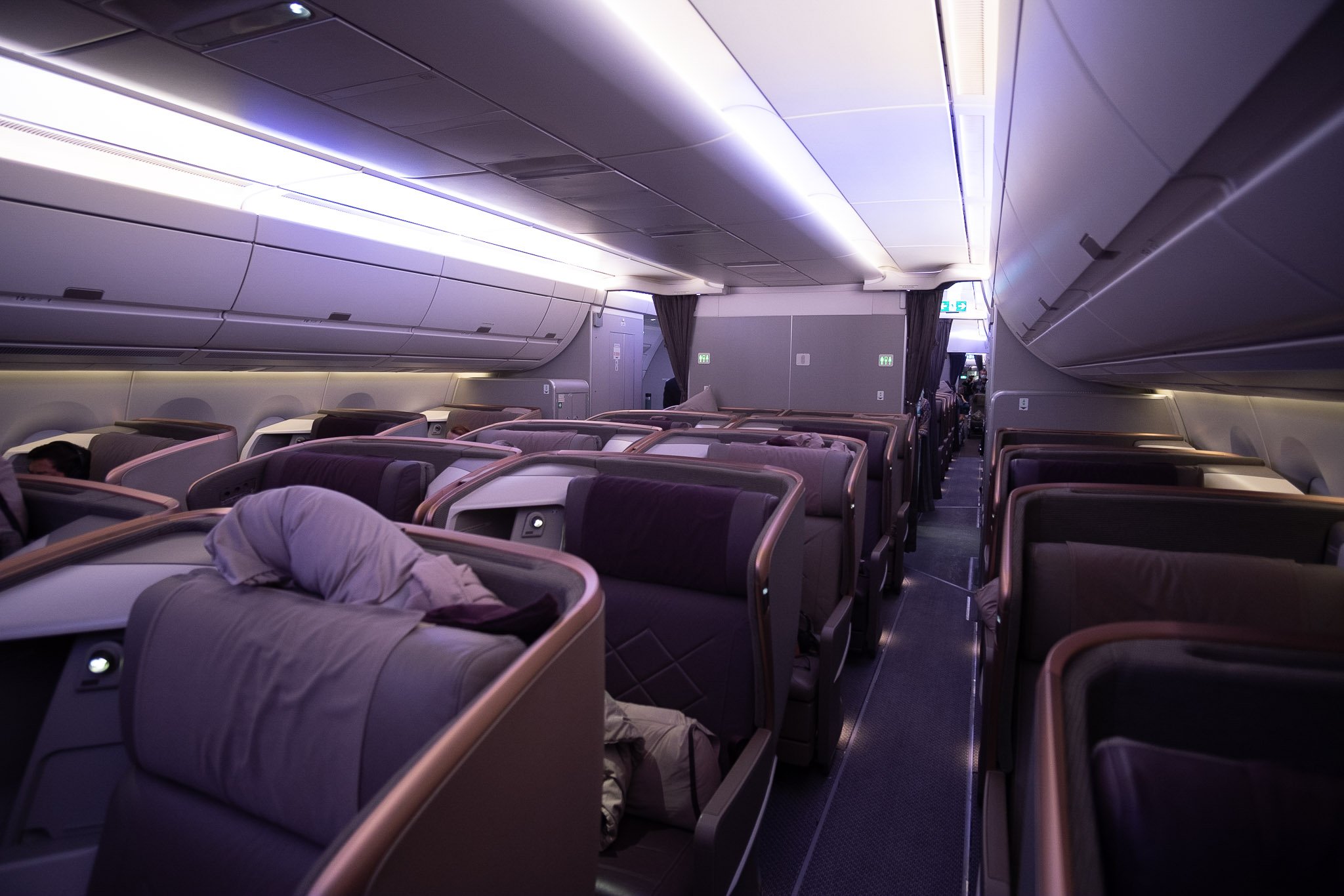 With a stash of KrisFlyer Miles, you can redeem them for business or first class/suites flights on Singapore Airlines! The carrier has been rated one of the best airlines in the world for multiple years in a row.
We had a chance to experience it for ourselves during our flight from Singapore to Cape Town and it was incredible.
These are some of our favourite KrisFlyer sweet spots for business-class flights.
| Route | Number of KrisFlyer Miles needed (1 way) |
| --- | --- |
| Singapore to Istanbul | 56,500 |
| Singapore to Cape Town / Johannesberg | 56,500 |
| Singapore to Auckland | 68,500 |
| Singapore to India | 43,000 |
Rates are "Saver" awards.
In addition, Singapore Airlines conducts monthly Spontaneous Escapes promotions that reduce the redemption rates by 30%. This makes every mile that you earn go that much further!
Purchase Items for Free through KrisShop
Did you know that you can use your KrisFlyer Miles to pay for your shopping expenses? That's right! If you shop for items through the KrisShop shopping portal, you can actually use your KrisFlyer Miles to redeem the items for free.
Remember the exclusive Singapore Airlines Mahjong sets that dropped in 2020 and 2021? Those were only available through KrisShop! If you had a lot of KrisFlyer Miles lying around, that might be the best way to use them.
However, we wouldn't actually recommend redeeming your hard-earned KrisFlyer Miles through KrisShop as they typically do not have good redemption values as compared to redeeming them for premium cabin flights.
How to earn a lot of KrisFlyer miles?
Flying with Singapore Airlines
The most obvious way to earn KrisFlyer miles is to fly with Singapore Airlines. The number of miles you'll earn each flight is determined by the distance (in miles) flown on the flight and your fare class.
| Cabin Class | Amount of miles to distance flown |
| --- | --- |
| Suites / First | 200% |
| Business | 125% – 150% |
| Premium Economy | 100% – 125% |
| Economy | 50% – 100% |
Singapore Airlines has got a handy calculator tool here to help you determine how many miles you'll earn on your flight exactly.
In addition, you can also figure out how many miles you'll earn from the flight when you're making your flight booking through Singapore Airlines' official site.
Flying with Star Alliance Flights
Did you know you do not necessarily need to fly on Singapore Airlines to earn KrisFlyer miles? Singapore Airlines is part of the Star Alliance, the largest airline alliance in the world. There are currently 26 airlines that are part of the Star Alliance.
Therefore, whenever you fly with any of the Star Alliance airlines, you'll be able to earn KrisFlyer miles on your paid ticket. The exact number of miles you'll get depends on the distance flown, your fare class, and sometimes the amount of money spent on the ticket.
| | |
| --- | --- |
| Aegean Airlines | Ethiopian Airlines |
| Air Canada | EVA Air |
| Air China | LOT Polish Airlines |
| Air India | Lufthansa |
| Air New Zealand | SAS (Scandinavian Airlines) |
| ANA (All Nippon Airways) | Shenzhen Airlines |
| Asiana Airlines | Singapore Airlines |
| Austrian | South African Airways |
| Avianca Airlines | SWISS |
| Brussels Airlines | TAP Air Portugal |
| Copa Airlines | Thai Airways |
| Croatia Airlines | Turkish Airlines |
| EgyptAir | United |
When you're booking your flight on a partner airline, remember to fill in your KrisFlyer information in the Frequent Flyer program section.
Flying with Partner Airlines
On top of Star Alliance partners, Singapore Airlines has individual relationships with other airlines. Therefore, you might earn KrisFlyer miles too if you fly with these partner airlines.
Alaska Airlines
jetBlue
Olympic Air
Virgin Atlantic
Virgin Australia
Vistara
Similarly, you have to fill up your KrisFlyer information at the time of booking in order to earn miles on your ticket.
Alternatively, if you forgot to do so at booking, you can inform the staff during check-in to tag your KrisFlyer information onto the reservation.
Flying with Scoot
Scoot is a low-cost carrier (LCC) that's part of the Singapore Airlines Group. Therefore, you'll be able to earn KrisFlyer miles even when you fly on Scoot!
You'll earn 1 KrisFlyer mile for every S$1 spent on your Scoot ticket, excluding taxes. To earn miles on your flight, you have to log in to your KrisFlyer account when making your Scoot flight reservation.
This is a great way to rack up KrisFlyer miles even if you're typically a budget traveller.
Earn Miles by Spending on Credit Cards
Our favourite way to earn a ton of KrisFlyer Miles is via Credit Cards. These days, we earn the majority of our miles from credit cards rather than actual flying.
This can range from signing up for the best credit card sign-up offers that offer tens of thousands of miles to regular spending on credit cards that offer high miles earning rates.
There are many credit cards in Singapore that earn you 4 to 6 miles per dollar spent on purchases. Imagine spending S$10,000 on credit cards a year (S$833 a month) on things that you'd have bought anyway, that'll earn you 40,000 to 60,000 KrisFlyer Miles! That's enough for a one-way business class flight from Singapore to Istanbul.
Some of our favourite credit cards for racking up a ton of KrisFlyer Miles include the UOB Lady's Card and the Citi Rewards Card. If you're interested, we've also shared our credit card strategy for the year here.
Spend with Kris+
Kris+ is KrisFlyer's lifestyle rewards app where you can find great promotions and deals for everyday spending. You can also earn a large number of KrisFlyer miles if you use Kris+ to pay for your spending.
Kris+ has its own rewards currency called the KrisPay Miles. Although it's not exactly the same as KrisFlyer Miles, you can transfer KrisPay Miles to KrisFlyer Miles at a 1:1 ratio.
There are many merchants on Kris+ that allow you to earn up to an additional 9 KrisPay Miles per S$1 spent on top of any credit card rewards you'll earn! If you use the right credit cards, you can earn up to a total of 15 miles per dollar spent on Kris+ merchants.
Shop on KrisShop
KrisShop is Singapore Airlines' official shopping portal. They carry thousands of items from many of our most common brands like Apple, Garmin, SK II and Bacha Coffee.
When you shop on KrisShop, you'll earn 2 to 4 miles per dollar on top of whatever credit cards you're using. The exact number of extra miles you'll get depends on your KrisShopper membership tier which you'll get after spending a certain amount of money on the portal each year.
If you have an upcoming flight with Singapore Airlines or Scoot, you can even have the item delivered straight to your seat on the flight! This is really convenient if you need to get any last-minute items.
In addition, if your upcoming flight is out of Singapore, you can even save on taxes as your purchase is technically duty-free. This is huge especially if you're planning on buying big-ticket items like a new iPhone or MacBook.
Before purchasing any items from KrisShop, make sure to do your comparisons with other sites as there might be a slight price premium to get the best deal.
Plan your Trips with Pelago
Another popular way to earn additional KrisFlyer Miles is to plan your overseas trips with Pelago. Through Pelago, you can book tours and attraction tickets and earn additional KrisFlyer Miles on top of that!
The additional KrisFlyer Miles is on top of what you'll normally earn with your credit cards.

As Pelago is a travel agency, we'll recommend using the UOB Lady's Card to earn an additional 6 mpd on all purchases on the platform. That's a total of 9 mpd for any spending made on Pelago which is insane!
We find that the prices of activities on Pelago are very reasonable and similar to other platforms.
If you do not have a Pelago account, sign up for a Pelago account here and get 10% off your first booking when you use the promo code PELAGOWELCOME10 at checkout. This is capped at S$10 and can only be used for the first purchase, so we'll recommend using this before using any other promo codes that you might have.
Conclusion
There are now many ways to earn a ton of KrisFlyer Miles. Many of them involve doing things that you're already doing anyway, such as spending on credit cards and shopping online.
The biggest revelation to me was that I could earn a ton more additional miles when buying my new iPhone through KrisShop. Even with the low KrisShopper tier, I was earning an additional 2 mpd which is substantial when it comes to a big-ticket item like the iPhone!
With these simple ways, you'll be on your next business-class flight on Singapore Airlines in no time!