In the early months of 2023, we took a 3 weeks trip to Seoul. We spent half of our time staying in an Airbnb and the other half in a Marriott property.
The Fairfield is one of the cheapest Marriott properties in the city. We've decided to spend a significant part of our time here as we wanted to requalify for our Marriott Platinum Elite status for the next year.
This article is a review of our stay at the Fairfield by Marriott Seoul property .
Booking
We booked the standard Premier Room with King Bed for 12 nights for a total of ₩945,829 (US$716.19). This works out to ₩78,819 (US$59) per night which is very affordable for a stay in Seoul!
We also luckily timed our stay with the ongoing Double Elite Nights Promotions which gives guests 2x elite nights and 1,000 Marriott Points per night of stay.
In total, we earned a total of 22,061 Marriott Points and 24 elite nights from our stay here in Fairfield by Marriott Seoul which is incredible.
Check-in
We arrived at 12 pm at the hotel and were half-expecting to be turned away at check-in. This is way before the usual check-in hours of 3 pm. Fortunately, there were available rooms and the staff allowed us to check in a couple of hours early.
We were also Marriott Platinum Elite members, so this might have played a role in this, but we'll never really know.
At the time of our check-in, the lobby was very empty and we were the only guests there. This allowed us to complete the entire process in less than 5 minutes. Looking at other reviews, we've heard that some people waited for a long time before it was their turn.
During the check-in, we learnt that the property does not participate in the free breakfast program unlike other Fairfields globally. I guess we got "bonvoyed".
However, she proceeded to give us 4 breakfast coupons as a token of appreciation for our loyalty. This meant that we could only get free breakfasts twice out of our 12-night stay there. We appreciate this gesture as it's much better than other Marriott properties that don't provide any concessions at all.
Spoiler alert, we only went once each throughout our stay as we overslept the breakfast times almost every other day.
At check-in, the staff also gave us the option of a city-view room or a park-view room. She told us that a park-view room is typically noisier as it faces the busy KTX and subway station. I've briefly read up on this prior to our stay and appreciated the fact that the staff informed us of this.
We promptly chose the city-view room to avoid the loud noises.
Premier Room, King Bed
The Room
We booked ourselves into the Premier Room with a Single King Bed. This was the base room that we booked and we, unfortunately, did not get any upgrades despite our status.
Sitting at 23 sqm or 247 sqft, the room itself is very tiny. We barely had enough space to lay out 2 suitcases.
There is a lounging area by the window and a glass table for guests to work on. We find that with the glass table, it's often very difficult to get to the insides of the area due to the lack of space.
For travellers, I'm glad to say that the property provides an international charging port. This has been a huge lifesaver for us in Korea as I was having trouble finding cheap charging adapters.
Every room comes with 2 bottles of water, a kettle, 2 tea bags and 2 instant coffee sachets. This gets refilled every day of your stay. If you run out of water, you can even request for more from the staff at no additional cost!
Despite our room being the city-view room and supposedly quieter, we found that throughout our stay, there was quite a bit of noise coming from the streets opposites. There are night clubs and karaoke sounds throughout the night which can be a problem for light sleepers.
The room is also facing a busy road that connects to downtown Yeouido. We often hear loud sirens and car engine sounds throughout the day.
Bathroom
To make full use of the space available, the washing basin is located outside the bathroom. There's no real separation between the bathroom and the bathroom, apart from a slidable frame which in my opinion, does not provide much isolation.
There's also a single swivel door for both the toilet and the shower area. This is a very clever use of design to overcome the lack of space. However, this also poses a problem if both guests need to use the area at the same time, only one's door will be truly "shut".
I guess this isn't a problem for couples, but for families or friends staying here, it can be slightly awkward.
There are a couple of issues I've found with the shower here.
Firstly, the shower pressure isn't sufficiently strong. It's usable, but I wouldn't say it's comfortable.
Secondly, there's some leak every time after I shower where there'll be a pool of water outside the shower area. Interestingly, this only happened when I shower and not when M does.
Location
The location of the property is located in the Yong Deung Po district, near the famous Time Square shopping centre and Lotte Department Store.
It is a short 5 minutes walk from the Yong Deung Po subway station which is just 20 minutes away from popular tourist areas like Itaewon or Dong Dae Mun.
Breakfast at Million Spoons
Breakfast is held at the Million Spoons restaurant, located on the 3rd floor of the hotel. As mentioned earlier, the property does not provide free breakfasts for Marriott Elite members.
The breakfast runs from 7 am to 10:30 am. Try to visit the restaurant earlier as they stop refilling the food at 10:10 every day. This is one of the strictest hotel breakfast enforcements we've experienced.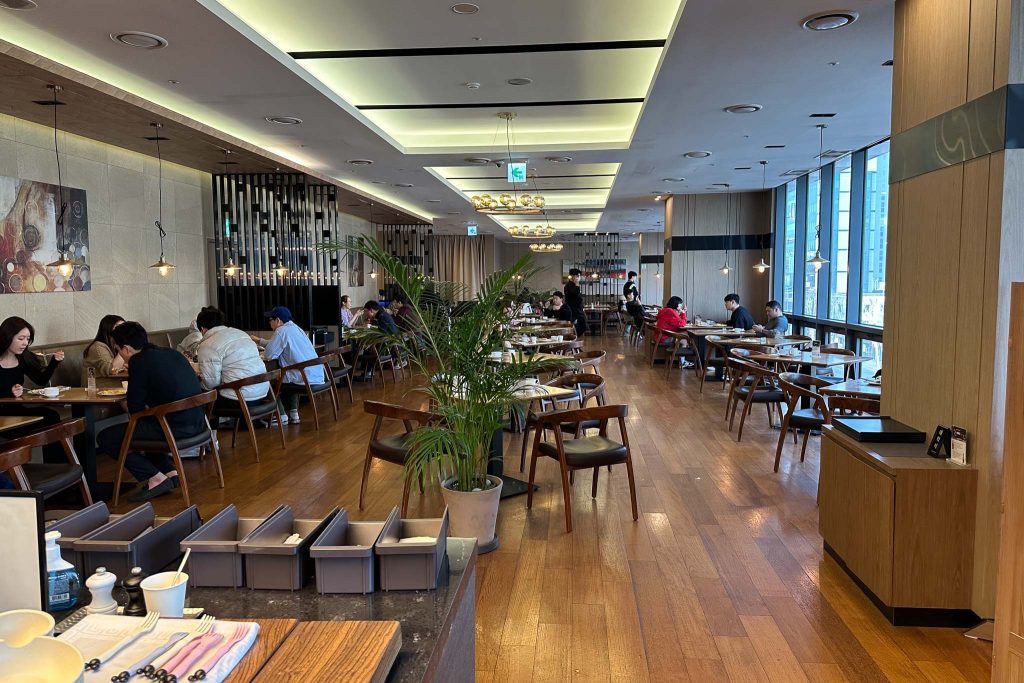 The breakfast served here is an international continental buffet, with options like cold cuts, tatter tots, sausages and fried rice. Despite being a Fairfield, I'd say their food variety and quality are on the higher side.
Fairfield by Marriott Seoul: Conclusion
The Fairfield by Marriott Seoul property is a respectable option if you're looking for an affordable place to stay in the city. It is located in a convenient location, whether you're talking about nearby amenities or its proximity to other popular places.
It is also a good property to do Marriott mattress runs if you're looking to increase your elite nights to qualify for higher statuses due to its low nightly costs.
The main downsides would be the extremely tiny room space and lack of privacy in the bathroom areas. I would not recommend this for families or friends travelling together.
Check out our review of the Asiana Business Lounge in Seoul's Incheon International Airport when you're flying out of the city!