The trip to South Korea in February of 2023 was our first trip of the year. Despite being a huge K-drama and K-pop fan, and even travelling to its northern neighbour a couple of years back, this was my first time in South Korea. Needless to say, this has been one of my most anticipated trips in years.
Another part of my excitement for this trip is that this is the first full trip ever since I got upgraded to Krisflyer Gold. This would give me additional perks when flying with Singapore Airlines, Star Alliance airlines and Scoot. Therefore, I'm looking to take full advantage of it throughout the year as I hardly doubt I'll be able to requalify the next year.
In this article, I will be reviewing the Asiana Business Class Lounge located in Seoul Incheon Airport Terminal 1.
Basic Information
The Asiana Airlines Business Class Lounge is located in Seoul's Incheon International Airport Terminal 1. It can be found right after completing the immigration process, near Gate 11, which is a pretty central location.
Opening Hours: 05:30 to 23:00
Access:
Asiana Airlines / Star Alliance on Business Class Flights
Economy Class Asiana Club Diamond Plus Members
Asiana Club Diamond Members
Star Alliance Gold Members
As I was a Star Alliance Gold, courtesy of my Singapore Airlines Krisflyer Gold membership and I was flying out of Seoul on a United flight, I could gain access to the lounge.
Environment
The Asiana Business Class Lounge has ample space for guests to relax before their flight. However, during my visit at 4:30 pm on a Sunday afternoon, the lounge was quite crowded and I struggled to find an empty seat.
There are a few distinct areas for different types of guests. A central location with lounge seats and standard tables for larger groups, a bar area directly facing the airport runway and a private area at the back for guests who prefer more privacy.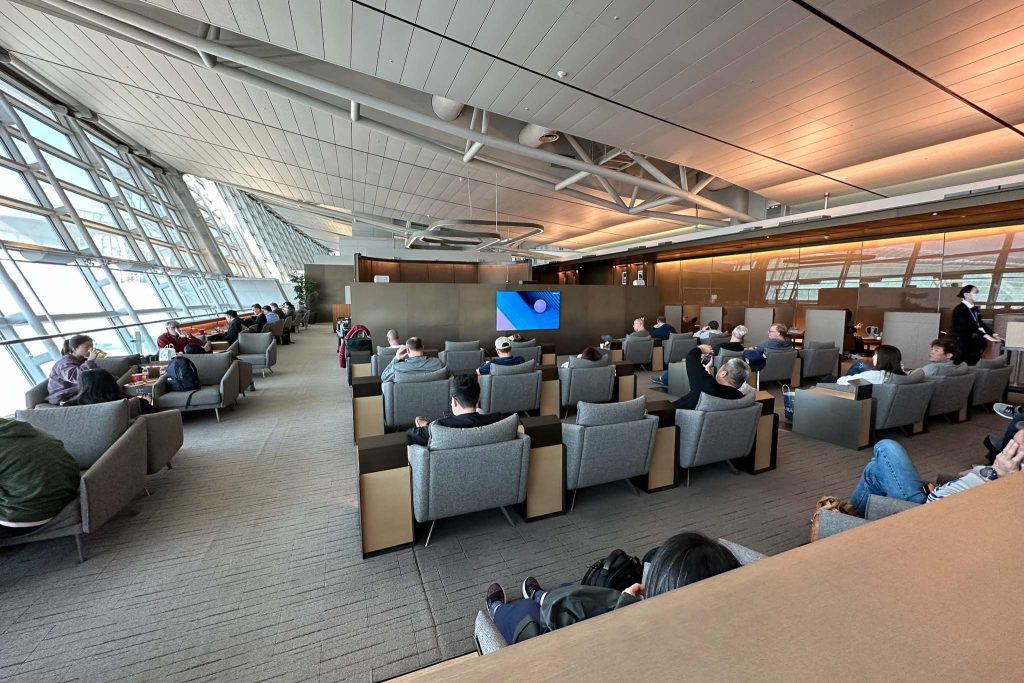 The lounge has a huge window that faces the docking bay for planes. This is a great spot for AV Geeks who like to do "plane-spotting"!
There is even a dedicated study area specifically for guests who need to do their work.
You can find food corners at both ends of the lounge, making it convenient regardless of where you choose to sit.
Food
The food options in the Asiana Business Lounge are a mix of local Korean food and light international bites. If you're feeling it, they even have 2 different options of Korean instant cup noodles for you.
In my opinion, the Asiana Business Lounge has one of the better food options available as compared to many lounges in other airports around the world, especially those in North America or Europe.
The coffee machines in the lounge are provided by Holly's, a well-known chain coffee brand in South Korea.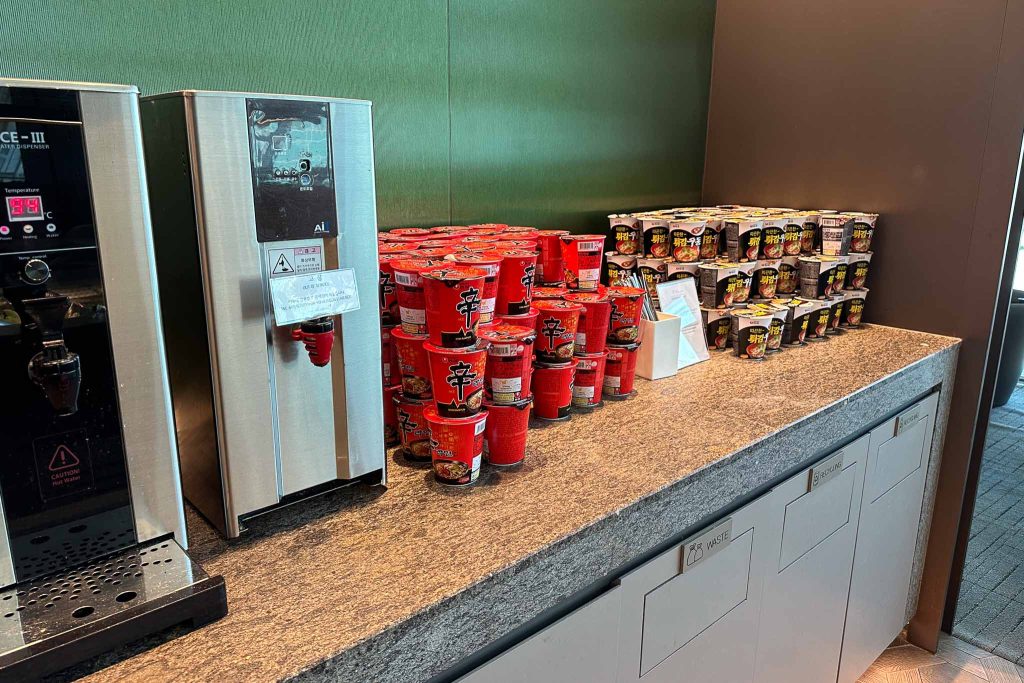 There is quite a large variety of alcohol options available for guests.
Amenities
The lounge has a shower and baby nursing area. I'd always appreciate lounges having showers as they can be really useful during long layovers.
Unfortunately, as I was in a rush this time, I didn't get a chance to visit the showers in the lounge.
Wifi
The Wifi speed in the Asiana Business Lounge is very respectable. This is in line with my experience in the country in general. I never had any issues with finding good wifi speeds in South Korea.
At this speed, you wouldn't have any trouble streaming 4k movies on Netflix or taking video calls.
Conclusion
The Asiana Business Class Lounge in Seoul Incheon Airport is a great lounge option for travellers with access to it. The large spaces and variety of food options make it one of the better lounges I've been to thus far around the world.
However, I would say that my experience at the Silverkris Lounge in Changi Airport is much better due to the food options available.
Also, it can get quite crowded at peak hours and the seats can get limited. Remember to check with the front desk staff if there are any available seats before entering the lounge. If there aren't enough free seats in this lounge, there are many high-quality Priority Pass lounges in the same terminal as secondary options such as the neighbouring Sky Hub Lounge East.