DBS Altitude Visa Card: Introduction
When talking about travel hacking and earning miles, we cannot miss out on one of the most popular travel credit cards in the country, the DBS Altitude Visa Card. This card is often marketed as the must-have card in your arsenal of travel-hacking credit cards.
Do note that there are 2 different flavours for the DBS Altitude Credit Card, the Visa version and the American Express version. Although they have similar names, they do have slightly different benefits.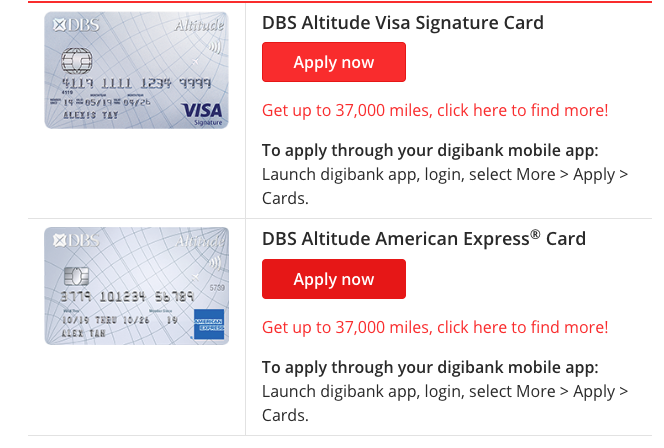 In this post, we will be only talking about the Visa version. We will be diving into the specific benefits of the cards and see if you should be applying for them!
Earning Miles
Spending on the DBS Altitude card earns you DBS Points which can be converted into airline miles at various airlines. You can redeem these miles for free (heavily subsidized) business class and first-class flight tickets.
Earn Rate
For ease of understanding, all figures here will be converted into miles and Singapore Dollars.
10 miles per S$1 (mpd) on spend at Kaligo
6 miles per S$1 (mpd) on spend at Expedia
2.2 miles per S$1 (mpd) on overseas spend
1.3 miles per S$1 (mpd) on local spend
This is a really long list for miles earn rates. Despite the headline numbers of 10 mpd and 6 mpd at specific merchants, I'd say the more notable figures are the 3 mpd for travel transactions and 1.2 mpd on everything else.
⚠️ Update 1st August 2023: DBS has since removed the 3 mpd bonus miles earned on Hotel and Flight categories.
Personally, I only use this card for any transactions that I can't get 4 mpd on and when I exceed S$2,000 in monthly travel spending.
Excluded Transactions
However, remember that there's still a list of transactions that will not earn you any points with the card. The most notable of them are Instarem Amaze transactions and payment service provider top-ups.
With this, you should never pair your DBS Altitude Card with Instarem Amaze and never use it to top up your GrabPay wallet. There are better credit cards out there to do so.
Category
Bill payments and transactions via AXS, SAM, eNETS
Payments to educational institutions.
Payment to government institutions and services.
Payment to insurance companies.
Payments to financial institutions.

Payment to non-profit organisations.
Payment to hospitals.
Payments on utilities.
Betting, including lottery tickets, casino gaming chips, off-track betting.
Top-ups to payment service providers, prepaid cards. Example: EZ-Link, GrabPay, NETS, etc.
Any transactions with transaction description: AMAZE
Instalment payment plan purchases, preferred payment plans, balance transfer, fund transfer, cash advances, annual fees, interest, late payment charges, and all fees charged by DBS.
DBS Points Expiry
DBS Points earned from the DBS Altitude card never expire, unlike other cards such as the DBS Woman's World Card. Therefore, you'll never have to worry or keep track of the points earned with this card.
Airline / Hotel Transfer Partners
| Airline / Hotel | Frequent Flyer Program | Conversion Rate |
| --- | --- | --- |
| AirAsia | Big Loyalty | 5,000 : 10,000 |
| Cathay Airways | Asia Miles | 5,000 : 10,000 |
| Singapore Airlines | Krisflyer Miles | 5,000 : 10,000 |
| Qantas Airways | Qantas Frequent Flyer | 5,000 : 10,000 |
DBS has the standard Singapore Krisflyer and Cathay Airways Asia Miles program that almost every other bank provides. In addition, it also has Qantas and AirAsia (probably shouldn't bother) as its transfer partners.
Transfer of points costs S$27.00 (w/ 8% GST) each time.
Luckily for people with multiple DBS Credit Cards, DBS Points are pooled together. This means that if you own both a DBS Altitude card and a DBS Woman's World Mastercard, you can redeem points earned from both cards with a single transaction, saving you some money.
How to transfer DBS Points to Frequent Flyer Programs
DBS has a really awkward and bad reward redemption system. Firstly, you'll have to log in to the DBS Rewards portal instead of the standard DBS iBanking page. The site itself is really buggy and it crashes often. For a long time, users cannot redeem their points through the site as it will end up with an error.
The preferred way to redeem your DBS Points is to call DBS's customer service hotline at 1800 111 1111. Over the call, let the representative know your Frequent Flyer Program's number and the number of points you want to transfer over.
Free Priority Pass Membership
By being a DBS Altitude Visa cardholder, you'll be given a complimentary Priority Pass membership, with 2 free lounge access per year.
I love the Priority Pass membership for the fact that it greatly elevates my travel experience, especially when flying economy class. Imagine getting free food and beverages before your flight, or even taking a warm shower between long layovers.
As advertised by Priority Pass, they boast more than 1,300 airport lounges around the world. In my experience, there's often a Priority Pass lounge in whichever airport I visit although the quality can vary a lot. There are some lounges which provide high-quality food and experience, and some lounges where it's better for you to avoid.
Although the card only allows for 2 free access a year, this is still very generous considering the fact that this is an entry-level credit card. Subsequent visits cost US$32 per person.
These are some of our favourite lounges that we've experienced using our Priority Pass membership!
Our favourite priority pass lounges.
Sign up Bonus
These are the available signup offers from Singsaver for 1 February 2023 to 30 June 2023.
| Promotion | Requirements |
| --- | --- |
| S$150 cashback | Spend S$800 within 60 days of card approval |
Promotion for new cardholders via SingSaver.
DBS itself provides a separate promotion for new sign-ups to the card.
Promotion
Requirements
25,000 miles.
Spend S$2,000 within 30 days from card approval.
Pay the annual fee of S$194.40.
15,000 miles.
Spend S$2,000 within 30 days from card approval.
Get the annual fee waiver.
Promotion for new cardholders via DBS.
Although the promotion specifies 31,000 miles and 21,000 miles respectively, note that they are assuming that you're spending the entire S$2,000 on the 3 mpd bonus category. If we exclude any miles that you'll receive from spending anyway, 25,000 and 15,000 are the actual bonus miles you'll be receiving.
Also, there's an option to get an additional 10,000 miles for paying the card's annual fee. This is, in my opinion, not worth it as you'll be spending 1.94 cents per mile to purchase the miles.
DBS defines new customers as those who are not the primary cardholder of any DBS credit card and have not cancelled a DBS credit card in the past 12 months prior to application.
Eligibility
The DBS Altitude Card is eligible for anyone earning more than S$30,000 annually.
Fees
It costs an annual S$194.40 (w/ 8% GST) with a first-year waiver to hold onto the card. However, as with most other cards within the same income band, an annual fee waiver is almost guaranteed. In my experience, I haven't had any issues getting the fee waived.
In addition, the card carries a 3.25% foreign transaction fee on top of the currency spread if you're making any purchase in a foreign currency.
My Verdict – Should you get the DBS Altitude Visa Card?
The short answer is it depends. If you already have the DBS Woman's World Card, then I would say that the DBS Altitude card makes for a great complement to it.
You can use the DBS Woman's World Card for most of your online purchases to earn 4 mpd, and use the DBS Altitude Card for everything else. They make for a good card pair as the points earned can be pooled together during redemption. You'll therefore have minimal orphaned points.
If you're looking for the best "general-spending" credit card in terms of absolute miles earned per dollar spent, there are better cards out there. But if you're already in the DBS ecosystem, then I would say the DBS Altitude Visa card is a good option to have.