As a routine, M and I always like to arrive at an airport a couple of hours before our flights as a precaution against last-minute contingencies. Ever since we discovered the world of airport lounges and got our hands on a Priority Pass membership, we've gone to airports even earlier as we really enjoy the amenities and food offered by many of them.
On our flight from Seoul back to Singapore, we've done exactly that! In this post, we'll be reviewing the Sky Hub Lounge in Seoul's Incheon International Airport Terminal 1.
Basic Information
The Sky Hub Lounge is located in Seoul's Incheon International Airport Terminal 1. There are a couple of Sky Hub Lounges within the same terminal. They are all very similar but offer slight deviations in terms of the amenities available.
The lounge in particular that we visited the located near Gate 11, which can be found right after completing the immigration process.
Opening Hours: 7 am to 10 pm daily
Access:
Priority Pass
Dragon Pass
The Lounge Membership
Environment
The Sky Hub Lounge is on the smaller side as far as lounges go.
There are 3 main areas for guests to sit in. The central dining area with standard sized chairs and tables, and 2 lounging areas with shorter lounge chairs.
During our visit at 12 pm on a weekday, the lounge was moderately full. We didn't have any trouble finding seats for ourselves and there were plenty of free ones available.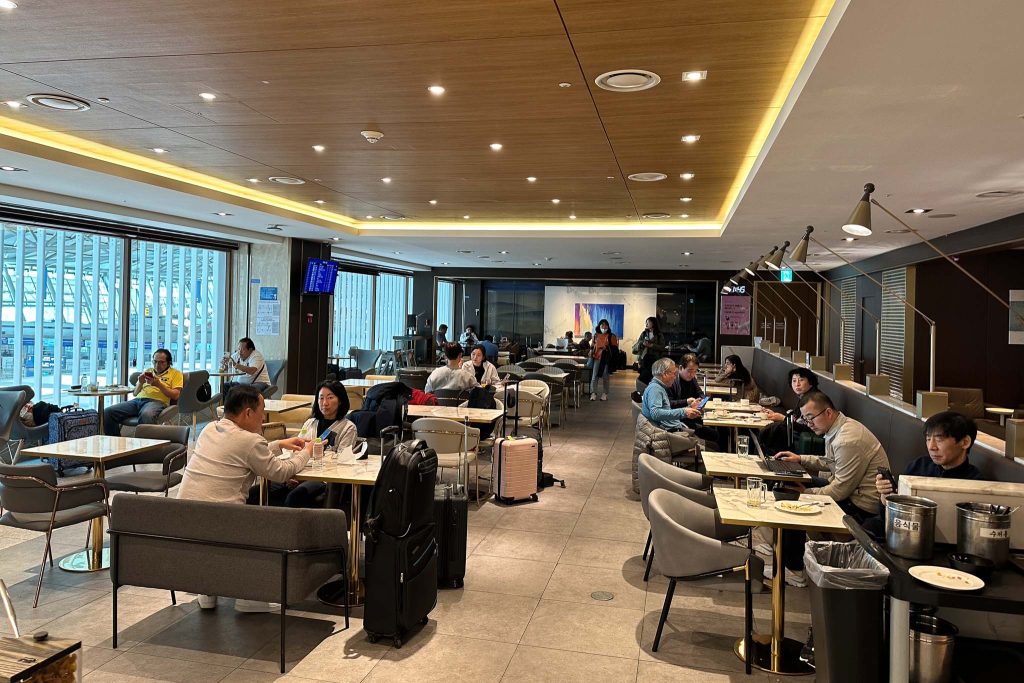 Food and Drinks
The Sky Hub Lounge has a large variety of food options available. Similar to the Asiana Business Lounge that we were in, it ranges from local Korean dishes to western cuisines.
However, I find that the food quality here isn't as good. The fried rice was too moist and wet, and the fried food options were already cold when eating them.
On the other hand, we found that the food service quality at the lounge is amazing. The servers cleared our dishes very quickly whenever we were done with a plate. Granted, it was very easy to do given the small space of the lounge, but this was an additional touch that we appreciated.
Similar to the Asiana Business Lounge, it also has the same 2 options for instant cup noodles. I wonder if they are getting it from the same sources.
Amenities
As the area is considerably small, most of its amenities are located outside the lounge.
Similar to our experiences in Greece, there is no dedicated bathroom within the lounge. The nearest bathroom is a short 2 minutes walk from the lounge, but note that it's shared with the public.
There are also shower facilities available for lounge guests, located beside the public bathrooms. However, at the time of my visit, the shower rooms were all closed.
Conclusion
Overall, if you're transiting through Seoul Incheon Airport Terminal 1 and you only have the Priority Pass membership, the Sky Hub Lounge is a fairly good option to spend your pre-flight time in.
This can also be a good alternative if the neighbouring Asiana Business Class Lounge is at full capacity as it's just a short 3 minutes walk away. However, I would be choosing that over the Sky Hub Lounge any day.
---
If you're looking to improve your travel experience, consider signing up for the Citi Premiermiles card! It gives you a Priority Pass Membership which can grant you access to more than 1,000 lounges around the world.