This is our review of the Iberia Premium Lounge Velázquez in Madrid International Airport.
On our most recent round-the-world trip, a significant leg of our journey was the trans-Altantic flight between Madrid Spain and Bogota Colombia. We managed to make a great business class award redemption on Iberia Airlines a couple of months back for 42,500 miles each.
With a business class ticket on Iberia out of Madrid, this granted us access to the Madrid Iberia Premium Lounge Velázquez. We've heard mixed reviews about this lounge prior to visiting, so we were excited to check it out for ourselves.
Basic Information
The Iberia Premium Lounge Velázquez is open daily from 6:00 a.m. to 1:00 a.m. This coincides perfectly with the flights flying out of the terminal, so you should not have any issues accessing the lounge before your flight.
Location
The Iberia Premium Lounge Velázquez is located in Madrid Airport's Terminal 4S. This satellite terminal is meant for international flights to non-Schengen regions. If you're entering from the airports Terminal 4 or other terminals, be sure to buffer at least 15 minutes to get to the terminal.
The signs leading to the lounge are immediately obvious once you've passed immigration. The entrance to the lounge is located in the middle of the duty-free shopping area.
How do I access the Iberia Premium Lounge Velázquez?
There are multiple ways to access the Iberia Premium Lounge Velázquez.
Access Methods
Business Class passengers on oneworld airlines or Vueling
oneworld Sapphire and oneworld Emerald passengers
Iberia Plus elite members
The Experience
The first thing we noticed when we entered the lounge was the amount of space it had, and the glass windows that surrounded it. The windows offered an unblocked view of the airport tarmac outside it. Unfortunately as we were there at night, we could not take full advantage of this feature. We only wished we had a day time flight!
At 9 pm, there was no lack of available seating for us.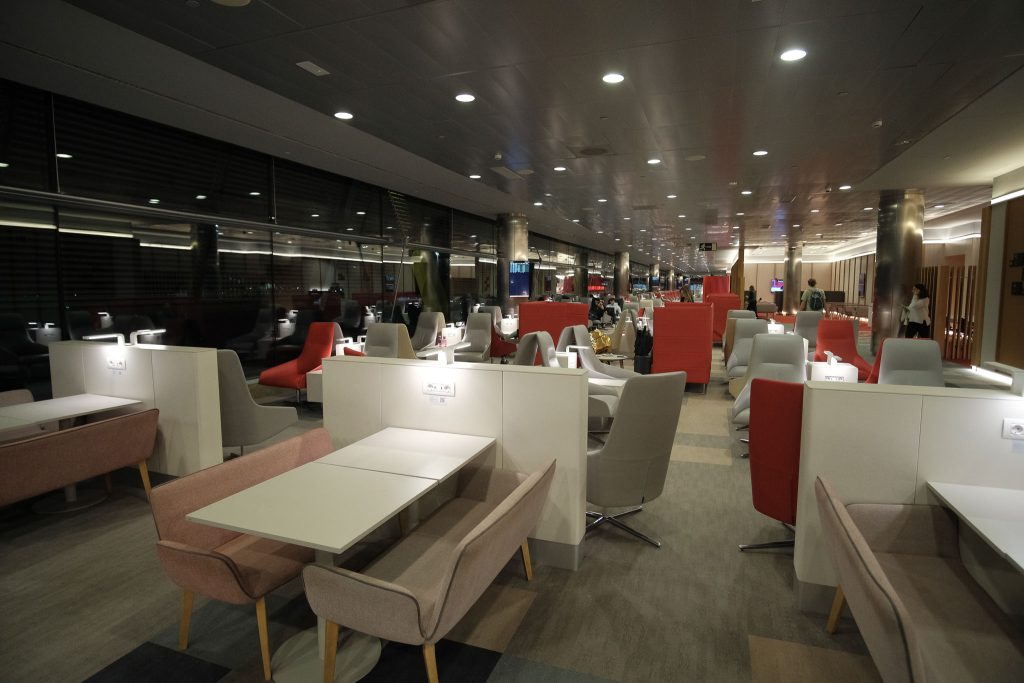 Food and Drinks
The lounge offers a wide variety of food and beverages, ranging from salad to hot premium foods and sweet desserts.
The food options change throughout the day, depending on the the meal that its catering for. As we visited the lounge at 9 pm, the dinner option was served.
There was plenty of beverages available for choosing, including caffeinated, alcoholic and non-alcoholic options.
Amenities
Lockers
There are lockers available for guests to store their luggage right by the entrance.
We'd always appreciate a space to store our belongings while we enjoy all the amenities that the lounge has got to offer, though the transparent nature of the lockers felt a little too exposed for our liking.
The last time we saw something like this was at the Turkish Airlines Business Class Lounge.
Children's Corner and Video Games
There is a children's corner with some colourful sofas and figurines. I wasn't sure how that would be sufficient for young kids, given that the young kid in me wasn't really entertained by what was there.
However, the teenage me was excited to discover that there were video game consoles right at the end of the children's corner.
Co-Working Area
Even though the lounge advertised a "co-working area" in its floor plan, it was more of an open meeting space. It was awkwardly placed in front of the bathroom, and we didn't see anyone using it throughout our time there.
I felt that the dining area was a better co-working area than this.
Showers
My favourite part of airport lounges these days is the shower facilities. There isn't a better feeling in the world than having a long warm shower right before a long trans-Atlantic flight.
To use the shower rooms in the lounge, you'll first have to get a number from the receptionists at the front counter. As it was late when we visited, we did not have to wait at all to use the shower rooms at all. However, be prepared to wait up to a couple of hours if you are visiting at peak periods.
The shower room is simple, but has plenty of space. You'll be provided with a fresh set of towels and shower amenities.
The amenities are provided by RE, a brand that I have not heard of, but works really well on my sensitive skin.
Conclusion
Madrid Iberia Premium Lounge Velázquez
Summary
A better than average business class lounge that offers great food options and ample seating for guests. Would recommend visiting if you're flying out of the airport and has access to it.