We've just embarked on our 3-month long round-the-world trip, starting in Barcelona Spain! This long-awaited trip will bring us to 4 continents and 9 different countries. Follow us on Instagram to follow us on our journey!
To get to Barcelona from Singapore, we first took a 10-hour flight from Singapore to Istanbul Turkey on Singapore Airline's Business Class. We have previously reviewed a similar product on our flight to South Africa, so we will not be doing a review this time round. The experience is impeccable as before.
From Istanbul, we then caught a short 3.5-hour flight on Turkish Airlines's A330-200 business class cabin to Barcelona.
This is a full review of our experience taking the Turkish Airlines A330-200 Business Class flight.
Booking Our Flight
Did you know that you can use KrisFlyer miles to book flights that are not operated by Singapore Airlines? This is also known as a partner airline redemption.
We spent 33,500 KrisFlyer miles and S$118.60 in taxes and fees per person for our flight. As Turkish Airlines is a Star Alliance partner, we were able to redeem our hard-earned Singapore Airlines KrisFlyer miles for Turkish Airlines flights.
The fare price at the time of booking was S$1,662.24(US$1,254.47). This means that we got 4.6 cents per mile which is good value!
Singapore Airlines publishes an award chart for its partner airlines here.
If you're looking for ways to increase your stash of frequent flyer miles, check out how we do it with our latest credit card strategy.
Check-In Process
The business class experience with Turkish Airlines starts during check-in. There is a special check-in area within the international terminal for business class passengers.
The business class check-in lane felt isolated from the rest of the terminal. We immediately felt a sense of calm when we entered this area. There were barely any other passengers there and we did not have to queue at all to check in our luggage.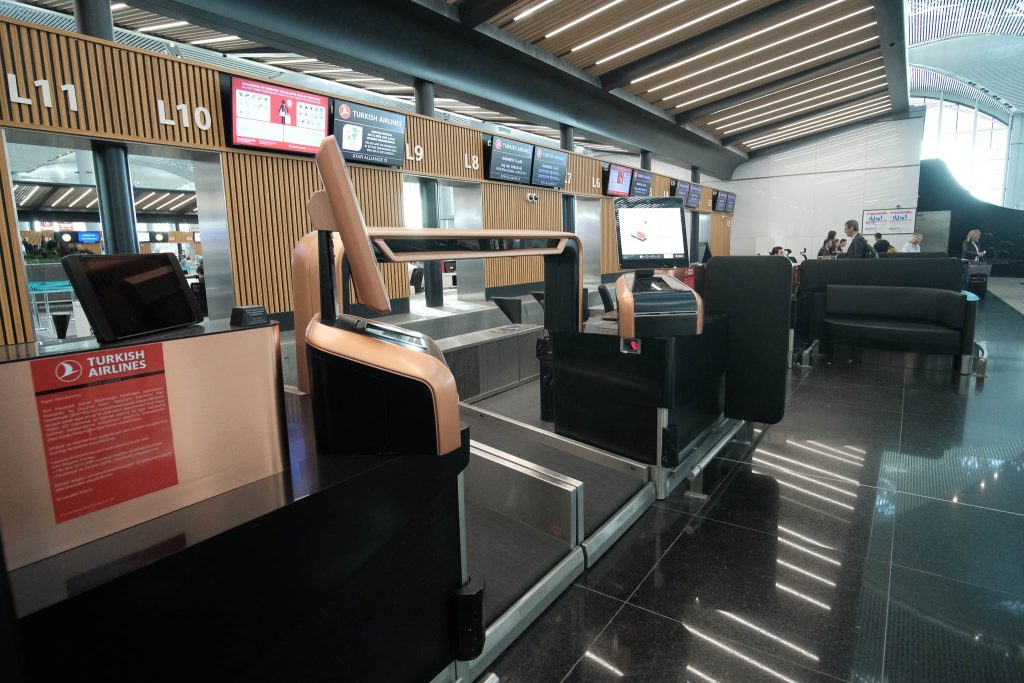 For immigration, there's also a Fast Track lane for business class and passengers too. This lane is located right next to the business class check-in lane, so do not miss it and join the standard line.
The line was very empty when we visited and we were able to breeze through immigration and security in less than 5 minutes.
Lounge Access
Flying in Turkish Airlines's business class cabin gave us access to the airline's amazing business class lounge in Istanbul Airport. It is one of our favourite airport lounges worldwide, and we've had a great experience there. We did not mind our long 8-hour layover in this lounge at all and would do it again in a heartbeat.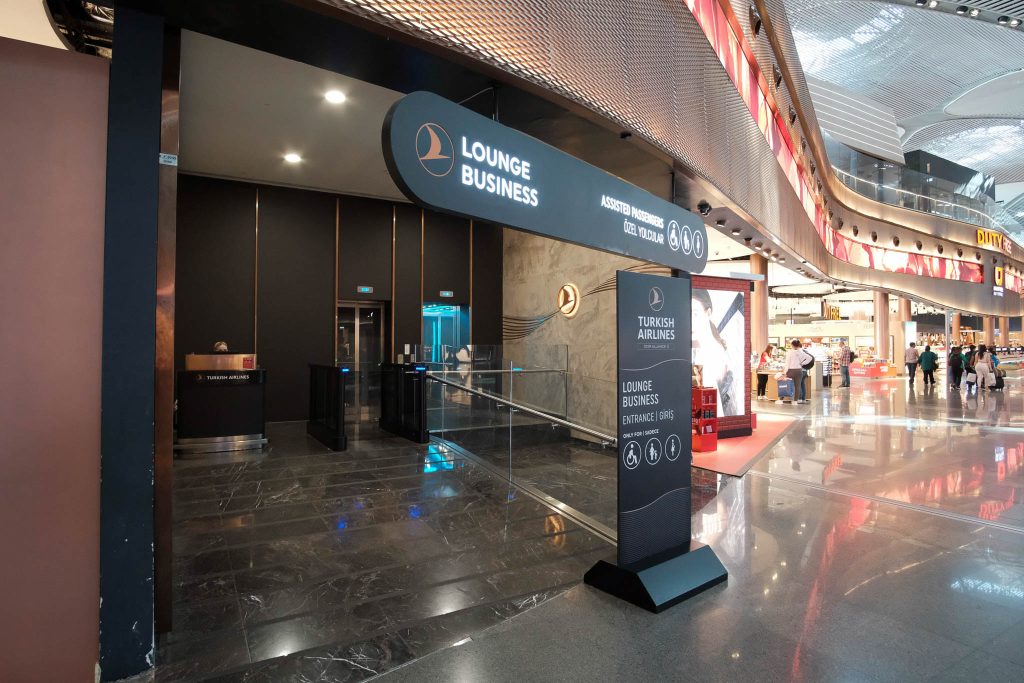 The lounge had a huge space and a great selection of Turkish food. We even got to have our favourite Turkish black tea there while waiting for our flight.
If you're interested to find out more, check out our full review of the lounge here!
Boarding Experience
We arrived at our gate 10 minutes before the scheduled boarding time. There were already 2 distinctly formed lines, with 1 for economy passengers and 1 for business class passengers.
The boarding was prompt and executed very smoothly by the staff. Business class passengers and elite status members (Star Alliance Gold) were allowed to board first, followed by passengers in the economy cabin.
Seat Map
Before our flight, we tried on multiple occasions to select our seats through the Turkish Airlines website but were unable to do so. We even tried to reach them through Turkish Airlines's official Whatsapp channel but were ultimately unsuccessful.
We eventually got our seats designated to us at check-in. I got 1E and Marilyn got 1K. Fortunately, as we boarded, I was able to switch my seat to 1J with a kind gentleman so that we were sitting together.
The Turkish Airlines A330-200 widebody aircraft features a 2-2-2 seating arrangement.
Seats
This medium-haul flight by Turkish Airlines do not feature fully lie-down seats. They are more akin to premium-economy seats found on most long-haul flights, with large leg rooms and seats.
Our first impression of the seats is that they definitely show their age. Many of the buttons and features are very mechanical.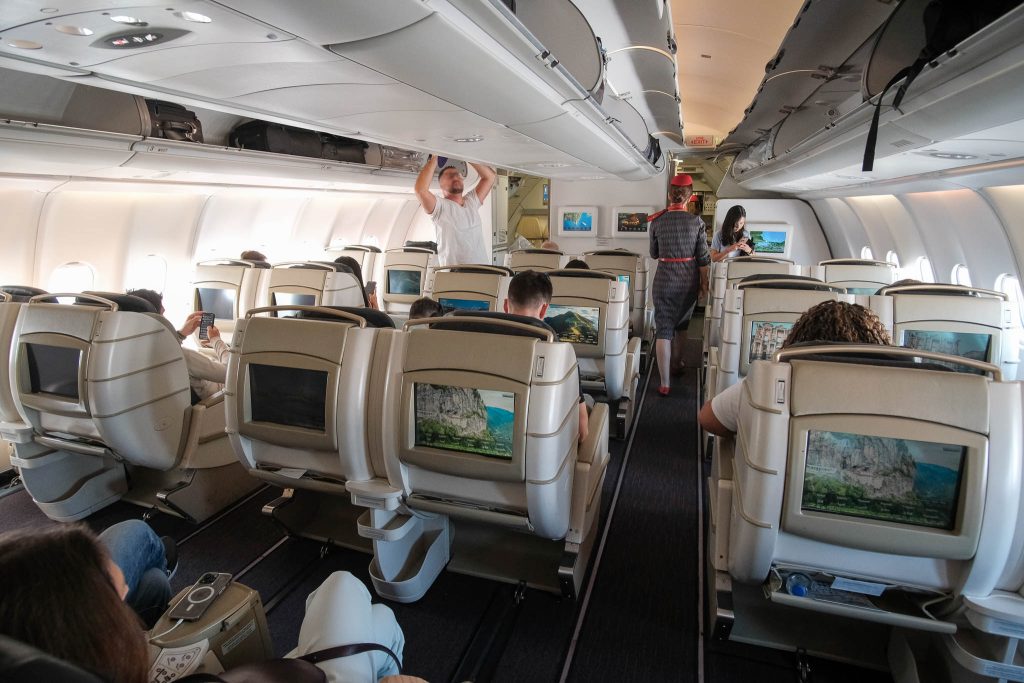 Each seat offers charging points for EU and US plugs. Due to their positioning, if your charger is heavy, the points might not be able to hold them securely, especially during takeoff and landing.
There's even a USB A port which is surprising, given the age of the cabin product. The LAN port is odd though, I wonder who that is actually for and what it does, given that the plane does not have a Wi-Fi connection.
There are various seat controls for adjusting your seat. As you can see from the controls, this seat does not fully recline. I would describe the fully extended incline of this seat to be at about 30˚.
It started getting uncomfortable after sitting in the seat for a while. Even though it was only a 3-hour flight, it was uncomfortable enough for us to want the flight to end sooner.
In-flight Service
Shortly after boarding, a flight attendant went around the cabin and served us welcome drinks. We were also given hot towels shortly after take-off to prepare us for the meal service.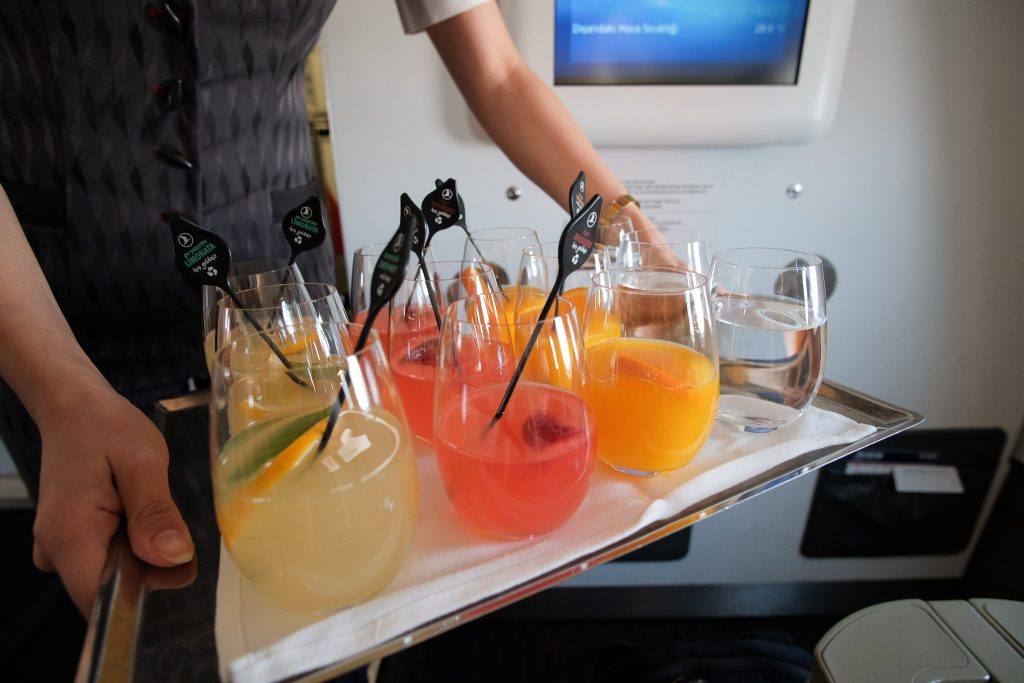 The staff were generally attentive to our needs, although we feel that it still pales in comparison to what we've experienced with Singapore Airlines. There were times throughout the flight when we felt that the attendants were more engaged in their own conversations than the needs of the passengers.
In-flight Entertainment
The In-Flight-Entertainment monitor and console are stowed within the armrest of each seat. It takes quite a bit of effort to get it out.
As for the entertainment options itself, there wasn't much to choose from. You can find some of the latest and greatest movies available, however, the options are few.
Viewing the monitor isn't the best experience either. There was a lot of glare and it was difficult to view the screen clearly during the flight. Therefore, I did not use the in-flight entertainment at all throughout the flight (except for this review).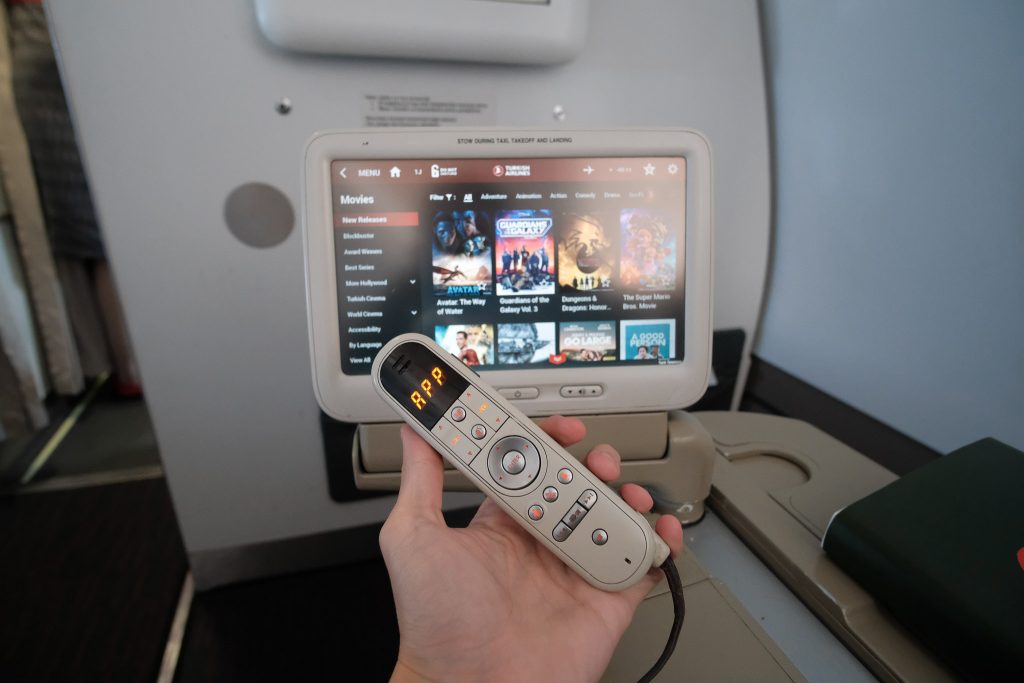 Meal Service
Despite being a relatively short 3-hour flight, Turkish Airlines's meal service was great.
The meal service started about an hour into the flight. We were first served a starter set, with raw salmon and cheese plate. I initially thought that was the entire meal itself, and felt fairly full after this.
Shortly after, the lovely flight attendants served us our mains. I chose the steamed chicken dish and it felt too dry for my liking.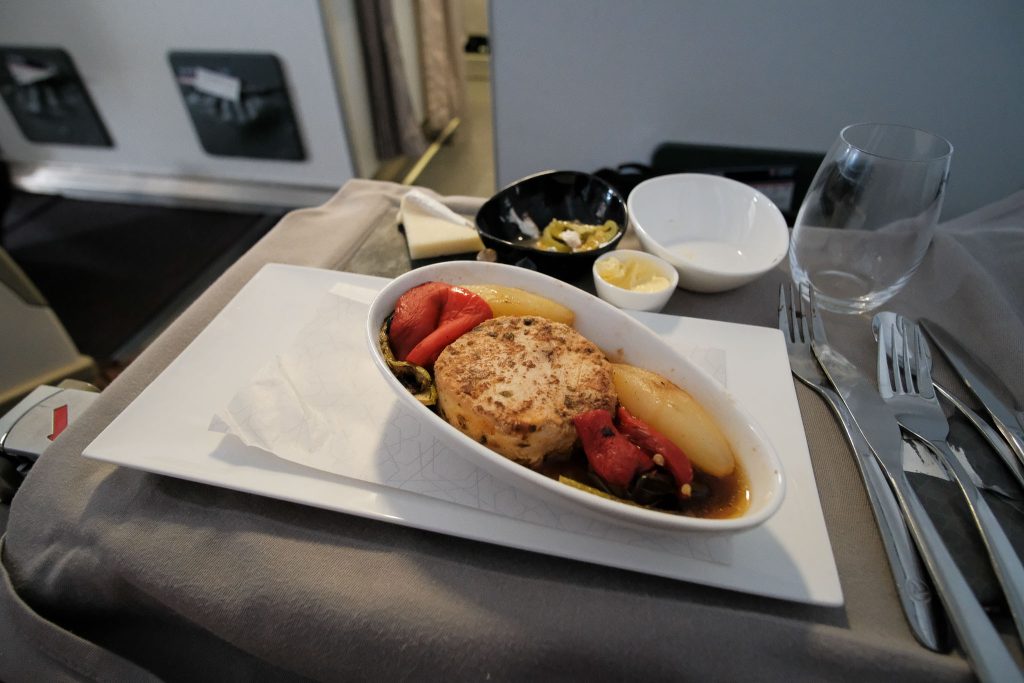 Bathroom
There are 2 bathrooms designated for business class passengers—one at the front of the plane and one at the back of the business class cabin.
The bathrooms are standard-sized, with barely any room for movement. The Molton Brown bathroom amenities and fragrances greatly improved my experience there.
Final Thoughts
A short-haul business class flight is typically more scaled-down than its long-haul counterparts. You can typically expect a less extravagant seat and shorter meal service.
The biggest letdown to the Turkish Airlines Business Class product is its age. The comfort level in these seats is also terrible, making me wish the flight ended sooner than it otherwise would.
Turkish Airlines Business Class A330-200
Summary
The best part about our flight on the Turkish Airlines business class flight is its pre-flight experience.