We embarked on a month-long trip to explore the Middle East. Despite transiting through the region multiple times, it's our first time actually stepping out of immigration and experiencing the local cultures.
On this trip in particular, we visited the United Arab Emirates (UAE) and Oman. Throughout this trip, we stayed in a few luxurious hotels and visited many airport lounges before our flights. Look forward to our future reviews and guides about them!
This blog post, in particular, will be about our experience taking the economy cabin on Emirates from Singapore to Dubai.
Booking
As we were planning our trip to the Middle East, there were 2 obvious choices for our flight between Singapore and Dubai, either with Singapore Airlines or Emirates.
We've taken our national carrier multiple times, even on their award-winning business-class product. However, we've never taken Emirates Airlines, one of the world's best airlines. Also, the Emirates was flying the Airbus A380 aircraft on this route!
This was therefore an easy decision.
We paid a total of US$484 for a round-trip ticket and we booked our flight 53 days in advance. We've used our own Google Flights tricks to find us the best flight prices available for these dates.
Boarding
As we were spending most of our pre-boarding time in the Plaza Premium Lounge, we were one of the last few to board the flight.
The A380 is split into 2 boarding zones, with premium cabins going to the upper sky bridge and the economy cabin going to the lower bridge. Our boarding experience was very smooth and did not experience any hiccups.
Plane Configuration
Economy cabins take up the entire lower half of the aircraft. The seats are arranged in a 3-4-3 arrangement. There are no surprises here and it's pretty standard for wide-body aircraft.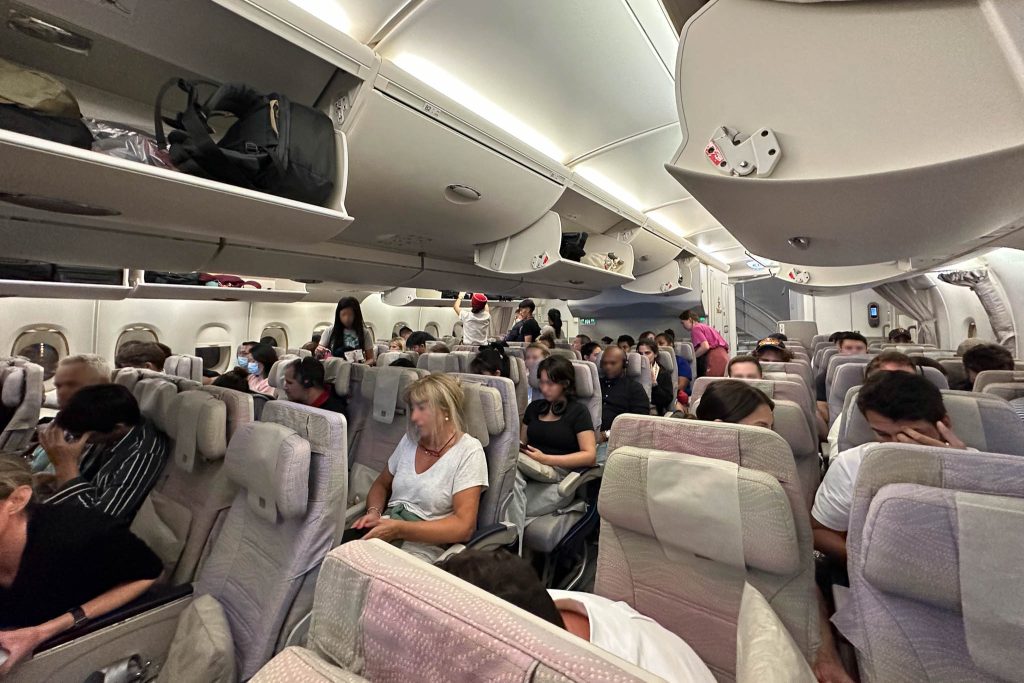 Our flight was at high capacity and almost every seat was taken. Gone were the days of empty rows where you can lie flat on a flight at a fraction of the cost of a business-class ticket.
The economy seat has plenty of legroom. I'm 1.75m (5.8 ft) and I didn't have any comfort issues throughout the entire 7-hour flight.
In economy, all passengers receive a pair of headphones and a blanket. The blanket was definitely needed as it got really cold during the flight. The headphones were also much better in sound quality as compared to the typical low-cost earphones given by other airlines.
In-flight Entertainment
The in-flight entertainment for Emirates flights is one of the best in the world. Dubbed ICE for Information, Communications and Entertainment, it's bound to keep you occupied through however long your flight is.
In terms of entertainment, there was a huge selection of movies and TV series.
There was Wifi service on our Emirates A380 flight. However, I wasn't able to connect to it on my iPhone throughout the entire flight. As I was planning to sleep most of the flight, I didn't bother trying to rectify it with the cabin staff.
There were even aircraft camera views which I always loved! Unfortunately, as we were on a night flight, there wasn't much to see outside of take-off and landing.
Meal Service in Flight
As an international flight, all passengers on the Emirates flight get to enjoy meal service which consists of dinner and a snack.
The first meal service came 2.5 hours after the flight took off. This was a little later than comparative services. It might be due to the fact that I was seated in one of the furthest rows.
I chose the chicken with potato set while M chose the beef with rice set. The chicken was cooked to tenderness and the sauce was really tasty.
The beef with rice also tasted great, with the basmati rice accentuating Emirate's Arabic roots.
We got our second meal service an hour before landing. During the latter meal service, we received a snack pack.
The snack itself wasn't delicious and we skipped it altogether. The vegetarian hot snack wasn't hot when we received it and it was really tough to bite. There was also so little filling that all we were eating were flour.
Bathroom
The bathroom on the Emirates A380 flight was one of the most luxurious bathrooms I've ever experienced on a flight. Although not as large as the one I've experienced with Asiana Airlines, this definitely beats out in terms of novelty and flashiness.
Emirates deliberately chose brown wood for many of their in-flight decorations. This extends all the way into the bathroom, with brown-wood toilet seats and basin skirting. This gives the toilet an extra luxurious feel to it.
The bathroom amenities are provided by The White Company. Although this bathroom is in the economy cabin, it almost felt too luxurious to be one. Airlines typically provide no brand amenities in economy cabins, so this was definitely a plus point for Emirates.
Conclusion
Emirates has immediately become my favourite airline for economy flights. Having taken many flights in the past couple of years, I've never enjoyed an economy flight as much as I have on Emirates.
As expected from a Gulf airline, the service quality is impeccable. I felt taken care of from the moment I boarded the aircraft.
My only suggestion for improvement would be the snacks offered during the second meal service. To be fair, I wasn't even expecting a second meal service just before landing on such a short flight.
Given the numerous flights connecting through Dubai between Singapore and Europe, I foresee myself seeing a lot more of Emirates in the coming years.